by Bob Benenson, FamilyFarmed
Through most of its history, the company now known as Ingredion might have raised eyebrows participating in a Good Food event. Based in the Chicago suburb of Westchester and known as Corn Products from its founding in 1906 until its re-branding in 2012, the company produced commercial-scale oils, starches and sweeteners — including corn syrup that for many years was ubiquitous in many of the nation's consumer packaged goods.
But times have changed, with massive numbers of consumers demanding food with healthier and more natural ingredients. And Ingredion has changed with the times. That is why the Ingredion for Emerging Business program partnered with The Hatchery — a growing Chicago food business incubator — and FamilyFarmed's Good Food Accelerator in a presentation on its chef-driven Culinology program, which plays a central role in keeping Ingredion current with consumer and restaurant trends.
Samples of creations by the Culinology team, served to attendees at The Hatchery on July 13, included clean-label ingredients such as pear juice concentrate, chickpea flour, tapioca starch, faba bean protein, pea protein isolate, prebiotic fiber, stevia leaf sweetener and jicama juice concentrate.
Culinology chefs Maria Serrano and Connor Thompson presented the centerpiece of the event, an overview of top trends in the grocery and culinary worlds. Several of the references below were to a Powerpoint demonstration that accompanied their talk, which reflected their findings from the Specialty Food Association's recent annual Fancy Food Show in New York City.
Veg-Centric
Thompson: This is the most predominant trend we see in the marketplace and in restaurants, pretty much everywhere. Everyone wants more vegetables. A great variety of textures, beautiful, beautiful colors, there's protein in them, they're nutritious. They really encompass a lot of things that we're looking for nowadays.
Dirt Candy, it's a vegan or vegetarian restaurant on the Lower East Side of Manhattan. They're taking vegetables and making them shine as much as they can. These are all vegetable-based cocktails… There's a little parsnip cocktail here… a beet juice cocktail… a sweet pea cocktail, leveraging the pea at their ripest… This carrot cocktail with the mezcal is just a slow sipping drink…
Serrano: On the top left corner we have braised jackfruit… It was interesting to go to the Fancy Food Show this year and see that there was not only one brand for it, but multiple brands for it. That actually makes us very happy and obviously this is falling into the category of meat substitutes, where you're getting the pulled pork consistency and giving it really traditional flavors. This one specifically was Tex-Mex and they wrapped it in a gluten-free tortilla, so everything about it is enticing… Textural-wise, it was a really cool eating experience.
Coconut, coconut, coconut, coconut, coconut. Coconut was everywhere. There were so many different kind of coconut products.
Tapioca-Cassava-Yuca
Serrano: Tapioca, cassava and yuca. What's the difference?… There were so many different products, and they all either delineated themselves as tapioca, cassava or yuca… More or less the overarching theme is that it's very regional…
[Speaking about the Jans company, which produces cassava chips in a variety of flavors] The thing that stood out for us was that there were so many people around their booth. The cookies they had were very tasty, gluten-free, they were really going for that sustainability, health and wellness crowd… There were at least five different chip companies that had cassava chips or yuca chips. 
Mashing Indian Into the Mainstream
Thompson: Indian cuisine has such complex flavors that are pretty hard to understand for many Americans. People find that putting these flavors into approachable products that they're familiar with is a great way to get them to experience these really tasty products and flavor. 
This Goa Taco, they're on the Lower East Side of Manhattan. Fast-casual taco chain. They're taking this traditional Indian bread called paratha, a wheat-based bread that's kind of a cross between a croissant and a tortilla, it's flaky and buttery, but has some body, you can hold it… They're filling it with kind of traditional, more understandable flavors. We have pad Thai… there's a Caesar salad… there's a gyro-style taco….
Here we have Indian jams. These are fruit jams you'd put on your bread or toast. They jazz them up, there's a rhubarb ginger, there's a turmeric ginger, there's a couple of tamarind-style jams. 
This is oatmeal, everybody likes oatmeal. This is a turmeric-ginger oatmeal, taking the flavors of India and putting them into a really staple American breakfast product.
Serrano: The jelly company, they were very much going for that homeopathic, "Hey, we have ginger and turmeric, and turmeric has anti-inflammatory properties." They were going for more of that health and wellness umbrella versus we have these really cool flavors… That's very much dependent on your product… We're health and wellness but we're interesting.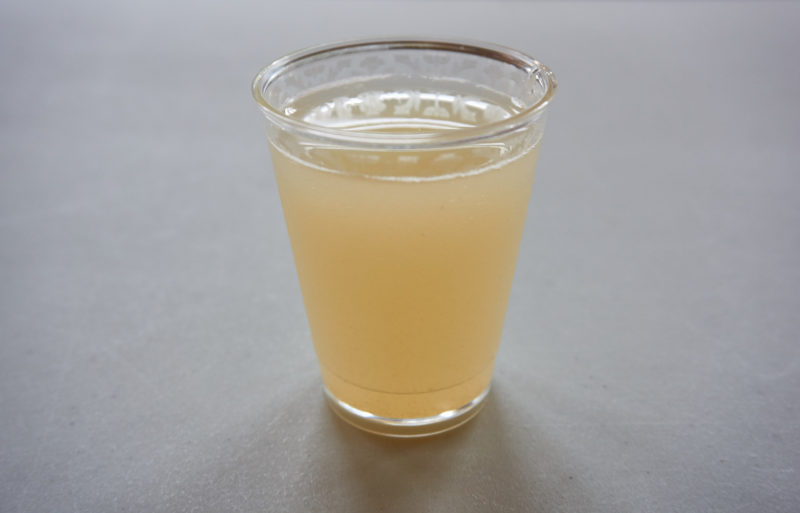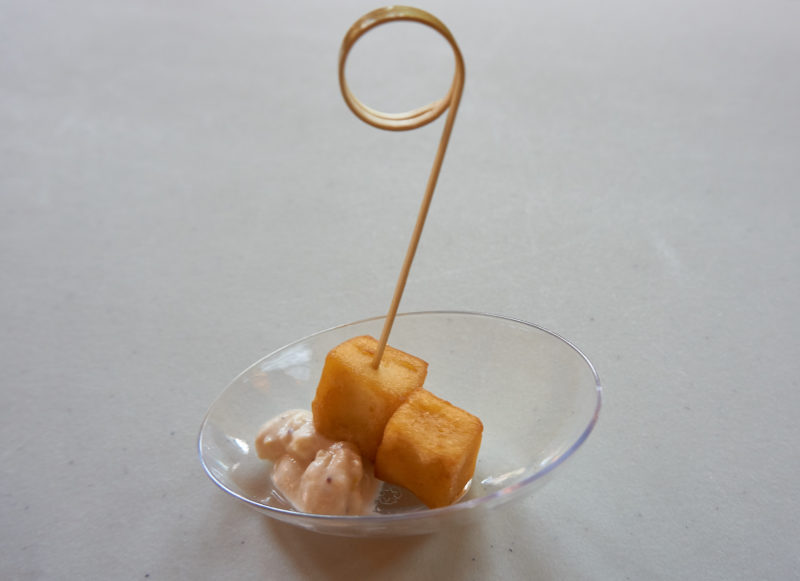 East Meets West Snacking Mash-Up
Serrano: Another huge trend we saw at the Fancy Food Show and as we walked the streets of New York, East meets West for snacking. Snacking has been up and coming… It's here right now, we're living it. Everyone loves to snack. How many friends of mine tell me, "I just eat five small meals a day." I say, "You're snacking."
Hummus, been there, done that. But this was interesting. These are actually sweet and they were really good… The texture was so good, smooth and silky. They had a pumpkin pie one… They super-processed this to just give it an extremely smooth texture…
Next to it was this extruded ramen snack… It melts in your mouth, the texture was super-crunchy and crispy. It resembled the crunch that we have in a lot of our granola bars and granola mixes… It actually tasted like a ramen noodle… They topped it off with toasted sesame seeds to give it a nutty flavor. 
This is popcorn… Here they dressed it up in a Thai curry flavor profile. It was super-tasty. And they had a nori sesame… The seaweed also added some umami notes.
[Norigama pea wraps] were positioning their product as a substitute for a traditional corn tortilla or a flour tortilla. They actually had breakfast burritos… The company took marketing into their hands, we really want to position this as a Western product, so we're going to put breakfast burritos inside of it…  The texture was a great, it was really pliable… but it was still nice and flaky.
Fermentation For Flavor Foundation
Thompson: This is taking fermented foods as the base of your product, really providing the bulk of the flavor… This is from Bad Hunter [located on Chicago's Restaurant Row] … This is their miso flan, they take fermented soybeans, turn it into a gelee, a vanilla flan, and top it with apple and fried shredded carrots. The saltiness with the sweetness on top of the creamy flan was just an explosion of flavor in your mouth… 
Bad Hunter kind of embodies what it means to be veg-centric. It's not just about being a vegetarian, here they're taking a little bit of meat, adding it to a vegetable-based dish for flavor. 
Serrano: Flavored vinegars have made a huge comeback. Years ago it was kind of prevalent in the market and then it died down, and now it's really coming back. In health and wellness, vinegar has gotten a really good rep as being this wholesome ingredient… Flavored vinegars have come in and made it so you want to wake up and have that tablespoon of berry vinegar. I saw a product that was aronia vinegar, it's like a nice tart cherry, super-tiny, it's a little tannic because the skin on the cherry is quite thick…
Shrubs, you take vinegar you take fruit, you ferment the fruit in the vinegar, you let it sit for a little bit and then you can use that as a base for cocktails. Initially this was in a lot of upscale bars…. Bartenders really started bringing this back into the scene, adding this bitter, very flavorful backbone to beverages. We saw a ton of these beverage starters at the Fancy Food Show… They're bottling it and presenting it so consumers can use it… They weren't cornering themselves… They're trying to promote it that you can use this for a lot of different things in your cooking at home…
Innovative Eating Experiences
Serrano [discussing a True Jerky brand product] A product that wasn't really an innovative eating experience on its own… but the packaging was super-cool. The top of the packaging was [beef] jerky, and on the bottom there was a granola trail mix thing going on. Both of them on their own were really tasty, but the concept was you open the bag and the jerky would drop down to the part where the granola and the trail mix was, and all of a sudden you have this mixup of sweet and savory…. From a shelf life instance, this adds at least two extra weeks to a month of shelf life, because jerky is so moist it can sometimes have some moisture migration into your granola or trail mix. 
[Yusō brand onigiri] You have a seaweed that's wrapped around a little triangle of rice and inside the rice you had different kinds of fillings, a mild salmon, a smoky salmon, a fermented plum, and a sesame and chickpea filling. It was an on-the-go meal. There were 1, 2, 3 instructions in the back…
Thompson: Two products that we've had at The Aviary, Grant Achatz's high-end gastronomy cocktail bar, originally here in Chicago but just opened one in Manhattan. This is a chichirón [fried pork rind]… This was about three and a half feet tall… They bring it out to you and the whole restaurant looks… It just came out of the fryer and you can hear it crackling… The way they presented it was unforgettable… 
Here's the Everything Manhattan [cocktail]… Inside the plastic bag containing the drink is a bunch of air… The waiter cuts the bag open, you take a whiff, and it smells like a freshly baked everything bagel… 
More of Ingredion's Culinology innovation was on display July 16 at Roof on theWit hotel, where the company held a networking reception for participants in the Institute of Food Technologists' annual convention.
FamilyFarmed's Good Food Accelerator is pleased to collaborate with The Hatchery on this and other events, as they have the shared mission of helping start-up and early-stage food businesses succeed. The Accelerator will soon begin accepting applications for its fifth cohort of rising entrepreneurs, with those selected beginning a six-month intensive development program in November.