By Bob Benenson, FamilyFarmed
BareItAll Petfoods was something of a fish out of water as a participant of FamilyFarmed's Financing Fair on June 19 — which is more than a play on words because the Financing Fair, part of the annual Good Food Financing & Innovation Conference, is singularly focused on people food, and BareItAll makes pet treats from freeze-dried fish.
But the type of fish used by the Chicago start-up is what made their Good Food Financing Fair debut a swimming success. They are harvesting Asian carp, an aggressive invasive species that is wreaking ecological havoc on Midwestern river systems — and presenting a major threat to the Great Lakes fisheries if they manage to gain access to Lake Michigan.
Asian carp, a bony fish, has not caught on much as food for humans, though not for lack of trying: The Illinois Department of Natural Resources (DNR) this week provided Illinois State Fairgoers with the opportunity to sample Asian carp in sliders, salads and hushpuppies. But BareItAll's goBARE treats have found an enthusiastic clientele among many dogs and cats.
Michael Cody, the co-founder and CEO, said he learned about the problem while working toward his MBA at Chicago's DePaul University. "It's a huge natural resource that's a terrible problem for the environment, nobody is doing anything with it," Cody said. "We've got to solve this problem, keep them out of the Great Lakes and do something with this."
Cody has a very interesting background for a pet-treat impresario. Most of us will never eat food prepared by a chef who worked in the kitchens of Noma, the restaurant in Copenhagen rated by some as the best in the world, but BareItAll's four-legged customers do. That's because Cody, a graduate of the New England Culinary Institute, did a stint at Noma during a sojourn in Denmark.
BareItAll also gets a rousing endorsement from Gracie, a black and white cat, and her family. In early July, Gracie developed a health issue that required twice-daily medication. Cats don't like to take pills, but she had fallen in love with goBARE treats. So we hid the pills inside the fish treats, which Gracie gobbled down without hesitation. (Full disclosure: Gracie is the author's cat and she has been feeling much better, thank you.)
Fish Story
Cody is a Cincinnati native who attended College of Charleston (South Carolina), where Logan Honeycutt — now co-founder and president of BareItAll — was his roommate. After a nomadic start to his chef career, Cody landed in Chicago in 2008, just in time for the economy to collapse and make it exceeding hard for him to break into restaurant work.
The uncertainty of a chef's life prompted him to go to business school. He also reconnected with Honeycutt, a consumer market researcher. They are avid fishermen, and got to experience firsthand that Asian carp presents dangers to human safety as well as to the environment: These big fish leap high out of the water, sometimes striking people or landing in their boats.
"We actually went to an Asian carp conference down in Peoria a couple of years ago. We did some fishing in the Mississippi River, and saw these things jumping firsthand," Cody said.
The two did research to confirm that none of the big pet food companies had experimented with Asian carp, conducted trial-and-error with "at least 20 different recipes," then tested them out with dogs owned by friends and family (including their own rescue pit bulls, who greeted the fish treats with enthusiasm). The product started to draw attention, helped along in November 2017 when they won a Purina Pet Care Innovation Prize. They also expanded their product line to cat treats in 2017.
BareItAll gets some of its Asian carp from Illinois DNR, which has been seeking ways to deal with this invasive species (and took the company's founders on an Aug. 9 river excursion that produced the photos shared for this article). "They have a culling effort at certain points throughout the river system to try to reduce their population and hopefully reduce their chances of getting into the Great Lakes," Cody said.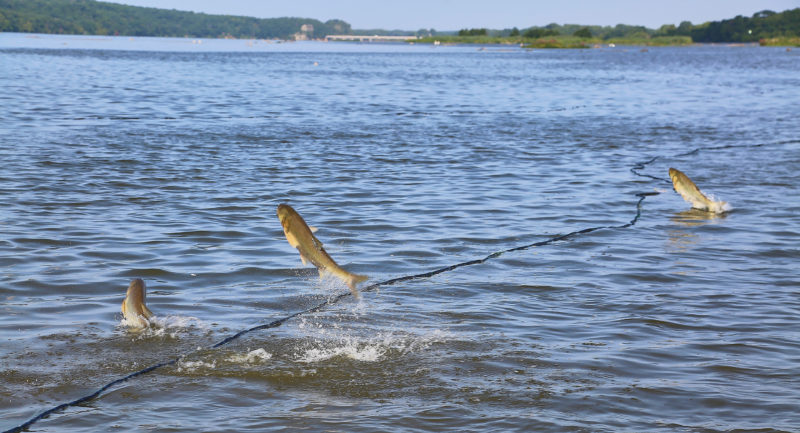 BareItAll products are currently sold in specialty pet shops and on Amazon, while the owners explore when and whether to scale up to supply big-box stores such as Petsmart and Petco and/or launch into grocery chains such as Whole Foods Market. They also are testing new products from animals that are not Asian carp but also are creating ecological challenges — the most promising of which appears to be a pet jerky from wild boar, aka feral pigs, produced for them by a company in Texas, which Cody expects to be ready to launch late this year or early next year.
As for BareItAll's participation in the Good Food Financing Fair, Cody said it provided valuable interaction with food entrepreneurs who are at a similar early stage of business development.
"We got some feedback from samples we sent out and people loved it. It was a great experience. It was great to see all of these entrepreneurs in a similar, related industry, how they get started, the traction they get," Cody said.
He continued, "Starting a company can get you down at times. There's good days, there's bad days. To keep an even keel, it's always good to see some success stories and try to learn from their successes and how they did things, and mold them to your own industry."
Gracie the cat can vouch that they are off to a good start.
Check out other highlights from our Good Food Financing & Innovation Conference on www.goodfoodoneverytable.org, and don't forget that applications for FamilyFarmed's 2018-19 Good Food Accelerator Cohort are now open! Selectively chosen Good Food businesses sharpen business marketing, operations, financing and strategic skills in one of the region's leading food entrepreneur development programs. The application closes on September 13, 2018 at midnight; visit www.goodfoodaccelerator.org/apply-now/ for application details and eligibility requirements.