By Bob Benenson, FamilyFarmed
Justice of the Pies is the early-stage Chicago company created by Maya-Camille Broussard. Broussard's specialty is baking exquisite sweet and savory pies. But the "Justice" part of the name is as important to Broussard, who dedicates her business to her late father, a criminal-defense attorney and avid baker.
"I have spent the past year thinking about and exploring and rediscovering the 'why' of my business," Broussard said during an interview at her Justice of the Pies stand at Chicago's Daley Plaza Farmers Market. "It has to be bigger than pies. I have to do more than just bake pies."
Broussard is a 2017 graduate of FamilyFarmed's Good Food Accelerator, which is currently recruiting its fifth cohort of competitively selected entrepreneurs for a six-month intensive development program that begins in November. [For more information about the program or to apply for the 2018-19 cohort, please visit the Accelerator website.]
Her social mission was evident early on, as she teamed up with DreamOn Education, a Chicago nonprofit, on the "I Knead Love" program that teaches nutritional development and culinary skills to youngsters from at-risk, low-income communities.
But Broussard is testing out a higher-level — and higher-concept — exploration of what justice means, with a prototype of a "Justice Hotel" that will be on display at EXPO CHICAGO, an international exhibition of contemporary and modern art to take place at Navy Pier September 27-30.
Broussard is working on the project with artist Amanda Williams and curator Tricia Van Eck, with the ultimate goal of opening a community-run Justice Hotel in Chicago, most likely in an economically and socially challenged neighborhood on the South Side. "The hotel and the location is essentially asking, 'What does justice look like and how can we use this space to ensure that more justice is being provided for the community. Does that mean equal pay? Does that mean providing accessibility for people living with disabilities? What does justice mean?'" A Justice of the Pies store would be located adjacent to the Justice Hotel.
Justice of the Pies' participation in EXPO CHICAGO's exhibit of the Justice Hotel prototype will be very conceptual in nature, Broussard said:
"Justice of the Pies is creating a room service element as part of the exhibition that likely would consist of a room service tray, and when you lift up the room service tray, there will be some dough, and I'll ask people to knead what is it that you need for justice, and they have to knead out the words in dough. So it will be a very interactive experience. I'll be taping it, I'll take photos and then create a collage of all the words people come up with. People may say 'I need food safety.' 'I need an eradication of food deserts.' 'I need equal pay.' 'I need safety from sexual harassment in the workplace.' Or a Black woman might say, 'I need my additional 38 percent,' because they typically earn 38 percent less than white men. I'm very interested to see what people say and how they feel justice can be added to improve the lives of people in society."
This kind of artistic expression comes naturally to Broussard, who has degrees in theater, danced professionally and formerly owned an art gallery. And she says this creative urge was also what drew her to the culinary arts.
"I can paint a painting, but if I don't paint a painting or I don't buy a painting, I will still live," Broussard said. "Dancing can add to the vitality of my life as exercise, but if I don't dance, I will live. I can go to the movies or I can go to a play or I can write a play. But if I don't go to the movies or write a play, I will live. If I do not eat food, I will not live. Food is the one area where you can be creative and also provide sustenance for your life."
This is something she also tries to share with children participating in the I Knead Love program. "That is one of the most important skills to impart on children because they will be required to be self-sustaining," she said. "Also, I want them to have fun with it and I want them to be creative with it and I want them to think outside of the box with it."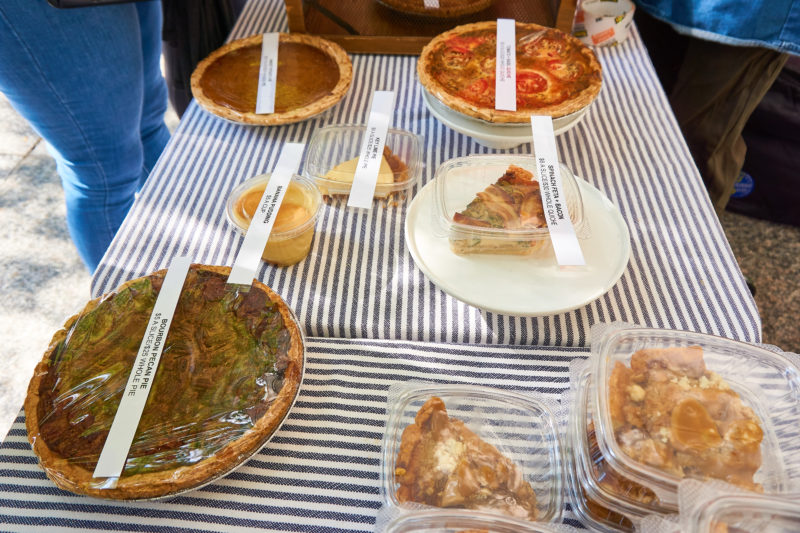 Broussard's business has not been without its challenges. Scaling up and getting widespread distribution has been an issue, as her hand-crafted pies and quiches, made as much as possible with locally produced ingredients, are relatively upmarket items. But Broussard says her ongoing relationship with FamilyFarmed's Good Food Accelerator — and her mentor, Daniel Cabellero of Sofrito Foods, himself an Accelerator graduate — keeps her moving forward.
"Even when I get discouraged or when I fall off staying on top of the co-packer and actually getting the packaged goods together, Daniel would check in on me from out of the blue and say, 'What do we need to do to get this done,?'" Broussard said. "It's really great that I got paired with a mentor who is emotionally invested in my business to where he checks up on me, and that makes me feel so supported."
She concluded, "I love that FamilyFarmed is extremely respected by its peers in the food business and that it has so many connections, and if they don't know someone, they will try to connect you with someone who does. So it feels like the degree of separation is much smaller and it makes getting there much easier."
You can meet Maya and buy her delicious pies at the Daley Plaza Farmers Market in Chicago's downtown Loop, held Thursdays from 7 a.m. to 3 p.m. through October 25.
Promising entrepreneurs such as Maya-Camille Broussard make FamilyFarmed's Good Food Accelerator one of Chicago's most impactful entrepreneur development programs. Entrepreneurs who believe they can benefit from being part of the 2018-19 cohort should apply for the selection process by September 13, and should plan to attend the Accelerator's Application Celebration at 1871 in the Merchandise Mart on the evening of September 6.