Discerning rum drinkers in the Chicago area may debate which locale produces the best variety of that tropical spirit. Some will say Puerto Rico, others Jamaica or Venezuela or Barbados or a variety of other nations in the Caribbean region. Now, at least a handful of Chicagoland's craft spirits fans would include a new entry: Plainfield.
Plainfield, an outer suburb near Joliet about 40 miles from downtown Chicago, is the home of Tailwinds Distilling, which opened in 2012 as one of more than a dozen start-up craft distilleries launched in Illinois, most of them over the past five years.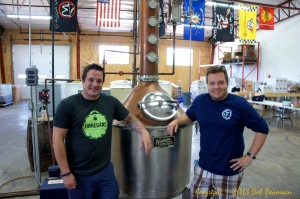 Operated by brothers Toby (left) and Jamey Beall, Tailwinds is still quite small, with an expected total production this year of about 1,000 cases of light and dark rums, a specialty coffee rum, and both a light and barrel-aged blue agave spirit. But there are expansion plans afoot — adding Nashville as a second market by the end of this year, and bringing in a second, larger still to go with their current one — to keep up with what they say is a burgeoning demand.
"The situation we're in now is we have to create the demand to expand," said Jamey Beall. "Right now we're trying to catch up with the Chicago market. We want to grow and add another still and start doing this full-time, we're going to have to add more markets."
The Beall brothers discussed their plans at the distillery in early September as they prepared to participate in the Independent Spirits Expo at the Chicago Hilton Hotel and Towers on Michigan Ave. Sept. 25. The expo held in September 2012 at a different location was Tailwinds' coming-out party.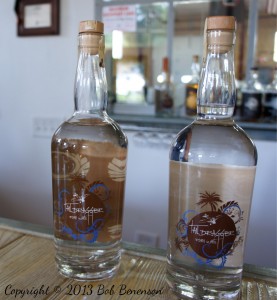 The operation drew immediate attention because of the unconventional tropical emphasis of its product line. Most craft distillers tend to feature vodka, gin, and varieties of whiskey. While Tailwinds is hardly alone in producing rum — several others do too — it stands out for making rum its signature product.
And far fewer distilleries, at least in the Midwest, are making blue agave spirits. Think tequila, but don't call it that, because only blue agave spirits made in Mexico can be called tequila, and that industry's lawyers are vigilant in making sure that custom is observed.
Toby Beall explained that he and his brother did an interview early on with a local newspaper and said we can't call it tequila, but the article came out and said they are making tequila. He continued, "It took a week and a half for the Mexican Tequila Regulatory Council to send us a letter."
The decision to produce these tropical types of spirits — and the name Tailwinds — stem from the distillers' careers, in which they currently are still engaged. Both Toby and Jamey Beall are commercial pilots whose routes often include locations in the Caribbean, Central America and South America, which also helped them expand their knowledge base and appreciation for rum.
As is the case with most craft spirits, the distinctions of Tailwinds products are in the details. For instance, Toby Beall explained that many rums are made with blackstrap molasses that has been so heavily refined that many of the sugars and nutrients have been removed. He said Tailwinds, by contrast, uses "first boil" molasses that he describes as higher in flavor, delivering a product that he said "just adds something to the drink." He also said Tailwinds never uses carbon filtering, offering that the practice strips flavor characteristics from the finished product.
Like many small distilleries, Tailwinds also is trying to obtain ingredients from sustainable and local sources. The Bealls tout the all-organic agave nectar they receive from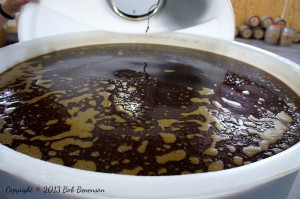 near Guadalajara, and the coffee beans they obtain for their coffee rum are roasted at Two Brothers, better known for their craft beers, which is located in nearby Warrenville.
The Beall brothers were in the process of making a new batch of coffee rum  in time for the expo. The first batch was released last May and sold out within a couple of weeks. Toby Beall explained the difference between their coffee rum and coffee liqueurs: "Most coffee liqueurs are made with a grain alcohol or neutral grain spirit base. We add that sweetness of the rum and that little bit of complexity that the rum offers to it gives it a little bit of a different flavor."
Tailwinds' facility, located in a small and plain-looking industrial park in Plainfield, has a tasting bar in its front room that generally is open on weekends. It is easy to get to from Chicago, via Interstate 55, and the city's western and southern suburbs — if you don't get stopped at the freight train crossing right behind the distillery.
Toby Beall noted that Tailwinds put out a roadside sign on their side of the tracks that says, "Caught by the train? Stop in." He added, "We were joking the day we made it that if it gets one person in that thinks it's funny, it's done its job. But we get numerous people."
Tailwinds Distilling is located at 14912 S. Eastern Ave., Unit 103 in Plainfield. Tasting room hours are noon to 7 p.m. Fridays and Saturdays and noon to 5 p.m. on Sundays; calling to confirm is recommended. Chicago Brew Werks, which sells home brewing supplies, is located in the same industrial park.