A survey of food hubs across the United States has found that these aggregating/marketing/distribution centers for regional producers have greatly increased their numbers over the past few years. The survey also determined that nearly all food hubs believe the demand for their products and services is growing.
But food hubs — widely considered key to expanding the Good Food movement because they help small- and medium-sized sustainable farm operations get their products to market — still face challenges, according to the survey, which include managing growth, balancing supply and demand, and overcoming operational barriers such as access to capital.
The survey was conducted by the Michigan State University (MSU) Center for Regional Food Systems in partnership with the Wallace Center at Winrock International, based in Arlington, Va., which provides support for entrepreneurs and communities pursuing Good Food practices.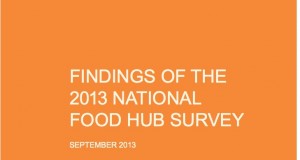 The report on the survey, available by clicking here, was discussed in a webinar Thursday (Sept. 19) conducted by John Fisk, the director of the Wallace Center; Rich Pirog, the senior associate director at the MSU Center for Regional Food Systems; and Micaela Fischer, a graduate affiliate with the MSU program who led the survey team.
A recording of the webinar can be found here.
Fisk discussed how food hubs provide significant assistance to farmers in navigating around longstanding bottlenecks in getting their products from farm to market.
Fisk said many small- and medium-sized farms have a handle on working with farmers markets and on other direct marketing practices. "But when it comes to larger markets, the time that it takes to understand pricing, buyer requirements, let alone facilities and arranging distribution and all that is probably very overwhelming for many small- and even some mid-sized growers," Fisk continued.
He added, "It's not just the time and energy and knowledge, it's bringing together sufficient quantities and consistent quality. These core functions that are attributed to food hubs are filling a gap in the marketplace."
A regional food hub is defined by the U.S. Department of Agriculture as "a business or organization that actively manages the aggregation, distribution and marketing of source-identified food products primarily from local and regional producers to strengthen their ability to satisfy wholesale, retail, and institutional demand."
Among the key statistical findings in the survey:
● The term "food hub" only recently came into common usage, and the survey suggests why. Of the 107 food hubs surveyed whose responses were used, 32 percent have existed for 2 years or less, and another 30 percent have been in business for 3 to 5 years. Only 25 percent of all food hubs surveyed have been in existence for more than 10 years.
● All but a handful of food hubs are located where they can provide services to mass numbers of people. Three-quarters (75 percent) are located in counties in metropolitan areas of 250,000 residents or larger, and another 17 percent are in counties adjacent to a metropolitan area.
● In terms of operational structure, 47 percent of the surveyed food hubs are for-profit, 34 percent are run by non-profits, 13 percent are cooperatives, and 4 percent are publicly owned.
● Most food hubs are playing leadership roles in promoting sustainable food production. For example, 43 percent of the food hubs reported requiring meats that are antibiotic-free, while another 49 percent state an antibiotic-free preference; 35 percent require and 60 percent prefer meats from animals that were free-range and/or pasture-raised; and 24 percent require and 65 percent prefer products that are chemical-free.
● On organic growing, 11 percent of the food hubs said they require USDA organic certification and 60 percent prefer it; 17 percent require and 73 percent prefer products that are not certified organic but are grown using organic practices.
● Most of the surveyed food hubs found that either some, most, or all of the producers with whom they engaged had adopted more sustainable practices, diversified their product offerings, extended their growing season, and increased acreage, among other improvements.
The lead participants in the webinar also drew attention to the next National Food Hub Conference, which is scheduled for next March 26-28 in Raleigh/Durham, N.C.