CHICAGO — Jen Rosenthal's first full year as the rooftop farmer at Uncommon Ground restaurant can be fairly described as a big success. By the time the roughly half-year growing season ends in a few weeks, Rosenthal and her team of mainly interns and volunteers will have harvested more than a half-ton of tomatoes, peppers, eggplants, greens, beans, herbs, and other produce on Devon Street in northeast Chicago's Edgewater neighborhood, all of which is put to use in the restaurant's kitchen downstairs.
This is a prodigious yield for the elaborate container garden, for which Uncommon Ground owners Helen and Mike Cameron received the first federal certification for a rooftop organic farm. The total growing area on the roof is .015 of an acre.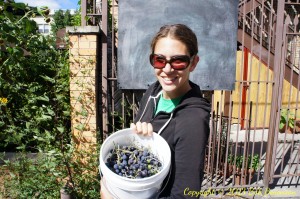 And Rosenthal, a full-time professional gardener for only a couple of years now, is herself something of an urban agriculture prodigy. Like many members of the "millennial" and "Generation X" demographics who have sought opportunities and fulfillment in the sustainable food sector, Rosenthal does not come from a food background, and just launched her second career as an urban farmer three years ago.
"I don't come from a farm family. I didn't grow up gardening at all. I couldn't keep a houseplant alive," said Rosenthal, a native of Munster in Chicago's northwest Indiana suburbs. "This whole progression over all these years, to culminate at this point, at this time. I know there's so much more. But to get to this point, and to have planned this plan in January, and to have it be so successful at this point, it's almost that I can't believe it." (Continued below slide show.)
Rosenthal initially started out on a very different career path. Very different. An artist, she designed slot machines for a gaming industry company in Chicago for five years after college. She then did freelance art work over the subsequent four years.
She has since come full circle in her pursuit of a career as a grower. Seeking a change, she was inspired by a visit to Uncommon Ground's rooftop farm in 2009. As Rosenthal related, "I said, 'That's a job? How do I get that job?'"
Already an increasingly serious home hobby gardener, Rosenthal the next year enrolled with Windy City Harvest, a project of the Chicago Botanic Garden that teaches adults how to grow sustainably and in urban settings. After internships with the Botanic Garden and the Edible Garden at Chicago's Lincoln Park Zoo (and starting Planted Chicago, her own small urban landscaping business), Rosenthal was brought on by the Camerons in 2011 to manage their sidewalk container garden at Uncommon Ground's original Clark Street location, about four miles south near Wrigley Field.
Rosenthal combined her increasingly intense knowledge of growing food in container boxes with the eye of an artist, earning the Clark Street location a mayoral landscaping award in her first year. She took that approach with her to the Devon location when her longterm goal of managing the rooftop farm was suddenly thrust upon her almost exactly one year ago.
Dave Snyder, who had produced prolific yields himself as Rosenthal's predecessor on the roof, unexpectedly gave notice in September 2012 to take over as manager of the 2.6-acre farm being developed by Chicago FarmWorks in the East Garfield Park neighborhood on Chicago's West Side. Rosenthal had to finish out the season's harvests at both Uncommon Ground locations before switching full-time to planning this year's season on the rooftop farm.
"I had no idea, and I was actually on a vacation at the beginning of September, and when I came back, Helen was like, 'I want to talk to you about some things.' She sat me down and said, 'Dave's moving on. We'd love to offer you this opportunity,'" Rosenthal said. "'Think it over, but you have to do this.'"
Referring to the farm's role in inspiring her career change, she added, "My head spun, and, of course, I was going to take it because I wanted this rooftop. This was the impetus."
The rooftop farm is heavily visited by a range of people, from diners seeking a peek to groups of schoolchildren on field trips to professionals seeking to learn from Uncommon Ground's successes. The eye appeal of Rosenthal's planting designs have made it even more of a show place. And Rosenthal believes that the rooftop is helping advance knowledge of and interest in urban agriculture, a fast-rising element of the Good Food movement.
"Utilizing rooftop space can be challenging, but I only see this growing. I see us using empty lots and rooftops and people's homes, and urban agriculture being this hub, with all these spokes, all these different ways to do it," Rosenthal said.
Uncommon Ground on Devon, site of the rooftop organic farm, is located at 1401 W. Devon Ave. in Chicago. Uncommon Ground on Clark is located at 3800 N. Clark St. Both are open seven days a week for breakfast, lunch, and dinner.
[Correction: The rooftop farm's yield this year has been more than a half-ton. The original version of the story said it was nearly a ton.]