FamilyFarmed staff gathered around our conference table on Tuesday (May 10), shared good food, and attempted to answer the question, "How can we help the Good Food community to be more diverse and inclusive?"
The exercise was part of The Chicago Community Trust's annual "On The Table" initiative. FamilyFarmed joined more than 55,000 Chicagoans, who convened around nearly 3,500 tables across the city answering similar questions. The goal is to help create a more unified Chicago.
According to The Chicago Community Trust, "Talking – and listening – to our neighbors is an important first step toward creating a more unified Chicagoland region. What you do matters. And when we come together as a community to learn from and with each other, we have the power to impact both neighborhoods and lives. These conversations can inspire new ways we can work together to make our communities stronger, safer and more dynamic."
FamilyFarmed staff, consultants and Board members all engaged in a lively conversation during our lunch hour. We shared stories of well-intentioned but ultimately unsuccessful attempts at including new groups in our events and outreach. As the conversation grew and expanded, heads nodded in agreement and a direction started to unfold.
During the event, the Chicago Public Library tweeted a quote that resonated with many: "Chicagoans on one side of the city need to meet people on other sides. Exposure to different people brings understanding."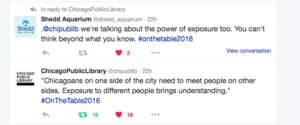 At FamilyFarmed, we couldn't agree more. We wanted to tackle the issue of lack of diversity in our community, because Good Food is critical to every person's health and wellness. Access to locally grown and responsibly produced food enhances the social, economic, and environmental health of all of our communities. And if we don't understand how to bring all sides of the city to the table, we need to ask.
Going to new areas of the city and asking questions such as "What can we do to make Good Food valuable?" and "How do we support you?" became the first step in our planned process.
We found the core function of the On The Table exercise to be so valuable, we plan to essentially repeat it a number of times throughout the year. We will listen, learn and engage with new groups on all sides of our city in order to strengthen the Good Food community.
When the Good Food world is united, we are confident this positive change will benefit the Chicago community as a whole.