by Bob Benenson, FamilyFarmed
The James Beard Foundation held its annual awards ceremony at Chicago's Lyric Opera House Monday (May 2) night. One thing all the winners had in common, of course, is that they serve delicious food to diners. But if there was another quality that linked several of the biggest awardees together, it can be summed up in one word: perseverance.
Anyone who works closely with those in the culinary community knows you have to be a very determined individual to succeed. Despite the chic image that fine dining has, many of those engaged in it rose from modest and even challenging circumstances; that is even more true of chefs and cooks making food at the more accessible restaurants where most Americans eat. It takes a lot of drive to rise above in the literal hothouse environment of a restaurant kitchen.
But some of the industry giants who went home with James Beard medallions around their necks are a special kind of resilient, including the two biggest winners from Chicago.
• Alinea, located in Chicago's Lincoln Park neighborhood, received the 2016 award for Outstanding Restaurant of the Year. It is another feather in the cap of chef and co-founder Grant Achatz who learned his craft at Chef Thomas Keller's famous French Laundry in California, gained recognition at Trio restaurant in the Chicago suburb of Evanston, and dramatically raised the profile of the combination of art and science known as molecular gastronomy when he opened Alinea in 2005.
But Achatz' future was threatened in 2007 when he was diagnosed with oral cancer. Radical surgery might have saved his life but ruined his career by destroying his sense of taste. Instead, he undertook a rigorous treatment program of chemotherapy and radiation at the University of Chicago Medical Center that put the cancer into full remission and saved his taste buds. The hospital recently featured Achatz in a TV ad campaign about its advanced cancer therapies.
Achatz previously won James Beard Foundation awards for Rising Star Chef in 2003 and Outstanding Chef of the Year in 2008, and he was inducted into the Foundation's "Who's Who" in 2012.
• Curtis Duffy of Chicago's Grace restaurant is another chef noted for his food artistry. He and Achatz crossed paths at Trio, and Duffy was on the original team at Alinea when it opened.
This year, Duffy finished atop an all-Chicago field of five finalists for this year's Best Chef Great Lakes award. He opened Grace to rave reviews in late 2012, and it is one of the handful of three-star restaurants in the Michelin rating guide.
But life could have turned out very differently for Duffy. He was raised in a blue-collar family in which his father and mother had a stormy relationship that imploded catastrophically in a murder-suicide in 1994, when Curtis Duffy was a 19-year-old culinary student. But Duffy found his saving grace in cooking, learned the craft under the tutelage of late Chicago great Charlie Trotter, made his own name working with Achatz and then on his own, and has built Grace into one of the nation's most admired restaurants.
Duffy's life story was the subject of a long series of profiles in 2013 by Chicago Tribune food reporter Kevin Pang, who went on to produce a documentary film titled For Grace, released this February, that itself was nominated for a 2016 James Beard Foundation media award.
• Leah Chase of New Orleans, the recipient of the 2016 James Beard Lifetime Achievement Award, may need a wheelchair to get around these days, but she has the same indomitable spirit she did 70 years ago when she married musician-restaurateur Dooky Chase and started working in the eponymous eatery he had started five years earlier.
Chase, who is African American, related the challenges of running a restaurant in the South during the era of racial segregation. In her acceptance speech, she did not even bring up the fact that the floods resulting from Hurricane Katrina in 2005 forced the restaurant named for the late Dooky Chase to close for two years.
She promised the Awards attendees that if they look for her in 10 years, they will still find her working in the restaurant. Chase is 93 years old. But it's unlikely anyone in the audience doubted her word.
• Even with these powerful stories, the emotional high point of the three-hour ceremony came with the segment honoring Father Greg Boyle of Los Angeles as Humanitarian of the Year. He was ministering to a low-income population, mostly Hispanic, in gang-plagued East Los Angeles in the early 1990s when he developed Homeboy Industries, a food-based employment project centered on a bakery.
As Boyle says, his business plan was to take troubled youths, many of them from rival gangs, put hairnets on them and teach them how to bake bread. The concept succeeded, and some of those he recruited to work at Homeboy have risen to management positions.
It is impossible to say exactly how many lives Boyle saved by bringing these people off the mean streets and giving them jobs and opportunities and hope. In his acceptance speech, he admonished society at large that it must stop throwing lives away.
• And sometimes the perseverance is just about keeping at making world-class food until you get your just reward. Suzanne Goin of Lucques restaurant in Los Angeles was recognized with the James Beard Award for Best Chef: West in 2006, but she had been a finalist for the national Outstanding Chef award six times, and a semi-finalist once, without winning.
Until Monday. Goin, a finalist again, was selected among an outstanding field as the 2016 James Beard Foundation Award winner for Outstanding Chef.
There was more message-sharing along with the fun, frivolity and joy of winning that composed most of the awards ceremony. James Beard Executive Vice President Mitchell Davis and Vice President Kris Moon took the stage to highlight the Foundation's impact programs that promote chef activism and advocacy to create a better food system for all Americans. (Moon moderated a panel composed of leading Chicago chef-activists at FamilyFarmed's Good Food Trade Show & Industry Conference on March 25, and wrote an article for Good Food on Every Table about these efforts.) And Rohini Dey of Chicago's Vermilion restaurant, a trustee of the James Beard Foundation, discussed the organization's efforts to empower women in culinary leadership.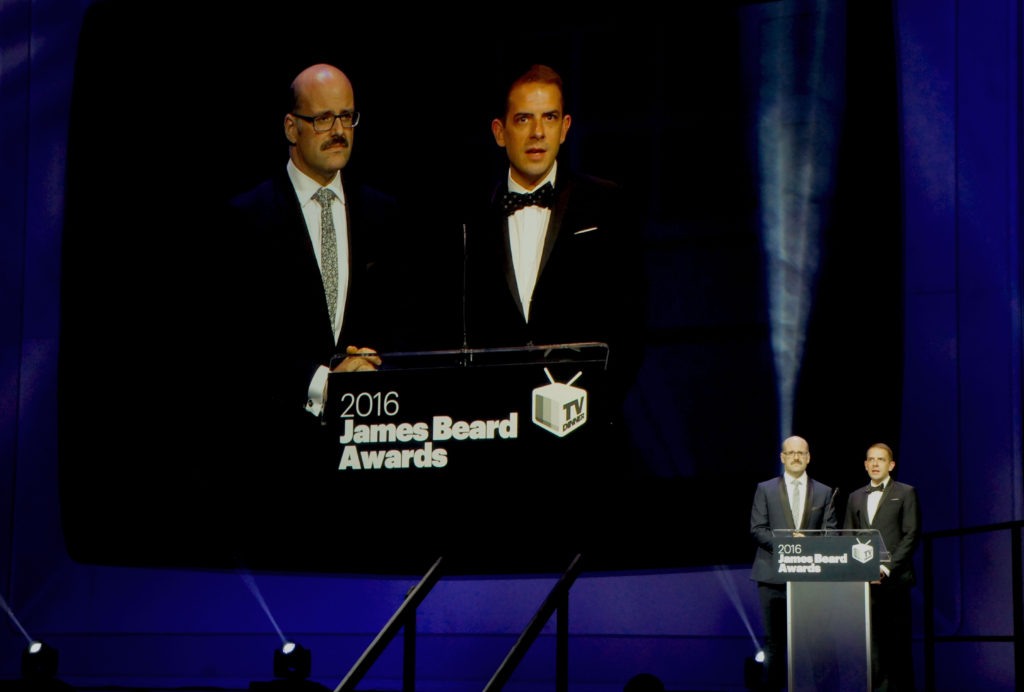 It all added up to a reminder that there are many in the nation's restaurant community who do more than feed our bellies. They work hard to feed our souls and make the world a better place as well.
A full list of the James Beard culinary awards winners can be found by clicking here. These include the winners at the Foundation's Book, Broadcast & Journalism Awards ceremony in New York City on April 26.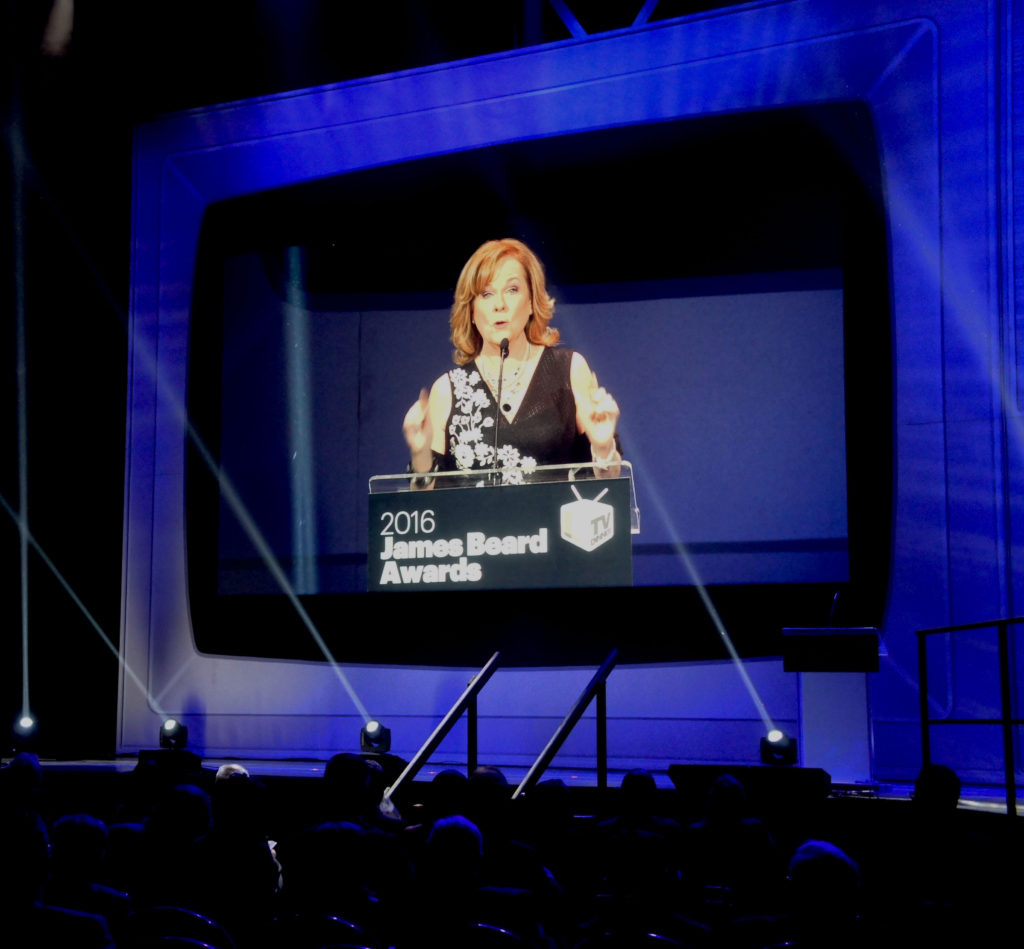 All photographs by Bob Benenson/FamilyFarmed except when indicated.