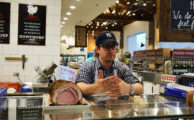 Butcher Rob Levitt's status as a Good Food leader in Chicago crystallized after he and wife Allie opened The Butcher & Larder in 2011. But Rob also is an outstanding chef who met his wife Allie while they were training at New York's Culinary Institute of America. And it will be in that chef role that Rob will be taking part in the Frontera 30th Anniversary Celebration, a joint fundraiser for Chef Rick Bayless' Frontera Farmer Foundation and FamilyFarmed, which will take place on Sunday, April 30 at the Art Institute of Chicago.
Posted in
Uncategorized
| Tagged

Abra Berens, Alinea restaurant, Avec Chicago, Babbo NYC, Blackbird Chicago, Charlie Trotter, Culinary Institute of America, FamilyFarmed, Frontera 30th Anniversary Celebration, Frontera Farmer Foundation, Frontera Grill, Giant restaurant Chicago, Grace restaurant Chicago, Gunthorp Farms, Jason Hammel, Local Foods Chicago, Lula Cafe, Lupa NYC, Mario Batali, One Off Hospitality, Paul Kahan, Rick Bayless, Rob Levitt, Stock Cafe at Local Foods, The Butcher & Larder, The Publican, Topolobampo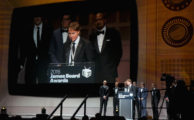 The James Beard Foundation held its annual awards ceremony in Chicago Monday night. All the winners, of course, serve delicious food to diners. But if there was another quality that linked several of the biggest awardees, it can be summed up in one word: perseverance.
Posted in

Awards, Chef activism, Chef advocacy, Food activism, Food Artisans, Food documentaries, Food education, Food Entrepreneurs, Good Food Dining, Good Food restaurant trends, James Beard Foundation Awards, Restaurants and Good Food
| Tagged

2016 James Beard Awards, Alinea, Culinary arts, Culinary awards, Curtis Duffy, Dooky Chase restaurant, FamilyFarmed, Father Greg Boyle, Good Food Trade Show & Industry Conference, Grace restaurant Chicago, Grant Achatz, Homeboy Industries, James Beard Foundation, James Beard Foundation Awards, Leah Chase, Lucques restaurant Los Angeles, Restaurants and Good Food, Rohini Dey, Suzanne Goin, Vermilion restaurant Chicago