By Bob Benenson, FamilyFarmed
Cleetus Friedman is the executive chef of catering and events and creative chef for all four restaurants in Chicago's Caffè Baci group. He began his food journey busing tables in his native Baltimore about 30 years ago, when he was in his teens. Yet the road leading to his place at the cutting edge of the local and sustainable food movement had some twists and turns.
He studied Japanese in college but — prompted by the early death of his father from a rare disease — he decided to move to Chicago to chase his passions. Initially those involved improvisational comedy and performance art.
But he also kept working in kitchens and, after deciding to do that full-time, he became a pioneer of the farm to table concept in Chicago — developing relationships with farmers, holding farm dinners, and working with the growing sector of craft brewers to design culinary recipes for beer. He expressed his Good Food devotion at City Provisions, a deli on the North Side that featured sustainability, seasonality and ingredients that were hand-cut or hand-made.
City Provisions made an impact on the Chicago scene despite a short life span, and Friedman has continued to adapt his principles in larger settings. His first stop was as executive chef at Fountainhead, not far from the City Provisions location, which had previously been much better known for its whiskey and craft beer selections. Then, earlier this year, he surprised the Chicago food scene by moving downtown to take over the menus at Caffè Baci's four restaurants and catering business.
Friedman faces the challenge of putting his personal stamp on the menu and bringing in more local, sustainable ingredients without alienating the clientele of the popular 24-year-old restaurant group. But Friedman says this is necessary to keep the Caffè Baci concept fresh and address the growing competition in the food space in Chicago's Loop.
Meanwhile, Friedman continues to develop his "Crafted by Cleetus" line of hot sauces and other retail items, and continues to do events. Coming up are:
July 14: 225 at 5, a monthly happy hour at Caffè Baci's 225 W. Wacker location, featuring two leading Chicago craft beverage producers, Few Spirits and Half Acre beer company.
July 15: CigarBQue, an annual food-spirits-cigars event at Beyond Design at 4515 North Ravenswood.
Aug. 17: The latest in Friedman's farm dinners at the Chicago Botanic Garden in suburban Glencoe. [Click here for FamilyFarmed's Farm Dinner Guide for the Chicago region .]
And Friedman is returning to Baltimore for two nights — July 22 and 23 — to do a menu takeover at Artifact Coffee with Spike Gjerde, the James Beard Award-winning chef of that city's Woodbury Kitchen.
The following is an excerpted interview with Friedman focused on his career and devotion to Good Food.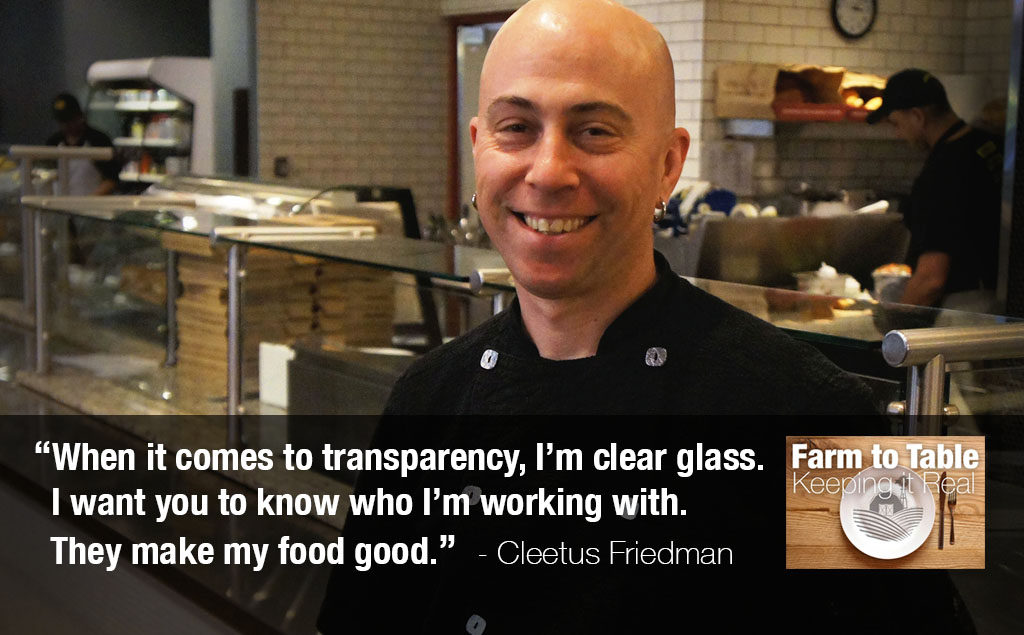 FamilyFarmed: Please give some background about how you got to this place.
Cleetus Friedman: When I was growing up, I was always into naturalistic, holistic. In high school, I stopped drinking soda, stopped eating chocolate, and I really started caring about what I was eating and putting in my body. When I moved out here in 1995, I wound up in a farmers market and started learning about the local food scene was… When I started getting back in the kitchen, it became more of a passion. In '98, '99, I thought it would be really cool to have a local food hub, a place where I could make my own stuff from local farms… City Provisions was born out of my love for everything that I loved about this industry. It was working with local farms, it was making things by hand, it was giving killer service, and having my people know everything about the process…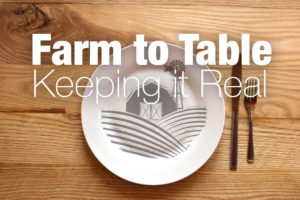 That's 2005. We've come a long way since then as a community, from chefs to consumers. We know a whole lot more than we did back then. Social media did not exist the way it does now. People say, "Oh, what if you opened City Provisions today?" I don't think that way. This is where I am in my career, and I could not be here without what I did there. It's a natural progression. From City Provisions to Fountainhead, I learned what the consumers want, what they're ready for…
FF: Let's discuss City Provisions' influence in helping develop a farm to table sector in Chicago.
Friedman: I feel like City Provisions did a lot of things for a lot of people. From small producers, a lot of them started with me bringing their stuff in and highlighting it… People still talk about City Provisions to this day, and what it did for Chicago, what it did for the farmers, what it did for producers. That's awesome. I'm very, very proud of that. There's no remorse or sense of failure. I feel like it existed in a time for a reason… Was it in the right neighborhood, was it at the right time, it doesn't matter at this point. It's gone. But what remains is the impact that it made on people, and that will always stay with me, it will always be a part of me, and it will be a part of a lot of people.
FF: One word I hear over and over and over is relationships. You built these relationships and stayed with them.
Friedman: My entire career is built on relationships. It's never about me, it's about everyone else I'm surrounded by, because I only like to surround myself with good people, and the people that I believe in. That's why when it comes to transparency, I'm clear glass. I want you to know who I'm working with. They make my food good. My cooks make me as good as I am, because they understand my vision and they can carry out my vision. No one person can do what we do alone. There's absolutely no way. So for me to take credit for the stuff that I have 50 people doing? That's selfish, and it starts with getting good food…
FF: Now you have a whole different challenge. It's not just one place or restaurant, you have a whole chain of fast-casual restaurants you're working with.
Friedman: At Caffè Baci we have four locations. At each location we do 600-700 covers a day. Our catering is, the numbers are staggering, we probably do more in catering than all of them combined… Caffè Baci's root location [at 231 S. LaSalle in Chicago's Financial District] has been around for 24 years… We were the top of the line, the sandwiches, the salads, the pastas. All of a sudden you have Sopraffina, there's Chipotle, there's Ben Yehuda, I can throw a rock and hit 25 competitors… even a whiffle ball, I could hit competitors. So we have to be on top of our game always… What's going to differentiate us from all of these people. All of these people [who work in the Loop] live in the Chicagoland area and they're going out to dinner. Where are they going? They're going to Perennial Virant, they're going to Girl and the Goat, they're going to Urban Belly, they're going to all of these places where they expect the chefs to work with local farmers. They're demanding they know where their food comes from. Yet they come to work and they accept what's down here. They don't have to accept anymore. Now they can come to Baci and know where their food is coming from. But we can't just do it overnight. It's a lot of work with our vendors, it's a lot of work with the farmers to set that kind of thing up. It's not just, "Oh, give me 800 pounds of chicken tomorrow." They can't do that, there's a process to it….
There's a difference between locally produced and sustainably produced as locally as I can get it, to supply me with the amount of volume that I need. It's not necessarily about being local, it's being sustainably produced. I don't want food that's pumped with antibiotics or hormones. So now it's about, people, find me where I can get this volume of this products that fits my parameters, and then start vetting those people and understanding them… If I can go to a Sysco [the leading food distributor to restaurants] and say, "Find me a place where I can source this product that has these parameters, I'm going to move this much of it," they'll do it. They got Michigan-farmed turkey for me, because I'm using so much. Why not? Sysco is not the enemy, anymore.
FF: Farm to table 10 years ago became a thing, then it became a trend, and now you talk to chefs like Paul Kahan and they'll say, we're past that, it's a cliché.
Friedman: It is a cliché.
FF: But you guys pioneered this, built these relationships, helped these farmers grow, scale up, build up supply in this area. Now 10 years later, you're working in this context, and there's enough product available. That's got to be rewarding.
Friedman: It is. I can't tell you it's not rewarding. But I feel like it's part of my purpose and it's what I do. Good, I'm glad, I'm excited, 20 years from now I'll feel more rewarded about it, but I'm still in it, I'm still fighting for everything… We at Baci as a group are moving in this direction and I feel like at some point it's going to get lost in translation. I'm almost resigned to be okay with it. Because at the end of the day I go home knowing that I'm still supporting it, I'm still making it. It's all about making Good Food… That's what I'm here to do, and that's what I want to do… Five years from now, I hope everyone in the Loop is doing it.
Corrections: Cleetus Friedman's title at Caffè Baci and the location of the first of the group's restaurants at 231 S. LaSalle corrected from initial posting.