The motto of FamilyFarmed's Good Food Business Accelerator is "Getting Good Food Businesses Ready for Prime Time," and its goal is to help each year's nine food and farm entrepreneurs — competitively selected for intensive training — to establish their businesses, scale up and succeed.
So we at FamilyFarmed were thrilled when The Chicago Tribune published an article about Jenny Yang — a graduate from the first (2014-15) cohort of the Accelerator program — and the planned $1.7 million expansion of her fast-growing Phoenix Tofu company.
Yang's uniquely delicious tofu, produced from organic Illinois soybeans, is a hit with restaurant chefs and consumers, who first became acquainted with Yang's products at Chicago-area farmers markets and now can find them at all of Whole Foods Market's Midwest region stores, among other retailers. Yang's expansion, needed to meet this rising demand, includes a 10,000 square foot production facility that has five times the space as her current factory nearby on Chicago's North Side.
To supplement the Chicago Tribune story linked above, we are re-publishing an article we posted on Good Food on Every Table in February 2015 about Yang's journey from Taiwan immigrant to major tofu maker and the benefits she accrued by participating in the Good Food Business Accelerator.
We have also included this piece in our Farm to Table: Keeping It Real series because of her work with restaurants seeking locally and sustainably produced ingredients. Previous articles in this series can be found on the Good Food on Every Table home page.
by Bob Benenson, FamilyFarmed
The stories of immigrants achieving success by making the foods of their native lands are parts of the history and social fabric of the United States. Jenny Yang — whose Phoenix Tofu products, marketed under the Phoenix Bean label, are gaining a strong following in her hometown of Chicago and its region — is following that well-traveled path.
But Yang's is an immigrant food story with a modern twist. While millions of people have come (and still are coming) to America to escape poverty or oppression, Yang first came to the U.S. from her native Taiwan a quarter-century ago in pursuit of higher education.
She holds an undergraduate degree from Miami University in Ohio and an MBA from the Kellogg School of Management at Northwestern University, which is how she came to settle in Chicago. And her decision to become a tofu entrepreneur was a mid-career change from working in finance for big corporations such as Sara Lee and United Airlines.
Yang — one of the first nine Fellows who participated in FamilyFarmed's Good Food Business Accelerator program — says her decision to make this change had two major influences.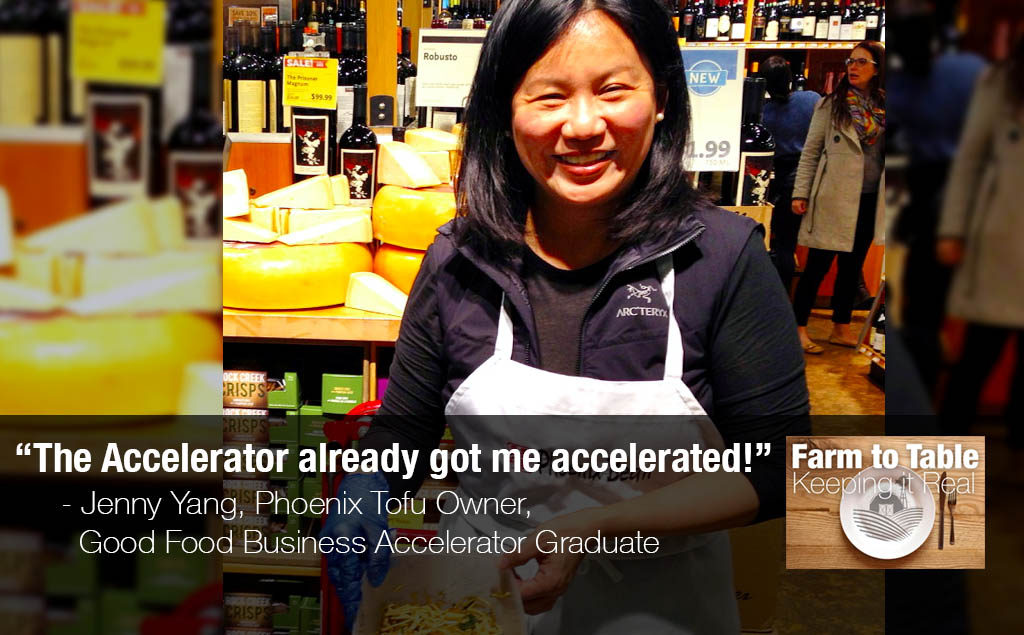 One was her desire for the kind of freshness and flavor in the tofu she grew up eating in Taiwan but found lacking in most of the packaged products available in American supermarkets. The other was a need, as a mother with two young children, to gain more control over her schedule.
It started with a coincidence. The apartment where Yang and her family still live was located right behind a tiny tofu factory that started business in the early 1980s. (This part of northeast Chicago, which includes neighborhoods such as Uptown, Lakewood-Balmoral, and Edgewater, has a large Asian population and business community.) About 15 years ago, she was out with her daughter in a stroller when she stopped in, liked the product the shop was making, and became a regular customer.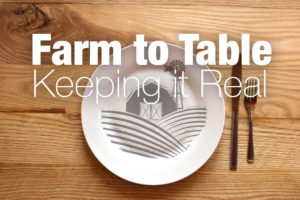 After a few years, she learned that the owner was tired of the grind and was interested in selling. "I didn't think I'd be an entrepreneur, I didn't think I had the personality to be an entrepreneur. Back 30 years ago, I don't I would have tried…," Yang said. "But the commute out to the burbs, with the kids growing, I needed flexibility, and I still wanted to do something. The definition of a good job is close to home, good money, and flexibility."
She and her husband bought the company in 2007. The previous owner stayed on for an extended period as her mentor, and most of the production staff stayed on as well. Yet as with many fledgling entrepreneurs, it took some time before Yang could settle into the family-friendly pace that had prompted her career change.
"The first 18 months was hell," she said. "My son was asking my husband, 'Does mom still live in this house?'"
Her breakthrough came when she decided to relinquish some personal control and entrust the people working for her. Yang said, "I realized that I was defeating my purpose. I wanted to be close to home with the kids. So after that, I changed my style. I don't need to be here. I know how you guys work. You don't need a person to watch what you do." Now she mainly works at home, focusing more on marketing.
Phoenix Bean's consumer profile has grown gradually over the past few years. The company first established a presence at farmers markets, including Green City Market, Chicago's biggest, and participated in major local food events such as FamilyFarmed's Good Food Festival & Conference. "Because of Good Food, I met Natural Direct, and Local Foods, and also Door to Door [Organics]. They all come in to pick it up from us now," Yang said.
It helps that Yang was able to find a farmer in Marengo — located in north-central Illinois just beyond Chicago's exurbs, about 60 miles from Phoenix Bean — growing soybeans using organic methods. [Editor's Note: Since the article's first publication, Yang and Phoenix Tofu have been obtaining soybeans from Harold Wilken at Janie's Farm in central Illinois.]  The fact that Phoenix Tofu's beans are non-GMO and produced without chemicals or pesticides has boosted the appeal of its products within the fast-growing market of Good Food consumers.
Her associations with FamilyFarmed, as an exhibitor at its Good Food Festival and Trade Show, a finalist in its 2014 Financing Fair, and as a founding Fellow in its Good Food Business Accelerator program, have helped Phoenix Bean take its next big step up. Its products are now widely available in the Whole Foods Market chain, which has a long working relationship with FamilyFarmed. Her tofu is on the menus of many of the city's Asian restaurants, and her products — which include fresh tofu of a variety of firmness, delicious tofu-based salads, and fried tofu — have found a place on the shelves of a number of retail outlets.
"The Accelerator already got me accelerated," Yang said. "Whole Foods, we had contact back and forth for a while. But in January [2015], I was talking to Stefanie Garcia, and she said, 'Jenny, you're already in the system, you can come in any time." Garcia, then in her role as "local forager" for Whole Foods' Midwest region, helped local businesses get their products into the chain's stores.
Lydia Miller of Dana Investment Advisers was Yang's "supermentor" in the Good Food Business Accelerator program. "Jenny is wonderful to work with as a mentee. She has a very strong work ethic. She is balanced — both confident in her abilities while open to suggestions on how to best position her company and capitalize on the opportunities ahead," Miller said.
It helps that Yang, who has done many of product samplings herself since going into the business, has a winning personality. You may run into her at one of those Whole Foods stores, at farmers markets, or somewhere else around Chicago.
If you do, make sure to say hello. And do not miss those tofu salads.
Photographs by Bob Benenson