by Bob Benenson, FamilyFarmed
John Des Rosiers was still in his early 30s when he opened Inovasi, a highly regarded restaurant in the Chicago North Shore suburb of Lake Bluff. Yet he already had many years in the kitchen behind him. In fact, it would not be a wild exaggeration to say he was born to be a chef.
Des Rosiers says he started cooking at age 7, thanks to parents who cooked, grandparents who owned a small farm in Wisconsin, and a Polish grandmother who not only taught him how to make ethnic specialties such as pierogi, but talked a well-known chef — Gabriel Viti of Gabriel's, a French-Italian restaurant that had a long run in suburban Highwood — into giving Des Rosiers a job while he was still in high school.
At that tender age, Des Rosiers crossed paths in Gabriel's kitchen with future Chicago chef stars as Giuseppe Tentori, Matthias Merges and Christine McCabe. Des Rosiers fell in love with the restaurant life, honed his skills at the Culinary Institute of America in Hyde Park, New York, spent a few months in the restaurant kitchen of Chicago's famed Charlie Trotter — then returned to Gabriel, where he became sous chef at 22 and took over the kitchen at 23.
After several years as the executive chef at another restaurant, Des Rosiers decided it was time to open his own place. Along the way, he developed his dedication to working with local farmers to the greatest extent possible. The front page of Inovasi's menu displays a long list of local and sustainable producers from whom he sources, many of them names familiar to Chicago's farm to table diners and farmers market shoppers.
He brought the same philosophy to Wisma, a store located nearby in Lake Bluff, that sells gourmet food preparations to go and also has developed a line of chips, salsas and sauces sold in retail markets.
FamilyFarmed recently visited with Des Rosiers at his charming suburban bistro for a wide-ranging conversation about his career, his farm to table philosophy, his relationships with his producers, and the challenges in accelerating the growth in the Good Food movement.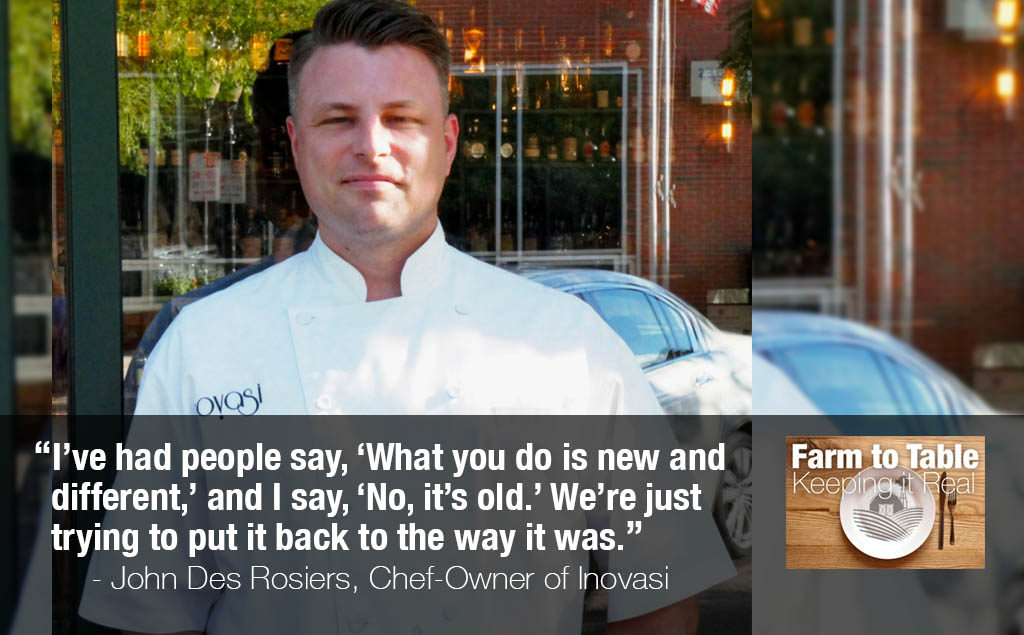 FamilyFarmed (FF): What was food like when you were growing up and did the way you ate when you were young affect your decision to go into culinary arts?
John Des Rosiers (JDR): I was 7 when I started cooking, actual cooking with my Polish grandmother. Both my grandfather and my grandmother up in Wisconsin, they also cooked a lot with all of the stuff they had from the farm. I was always in the kitchen…
The Polish grandmother met Gabriel Viti … and she talked his ear off long enough where he said, 'Fine, tell him to come in and spend a day with us to see if he really likes being in a real kitchen.' I went in and I remember I came home that night and I kept my parents up until 1 o'clock in the morning, talking about wonderful and amazing everything was, and how cool this and that was. I started working there when I was 15, all through the rest of my high school days. I'd get out of school at 2 o'clock, go back to the restaurant, and work til about 11 o'clock at night. I'd sleep through half my classes the next day, it was not very good for my junior and senior years in high school. But for me it didn't matter. It was perfect…
I learned a lot from working at Trotter's even though it wasn't a really long amount of time. You didn't have to be there long to learn a lot of stuff from them.
FF: In terms of choosing this site, it's obviously an adorable little town. What were your site selection determinants?
JDR: I was looking for a small restaurant with about 20 to 30 seats just to open. We had about 15 people who I'd worked with for a long time who were waiting for me to open something here, and so I said, 'We'll just go find something to do so we all have jobs together." Most of the staff that I opened with is still here now… The town was great, the people who were here were really supportive, the partners were a really good deal, they gave me everything I wanted, I had total control over everything. I ran the company the way that I wanted to…
FF: Tell us about developing the relationships with your farmers.
JDR: We basically started with a core of six or seven different farms that we would buy most everything from, or at least as much as we could. That covered about 85 percent of the menu during the summer and maybe 45 percent of the menu in the winter… We just kept adding on a little bit at a time. So now in the summertime we've got 95 percent coming from local sources…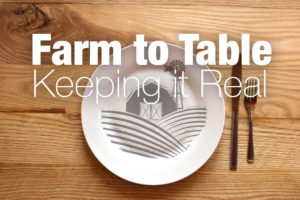 One of my friends [Dave Rand] started Local Foods in the city. We would talk six years ago about the need for having a distribution hub for all these farms… The first three years we were here, we would spend 20 hours a week just trying to figure out what to do for the next week's menu, what we could get, what we couldn't get, if the weather changed. That was really challenging. Now it's a lot more stable, and because of places like Local Foods.
FF: Did you make many connections at farmers markets?
JDR: When we first started, I'd go to Green City Market twice a week and pick up all my stuff at Green City. That was the place that all the farms were at… It's evolved to the point now that we don't have to do that to get most of the same farms from either Local Foods or people who just bring it to us…
FF: In terms of customer sophistication about Good Food…
JDR: It's better. It's not there yet. It's one of the few things that I'm disappointed about after being here for more than seven years now. I really thought there would be more restaurants like us up here at this point…
All affluence does is buy you bigger houses and more [stuff]. It doesn't buy you excellence, it doesn't buy you good taste… People get it as much as they want to get it. You've got 40 years of a habit, you're not going to change that habit because you happen to have money. It doesn't change that way… It has to do with personal experience and personal desire and what they want for their life.
FF: So how do we tackle that educational part?
JDR: It's a long struggle. It will take the rest of my life to do it. Look at how long it took to get this way. We went from a society that used to farm and grow every single thing that they ate, to everything being manufactured and delivered to a store for them where they could pick it up and now we're trying to go back to at least have an understanding of where all that stuff comes from.
FF: "Local food" used to be redundant.
JDR: I've had people say, "What you do is new and different," and I say, "No, it's old." We're just trying to put it back to the way it was, so that you know when you go to the market, you buy x, y, z, you know the guy who grew it for you. It just takes time.
FF: Nothing will move this like demand.
JDR: You have to remember than an organization as large as a McDonald's, they just don't turn on a dime. Literally everything they do would fall apart… There's no way. All their competitors would say, wonderful, we'll take all of your customers. It would be worse if McDonald's actually closed than if they helped to turn things around. Big companies like them and General Mills are going to be the ways everybody else gets to do it… As long as we keep pushing them to change their expectations, they'll do it…
FF: To me the death of this movement would be one word. Elitism.
JDR: If you make it sounds like no one else can be part of it, or no one else can afford it, we lose. You need the 85 percent of the people that don't do that every day… You need every human being you can get to try it. You can't lose by having people go to the farmers market. You're either going to be where you started, or you're going to gain something. You're never going to lose something by having people introduced to it…
FF: Let's get back to that question of local vs. quality.
JDR: We've always said the taste has to come first, before everything else. You're not going to get people to eat local food if it doesn't taste very good. We're not going to be successful if we have a whole bunch of local farmers and all the food tastes mediocre, we're going to lose every time that way… Our beef comes from Jefferson Township in Iowa, and the cows are incredible. The burgers actually taste like ground steak. It's all natural, cows walking around eating wildflowers and grasses. It's perfect….
FF: I will spend that extra money for meat from animals that I'm persuaded are treated well during their lives.
JDR: I'm an Eagle Scout. I was in the Cub Scouts and Boy Scouts for my whole life, and we were always taught that everything around you is in balance and every thing should be treated with respect. And every time you encroach on something in nature, you're supposed to leave it better than it was when you got there. And that extends to everything else that we eat, the way everything is treated, and all of that matters.
And when we stop caring about it mattering, that's when everything else goes to Hell….