Sangria, a summertime favorite, is sweetened wine spiked with brandy, triple sec, or some other kind of spirit, to which pieces of fruit are typically added. A pleasant drink, indeed.
But what if you wanted a dessert for company or a picnic or just your own self that is made with lots of fruit… and that creates its own alcoholic punch when soaked in a syrup that includes a fruit liqueur?
You would have a fruit salad, kind of an inverted sangria, that is one of the most delicious, slightly intoxicating, healthiest, and easiest-to-make desserts ever.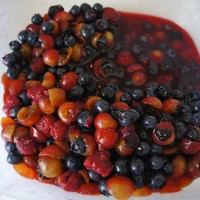 The variety depicted here is labeled Booze 'n' Berries — yes, a pun on "boysenberries" — because it is made with a mixture of raspberries, blueberries, black raspberries, and Rainier cherries, macerated in a syrup made with maraschino liqueur, fresh lime juice, and honey.
But the beauty of this particular recipe is that is endlessly adaptable to your own personal touches. The combinations of fruit you can use are myriad, essentially whatever best suits your tastes. You can toy with a variety of liqueurs and brandies as the macerating liquor. If you prefer a sweetener besides honey, go for it.
While the availability of most kinds of fruit at supermarkets year-round means this fruit salad could be made any time, summer is obviously the optimal time to make it. If you can obtain perfectly ripe, fresh-picked seasonal fruit, especially from a farmers market, the juices will burst and co-mingle with the syrup, creating a flavor that is both unique and just amazing.
In fact, all of the fruit in Booze 'n' Berries was grown in the Great Lakes region around Chicago and was purchased at the Green City farmers market in the city. Except the lime. Even with global warming, there's not a lot of citrus being grown in these parts.
This recipe is also incredibly easy to make. If you use whole fruit such as the smaller berries, or larger fruit that are easy to slice and pit, this whole thing should only take minutes to prepare. Fruit such as Rainier cherries raised the degree of difficulty a bit because they are small and a little labor-intensive to pit, but still, it's not a big deal.
The base recipe is enough to feed several people. It can be reduced proportionately, though, if you need a smaller amount. A second version, halved in size, is also provided below.
Liqueur-bathed Fruit Salad
12 cups of mixed fresh fruit
1/3 cup honey
fresh-squeezed juice of 2 limes
1/2 cup fruit liqueur
[For a half-portion, use 6 cups of fruit, a little less than 3 tablespoons honey, juice of one lime, and 1/4 cup liqueur.]
Preparation
1) Pit and slice tree fruits; berries can be trimmed but left whole. Place all fruit in a large bowl or other container.
2) Combine honey, lime juice and liqueur in a bowl, mixing thoroughly, then pour over fruit.
3) Allow to steep in the refrigerator for at least four hours, or overnight. Serve in a glass or cup so you can drink that delicious liquor while you eat.