When the Artisan Distilling Program at Michigan State University opened a tasting room in early July at its production facility near the East Lansing campus, it fulfilled a longtime goal of MSU professor Kris Berglund.
"We've kind of been the black ops guys," said Berglund, a distinguished professor of food science and chemical engineering, whose program had maintained a much lower profile since he founded it under university auspices in 1996.
Berglund, who was also instrumental in creating the school's new minor in spirits, beer, and wine making, added, "Now we're coming out into the light a little bit."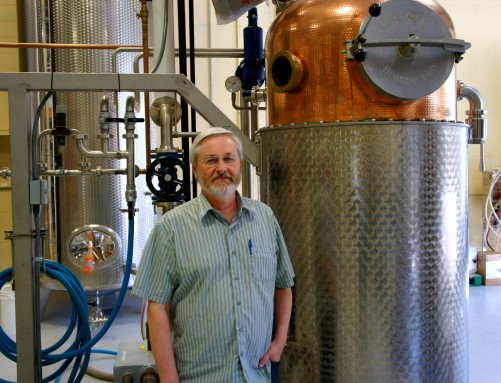 It took Berglund longer — almost a year — than he initially planned to open his doors to the public. After moving the program's distilling equipment from rented space several miles away to a former public works facility in East Lansing early last year, Berglund hoped to have the tasting room open in time for the Spartans' fall 2012 football season. But he ran into the challenges of starting up any kind of new food-related business and the special obstacles created by the federal, state, and local alcoholic beverage licensing procedures.
Berglund said that the tasting room will be open by the fall, adding, "We just picked the wrong year. We're just one year off." The experience has given him new knowledge that he can pass along to students who are interested in starting their own beverage businesses after they graduate.
"Mostly what we learned is, you don't want to put yourself in a position from a cash-flow standpoint where you have to open by a date certain, because you're going to go bust. You can't be in that position," Berglund said.
The emphasis on being open by football season, when  thousands of alumni will be pouring into town for games, is not coincidental. Berglund's strategy for marketing his spirits is directed straight at the hearts of MSU loyalists. The Red Cedar Spirits line is named for the river that runs through the middle of the campus, and the Spartan Fight Song begins, "On the banks of the Red Cedar is a school that's known to all."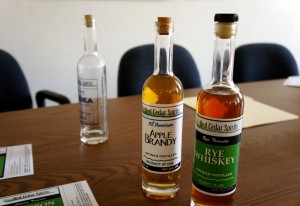 On the drawing boards is a plan to a create a twin set of mint and plain vodkas that will mimic Michigan State's school colors of green and white. And Berglund, who received his undergraduate degree from Big 10 rival school Illinois, said he plans to try to draw in supporters of other teams that come to play at MSU with similarly specialty products — even arch-rival University of Michigan. "I already know they're getting blueberry and lemon," he said with a chuckle, playing off the Wolverines' team colors of maize and blue.
Red Cedar Spirits and the tasting room are being operated under a commercial licensing agreement with Uncle John's Cider Mill, located about 20 miles north in St. John's, which also enables Berglund to provide consulting services to both new and established distilleries. The university administers the teaching and research functions of the MSU distilling program.
Berglund said Michigan State's administrators bought into the idea of spirits bottling and the tasting room because students in the program will benefit from seeing the beverage-making process from farm to glass. "Students are going to be able to see that whole chain of value being created. That's going to be a tremendous opportunity for students to really pick up," Berglund said. "We've had visits from some of the biggest companies in this business because they're looking at the possibility of hiring students out of programs like this because there's nothing like this exactly."
Michigan State also runs one of the nation's largest hospitality business programs, and Berglund foresees the tasting room providing opportunities for students in that area as well.
"If they work here for a while, learn all the rules and laws, they're going to be very attractive employees for local bars and restaurants who are always needing people who know how game works," he said. "And they're professionals too, they've chosen that field. They're not like someone who's working their way through college by waiting on a table."
The Michigan State Artisan Distilling Program and its tasting room are located at 2000 Merritt Road in East Lansing, about 2-1/2 miles northeast of the MSU Union building on campus.