CHICAGO — Hard cider can be described fairly as America's native local drink, the most popular fermented beverage among the nation's early drinkers. And while cider declined and today is a tiny sliver of the U.S. adult beverage market, sales and interest are surging all of a sudden.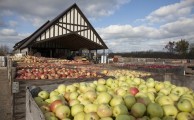 Brian Rutzen has a up-close perspective on how the cider trend gained momentum practically overnight, as a Chicago representative for cider makers, including Uncle John's in Michigan.
"I could physically see the change happen last spring. I was going around to places selling Uncle John's and I'd be chased and laughed out of the door [by managers who said], 'We already have a cider,' Rutzen related. "But by May, June, you'd go into places and it would be, 'Yes, absolutely, we need a cider. It's so warm, people are asking for it.' Really, just within a couple of months, it happened like that."
He added, "I specifically told people who said, 'We already have a cider on tap, we're not going to have two," you have 30 draft lines here. You put another cider on, I bet you it will sell more than half of your other beers. That's when people started getting the light bulb."
Now Rutzen will play a big role in measuring how much of a thing cider is becoming in Chicago. He has signed on to manage The Northman, which will be the city's first cider-first bar (and one of a small handful across the nation) when it opens, likely this autumn.
The Northman will be located in the North Center neighborhood, near Lincoln Square. It is the latest project for the owners of Fountainhead and Bar on Buena, which have thrived as North Side neighborhood bars featuring craft beer and whiskey. Cleetus Friedman, executive chef for both of those establishments, will design the food program for The Northman; Rutzen currently tends bar part-time at Fountainhead.
According to Rutzen, the new bar will have not two ciders on tap, but 18. Ciders in bottles and cans from across the United States and around the world will boost the total stock to more than 100 labels.
Cider is not, by any means, a totally local phenomenon. Another hint of the sector's growth comes from big beverage corporations, who also have jumped on the cider bandwagon. Angry Orchard cider is owned by Boston Beer Co., whose Samuel Adams line makes it by far the nation's biggest craft beer brewer. The Crispin cider company, founded 10 years ago in California, was bought out in 2012 by MillerCoors, which also owns the newer Smith and Forge cider brand that is has been advertising heavily on TV.
But much of the growth in the cider market is being fomented by producers who are very much within the traditions of the beverage's local roots. Here is a look at two of them based in Michigan: Mike Beck of Uncle John's, a deeply rooted apple grower that was on the cutting edge of the cider trend, and Gregory Hall, who was new to the field when he started Virtue Cider, but brought in more than 20 years of experience in beer production as the longtime head brewer at Chicago's Goose Island.
Uncle John's: New Line for an Old Orchard
Beck is the fifth-generation owner of Uncle John's, an orchard that for well more than a century has been in St. John's, Michigan, about 25 miles north of the state capital of Lansing. He also has played the leading role in adding hard cider to a product line long dominated by sweet fresh juice.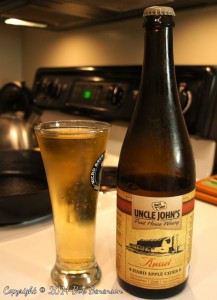 Uncle John's has been making hard cider since 2000, "which makes us kind of a crusty veteran," said Beck, who added, "I worked hard to make it happen here." His fellow producers rewarded his persistence by electing him the founding president of the United States Association of Cider Makers last year.
Beck has a strong sense of the history of cider, the once-reigning king of American beverages. He noted that many early American settlers came from places, such as England and France, where cider was popular. And, Beck said, "Apples flourished, so that's easily the reason why it became the alcoholic beverage of choice, because the raw product was there."
Cider's dominance was gradually eroded, as the nation's western expansion dramatically expanded the availability of the grains needed to make beer. The influx of immigrants from beer-loving places such as Germany contributed to the trend. So did the huge population shift from rural areas to the cities, where grains' greater shelf life and transportability over apples gave beer an important leg up.
The biggest squeeze on cider came during the Prohibition era that lasted from 1919 to 1933. "Prohibition killed it," Beck said. "Any farmer smart enough to realize, hey, they were growing these apples that were for cider, but they didn't really meet the market demands for eating apples, they were too tannic, too small. Those got chopped down during Prohibition."
It took until just a couple of decades ago for brands such as Woodchuck from Vermont and Magner's from Ireland to recoup any shelf space for cider. But soon after, Beck and a few other industry pioneers decided to try their luck.
It was slow going at first, but Beck said, "About two years ago, it really started happening in hard cider." That was also around the time that Uncle John's started packaging some varieties of its cider in four-packs of 16-ounce cans.
Several of its varieties are blends of apples with other Michigan-raised fruits, such as cherries and blueberries. Rutzen, who has worked for Uncle John's, admitted that this practice is frowned upon by some traditionalists, but added, "While I might prefer just straight apple cider as well, I really do enjoy seeing what other fruit flavors do to the drink. I don't see why we should deny that to anyone. As long as it's done well, everyone is honest about what they're doing and how it's being made, then great, have at it."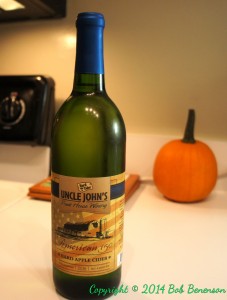 And Uncle John's is producing some drier, more European style varieties, such as its American 150, made from several russeted varieties. And in doing so, the cidery is promoting the revival of some traditional types of apples that had declined dramatically over the years.
"Those russeted apples are all from our past, they taste awesome, but they don't look pretty," Beck said. "So back in the '50s, people started buying with their eyes instead of their stomachs. Whoever could make the prettiest package or the prettiest apple or prettiest oranges, they weren't necessarily the most flavorful ones. If they looked liked that image on TV that they saw, that's what they wanted."
Virtue: A Drier Take on a Rising Tide
While Beck grew up around apples, Hall initially followed his father's footsteps into a brewery. He was in his early 20s when his father, John Hall, founded Goose Island. As Goose Island emerged into its longtime role as Chicago's premier craft brewery — and an innovator, widely credited with establishing the now-popular concept of bourbon barrel-aged beer — Greg Hall worked his way up from an entry-level job to head brewer.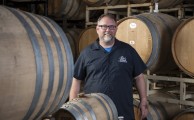 Hall's first major acquaintance with hard cider came during a trip to England with members of his Goose Island team in 2000. They ended up at a cider fest in a bar in York and, Hall said, "We were just blown away, just blown away, because all the ciders we'd had up to then were kind of the sweet fizzy kinds. It was an awakening like the same thing we were doing with beer."
Hall came back with a desire to add cider to Goose Island's product line, a zeal his father did not share at the time. But the idea was still on his mind when beer giant Anheuser-Busch bought Goose Island in 2011, and he decided to leave. "Without putting stuff down on paper, I had a pretty good business plan in my head on how to go about this," Hall said. "I felt like working for 23 years in craft beer was 23 years of training for opening up a cider company."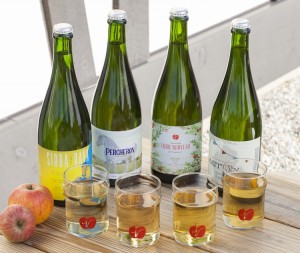 The result was Virtue Cider, with its business operations in Chicago and its production facility across the lake in Fennville, Michigan. This cidery creates beverages that are more dry than sweet, in what Hall describes as "old world farmhouse styles," borrowing from the traditions of England (Red Streak, which is Virtue's flagship brand, and The Ledbury), France (Lapinette, Percheron, Cidre Nouveau), and Spain (Sidra de Nava).
And perhaps in a nod to Goose Island's barrel program, there is The Mitten — a reference to the geographic shape of Michigan — that is aged in bourbon barrels.
The formula appears to be drawing a following. Production more than tripled in 2013 from the 60,000 gallons produced in 2012. Virtue, which opened with a single cider house in Fennville, added another recently.
Hall, who expresses devotion to locally produced ingredients and sustainable methods,  sees Michigan — the third-largest producer of apples among the states — as the land of plenty for cider makers. And he has no small ambitions.
"I think we can turn western Michigan into the Napa Valley of cider apples. It has got fantastic growing conditions for apples and cider apples. Farmers can make more money than they can even growing the holy grail of the Honeycrisp [a popular eating apple] year in, year out. For lower cost too, and less spraying," Hall said.
Uncle John's Cider Mill is located at 8614 U.S. 127 in St. Johns, Michigan, and is open from 9 a.m. to 8 p.m. every day. Virtue's production facility is located at 2170 62nd Street in Fennville, Michigan, and is open to visitors every day from noon to 7 p.m. The Northman bar will be located at 4337 N. Lincoln Ave. in Chicago.