Interest in reviving heritage varieties of fruits and vegetables is on the rise. But for almost 80 years and for four generations, Genevieve Weston's family has been keeping heritage apples growing on their orchard in New Berlin, Wisconsin, located just 20 miles southwest of downtown Milwaukee.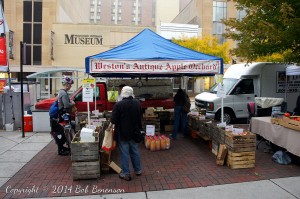 Weston's Antique Apples lists 90 varieties on its website — from Alexander (a Russian apple first developed in 1770 and named for a Russian czar) to Zaubergau Reinette (an 1880 German variant described as the largest of the russet apples) — and grows small amounts of many others.
The family members stuck with it, even as consumer trends following World War II pushed apple growers to produce varieties that were sweeter and more uniform in appearance than most heritage varieties.
They maintained a steady customer base, and touted the "antique" label as the rise of the Good Food and Slow Food movements prompted increased market demand for apples such as those Weston's grows.
While Genevieve Weston has a challenging day job as a speech-language pathologist, she spends much of the rest of her time helping run the orchard and its retail stands there and at farmers markets in Madison and West Allis. She also is developing a line of soft drinks under the Sunny Slope label, and after years of providing apples for hard cider makers, she plans to join their growing ranks later this year.
The following is the history of Weston's, in her own words.
My great-grandfather Willem Markwardt bought the farm on National Avenue in Waukesha County as an investment in the 1920s and rented the farm.
In 1935, my great-grandfather could no longer afford the farm and his home in Milwaukee. He moved himself and his daughter's family — my grandmother, grandfather, father and aunt — from Milwaukee to the farm. My grandfather commuted by train back into Milwaukee. My grandmother worked as an executive secretary in Chicago and spent the week there.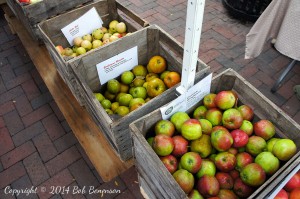 To increase the family income, my great-grandfather tried a chicken farm for one year, and then he started the orchard. Since this was 1936, and the definition of an antique apple is any apple variety pre-1936, naturally all the apples planted were antiques.
My grandmother had a great love of history, especially English and German history. She insisted that German and English varieties be planted in the orchard. My grandparents also loved to talk to their customers and planted many varieties that customers recommended. They wanted to expand the time frame that they would sell apples, so they planted summer varieties through late-fall varieties. The numbers of varieties continued to climb.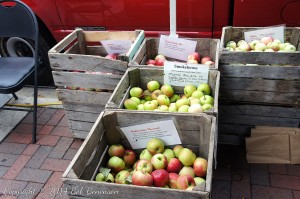 We did plant modern Cortlands, McIntosh and Delicious. My grandparents hated them. They found the skins to be too tough and the taste to be substandard compared to the trees planted in the '30s. My grandfather cut all the new branches off and grafted on the antique varieties. After this experience, our family started to promote the superiority of the antique varieties.
Both my grandparents loved to cook and bake, so they enjoyed talking to chefs and people involved in the Slow Food movement. In the late '80s, individuals like Jean Feraca of Wisconsin Public Radio and Odessa Piper, the original owner of L'Etoile in Madison, told us that we fit in the category of Antique Apples.
At this time, family farms were struggling and we needed something to set us apart in order to remain in business. Marketing ourselves as an Antique Apple orchard was a comfortable fit for our family. We continue to add new antique varieties every year.
Currently we have around 200 varieties. In order to have that many varieties on 16 acres, we have only small amounts of 90 percent  of our varieties — seasons of approximately two to three weeks. A few — Yellow Transparents, Strawberry Chenangos, Pink Pearls and King Davids — we have for four or more weeks. These are varieties that our family loves and that sell well. Production of these varieties averages 16 to 24 bushels a year.
We have developed a relationship with Seed Savers in Iowa and through them we have trees we built from scion wood that came from the original wild orchard in Kazakhstan. We now sell trees that we built from scion wood and root stock so others can also have antique apples.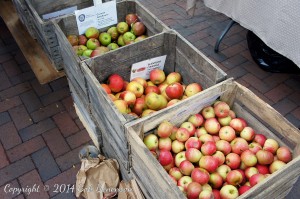 Our original customers refer other like-minded customers to us. I researched and wrote a book on apple history and varieties to sell at our homestand and to improve my own understanding of antique varieties.
We always used spray material conservatively but now we are integrated pest management. We feel this will preserve the quality of the land for the future and decrease the risk for harm to our customers. Additionally — as a family farm — labor is free, spray is not.
We believe that preserving crop diversity and integrated pest management are a good fit and increase our customer base. We are also a family that consists of educators — my aunt and mother were grade-school teachers. My father was a professor. We have a total of 15 degrees in our family. (I have four.) We enjoy teaching people. I would argue that we live and breathe teaching.
In the spring, we offer classes on pruning, integrated pest management and grafting.
Unpasteurized cider is our nation's history as well as part of our family history. I remember many cold fall nights when we made cider at the orchard and the cider would freeze our clothes. For 30-plus years we had used a hand crank press that had been made into a hydraulic press. It was always breaking down and production was uneven.
When my husband had just become my fiance, he was helping us make cider. He sprained his ankle trying to get the pumice out of the mold. This was the last straw for my family. The next day we bought a new state-of-the-art press. This allowed us to make a large quantity of cider reliably.
When we started to make larger quantities of cider, the hard cider customers came to us and educated us. We did start to plant true cider apples such as Foxwhelps and Medal d'Ors. We fill carboys and make single-variety pressings for our hard cider customers.  We are still learning.
We just enjoy talking to people who truly love fruit, especially apples, and we enjoy learning from them whether they eat the fruit raw, bake, or make hard cider. It is our customers that make the orchard fun and keep us going.
In the past 15 years, we have planted a greater range of fruit, from cherries to plums to pears, as we learned that children especially did not know fruit. They could not recognize cherries and it was just "pears," not Bartletts or Lincolns or Seckels.
While I work full time as a speech language pathologist in a skilled nursing facility, I pick fruit in the afternoon — this is easier when the days are longer. I load the truck for the Madison market on Friday nights. On Saturdays I sell at the farmers market. Saturday afternoons, my brother and I unload the Madison truck and we set up the homestand. On Sundays I run the homestand. I prune the orchard in the winter and research apple history and food recipes.
In addition to the apple history book, I have also written three cookbooks and I have two additional cookbooks started. The books are available at the homestand.
Using Weston fruit, a friend and I have started Sunny Slope, a new food and beverage business. This summer we are selling natural sodas such as Apple Ginger and canned products, and expanding into hard cider by December.
My brother works full time as a software engineer and has a similar schedule. For many years, my father and mother had similar schedules so this was how I was raised. I was taught to love the outdoors and the fruit, so all this activity is more of a release — a vacation — from my very serious job.
I have spent my entire life in the orchard. I started to weigh apples at the market when I was four. By five, I started to pick apples from the lower limbs. There has never been a time in my life that I have not worked on the orchard. It is my plan to continue to do so until I die, as my grandparents did and my father and aunt are currently doing.
Weston's Antique Apples sells directly to the public in season at three locations: at the orchard's homestand, at 19760 W. National Avenue in New Berlin, Wis., Sunday afternoons from August through November; the famed Dane County Farmers Market that rings the state Capitol in Madison, Saturdays 7 a.m. to 2 p.m. from May until early November; and the farmers market at 1559 S. 65th St. in West Allis, Wis., Tuesday, Thursday and Saturday afternoons from May to November.