by Bob Benenson, FamilyFarmed
The Mayan Café presents traditional cuisine of Mexico's Yucatan Peninsula that since 2007 has delighted diners (and reviewers) in the restaurant row in Louisville's East Market District, a.k.a. NuLu. And they have done so in part by going all in on sourcing ingredients as locally as possible, a decision that made them a farm-to-table front-runner in Kentucky's most populous city.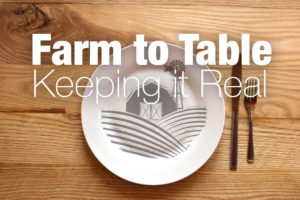 Co-owners Anne Shadle and her brother-in-law, Mexico-born chef Bruce Ucán, had already been moving in that direction by holding Mayan Market Mondays, featuring a rotation of producers who sold at Louisville's main farmers market. Their decision to plunge deeply and irrevocably into farm-to-table came in 2008 after Ucán viewed the documentary "Food Inc.," a powerful indictment of the nation's industrialized corporate agriculture system.
The owners made a decision to purchase only locally and sustainably produced meats, and to buy as much local produce as they can (while being clear with customers that their cuisine requires some tropical ingredients such as pineapple and coconut that are not grown locally). The restaurant presents a monthly menu featuring a seasonal item: The June 2016 special menu focuses on berries, with a salad that includes strawberries and a jalapeno-blueberry vinaigrette, a steak entree with a spicy berry chutney, and a berry shortcake for dessert.
Their commitment to local and sustainable extends to the beverage menu, which features sustainably produced wines along with local craft beers and spirits. And the restaurant has jumped ahead of the curve again in presenting allergen-free items and otherwise accommodating customers with special dining needs.
Good Food on Every Table is pleased to present a q-and-a with Shadle and Ucan as our first out-of-Chicago article in our "Farm to Table: Keeping It Real" series.
Family Farmed (FF): Please give us some history about the Mayan Café and how you decided to go all in on farm to table.
Anne Shadle: We were the first restaurant in the neighborhood we're in, called NuLu. Bruce had opened his first restaurant called the Mayan Gypsy in 1997… We opened as the Mayan Café in 2007…. About a year and a half into it, we started doing what we called Mayan Market Mondays… The farm to table trend was coming up, so what if we tried to do some specials on Monday night [when business was usually slow]? So Bruce said, "I can go to the market on Saturday and get stuff from individual farms and feature different farms every Monday night…
It was that summer that Bruce saw "Food Inc." the movie, and that was kind of a light bulb moment for him…. That was impetus for us to say, we're going to pick a go date, and that was Dec. 1, 2008, and from that point forward we'll only serve local, sustainably produced meat at the restaurant, because we can get meat all year round from local farms. We also pursued local produce and cheese and honey, everything else we can get in season around here. We did the Mayan Market Mondays for four summers…. We really became invested in the concept of it and realized how much better the food tastes and just the idea that this food is better for you. Food is health is kind of at the core what evolved here…
FF: Bruce, going back to when you started your businesses 20 years ago, how much more difficult was it to get local ingredients than it is today?
Bruce Ucán: When I opened the restaurant the first time, I had trouble just getting the basic stuff for my Mayan cooking, something simple like chayote… It took me a long time, but I started buying from the farmers. The idea of buying local came along strongly. It has become easier, and it has become cheaper… It's different not just for the restaurants, but for the people buying.
FF: Have you been able to get local farmers to produce specialty items that you need for your cuisine?
Ucán: A farmer approached me just last winter, and he asked me, what can I produce for you. He is from El Salvador. … He said, "I want to grow something different than the other farmers, the regular potatoes, the regular kale or whatever." … So I tasted some of his jicama, and it was unbelievable. It's not cheaper, but we have to think about a different level, vision, for vegetables here.
Shadle: One of our struggles over the years is that we are The Mayan Café, and Latin food has a lot of tropical fruits and vegetables, which aren't local…
FF: As long as you're transparent and being straight about what you do, people are going to trust you, right?
Ucán: I'm very passionate about what we do. We truly believe this is the right way to do it. Some chefs claim to do this. I don't believe them…
Shadle: There are a handful of restaurants that are really doing local sourcing. There's a restaurant called Harvest that's just down the street from us and they're owned by a farm, the partners in the restaurant are farmers. They are really genuine…. There are some restaurants that buy some percentage from local farms. And there are some new restaurants who come in that have the same kind of look and vibe as the other places. Some of them don't do local sourcing, but because they're in the neighborhood, people assume they do… Our food cost is in the 24, 25, 26 percent range, which is exactly what the industry average is…
The thing that distinguishes us [from other local farm to table restaurants] is that we are Mayan Café. So we focused on how we do this so we don't lose our unique angle and brand. So let's filter through the menu and put the most traditional Mayan dishes on the menu and have that be a standard thing that doesn't change much throughout the year. And every month we'll have a seasonal special menu that has some thematic ingredients to it. We have just two or three dishes on that menu with a wine or a cocktail, and that menu changes every month. That's how we can really take advantage of all of the fresh produce and things like that, and keep the regular menu standard so that we know from an inventory and purchasing perspective exactly what we have to have.
FF: The price you pay for your sourcing is a very important point. The most important word is relationships.
Shadle: Bruce still goes to the farmers market every single Saturday morning. We get a lot of deliveries directly from farmers to the restaurant. But he goes every Saturday to maintain those relationships and touch base with them, see if there are new farmers who have come to the market, just keeping a hand on the pulse of the growing season and the farmer community around the city.
FF: I understand that you also have been ahead of the curve on working you're your customers on their allergy and food restriction issues.
Shadle: A year and and half ago we were able to take gluten out of almost everything on the menu as well as any cream in sauces. Then we have a whole separate Allergen Menu, I've been doing that since 2010, 2011. I never advertised it in any big way. People who have allergy restrictions, once they find a place that has safe food, they will become a customer for life, and they will also be your marketing voice, they'll tell their friends who have dietary things. That's exactly what's happened… It's grown entirely word of mouth…
Our consistent theme is how do we stay relevant, how do we continue to evolve and stay fresh exactly when there are so many new restaurants that have open. The neighborhood where we are has become the hottest area for restaurants. There are new things with huge investors with hugely deep pockets, none of which we have. New young chefs coming in doing cool things. So it could be easy for us to just do the same thing, because we've been doing it for so long. But then you just kind of get left behind… We were a leader in farm to table and now we want to be a leader in the allergy movement. And then continue to say, "What else is next?"
All photographs courtesy of The Mayan Café.