by Bob Benenson, FamilyFarmed
We at FamilyFarmed obviously are big advocates of cooking healthy, delicious meals at home (preferably from fresh ingredients produced by local farmers and food processors, of course). But for many busy and overcommitted people today, cooking seems too complicated and time-consuming.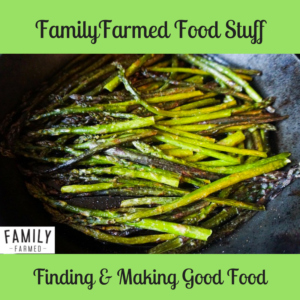 To which we suggest this two-word solution: roasted vegetables.
Living in Chicago, I always look forward to the arrival of asparagus, usually in early May, as one of the first local crops to hit our farmers markets. Partly that's because the asparagus is confirmation that spring has officially arrived. But it is also because roasted asparagus (seen solo in the FamilyFarmed Food Stuff meme here) is quite possibly the easiest, lightest-lifting delicious thing you could cook.
How easy? Rinse and dry a bunch of asparagus spears. Pick up a few spears at a time, apply gentle pressure toward the bottom… and the tough woody ends snap right off (you don't event need a knife!). Put them in the pan, lightly coat with olive or other vegetable oil, and lightly salt (I often add a little garlic powder and/or dried herbs for extra flavor). Then roast them at 400 degrees.
That's it. A couple of minutes of prep time. Once in the oven, it requires no supervision beyond making sure that it is done to your specs.
How long should it cook? If you want your roasted asparagus bright green and still rather firm, you're done in 15 to 20 minutes. A few minutes longer and they get browner and softer. After about 30 minutes, they get very brown and a bit crunchy, which is kind of cool. Don't let them go much longer than that, because burnt is burnt.
The great thing is that the same easy technique applies to other roasted vegetables. And there aren't many vegetables that don't benefit from roasting, which beautifully concentrates the flavors and sugars in plants and also often turns them a bright version of their color. That also means that you can enjoy the freshest seasonal produce all growing season long with hardly any effort at all.
Witness this early summer vegetable pan roast in the photograph below. The asparagus in the pan is one of the last bunches we'll enjoy locally this year, but the snow peas just hit the local markets within the past couple of weeks. Root vegetables such as carrots and turnips tend to have rather long spring to fall growing seasons around here. (By searching the Internet, you should be able to easily find a chart of when local produce is available in your region, such as this one from the Illinois Department of Agriculture).
The only trick here is that different vegetables have different cooking times — specifically, veggies that are bigger and/or harder take longer to cook through than smaller or softer veggies. So for this lot, I put the turnips and carrots in for 40 minutes, then added the asparagus and snow peas about 20 minutes in. Everything came out just right.
So if someone tells you that cooking Good Food has to be a long, laborious task, tell them, "Go roast a vegetable."
Have a favorite roasted vegetable or preparation? Please share it with us in the comments. We hope you enjoy the buying and cooking tips in our new FamilyFarmed Food Stuff series, but the articles are intended to be conversation starters. We'd love to here your delicious ideas!