by Bob Benenson, FamilyFarmed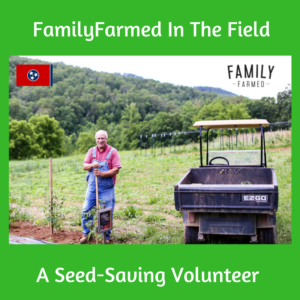 Chelsea Callahan, FamilyFarmed's Program Assistant, visited Blackberry Farm in the Volunteer State of Tennessee last weekend. Located in rural Walland in the eastern part of the state — south of Knoxville and just north of Great Smoky Mountains National Park — this beautiful setting is best known for its world-class hotel and its famed culinary experiences.
But the sprawling estate, as the name suggests, is also home to a working farm. And Chelsea — a Good Food devotee who serves on the Board of Slow Food Chicago — found a new hero there, in John Coykendall, master gardener and seed saver.
As an active member of Seed Savers Exchange, he has preserved more than 500 varieties of near-extinct heirlooms. "Now there is a shining example of someone who has made it his life's work to preserve biodiversity and grow Good Food for all!" Chelsea said. "I was completely inspired by him!"
To learn more about John, check out the documentary Deeply Rooted, which documents his life and work.
Enjoy Chelsea's photos from Blackberry Farm…