by Bob Benenson, FamilyFarmed
FamilyFarmed is located in downtown Chicago near one of the boarding docks for the Chicago Water Taxi, which traverses the Chicago River and its branches. We'd been talking for a while about taking a cruise down to lunch in Chinatown — about three miles south — and finally set a date for last Friday (June 23).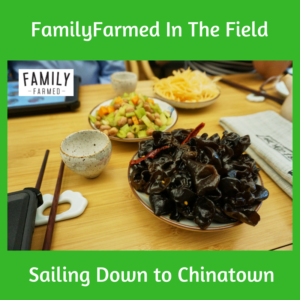 What would have been a fun day out in any case became a special occasion when the FamilyFarmed team was joined by Jenny Yang of Chicago's Phoenix Bean Tofu. Jenny is a graduate of the first cohort of Fellows (2014-15) in FamilyFarmed's Good Food Accelerator, and her business is booming: Her exceptional tofu products are available at many area restaurants and on the shelves of major retail chains such as Whole Foods Market and Mariano's, and she last year obtained an SBA-backed $1.5 million loan to expand her production five-fold.
Jenny suggested Qing Xiang Yuan Dumpling House as our destination, and we wisely left it to our expert friend to do the ordering. The result was a table bustling with delicious appetizers, skewers, a very spicy seafood broth, and the house specialty: delicate dumplings in a variety of flavors. [To read more about Jenny Yang's journey from Taiwanese immigrant to corporate finance to tofu-making success, click here.]
Please enjoy the following photo essay of our grand day out in Chinatown, with a bonus travelogue of some of Chicago's architectural gems best seen from a boat on the river.