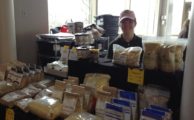 The demand for better grains, flour and bread is fueling a market surge that is benefiting grain growers in the Midwest and across the United States. Some of these producers are more deeply rooted than others — and one of these is Illinois organic grain farmer Brian Severson, whose family has been growing in east-central Illinois for more than 150 years. Brian Severson Farms/Quality Organics will be an exhibitor at FamilyFarmed's Good Food Trade Show on Friday, March 17 and the Good Food Festival on Saturday, March 18.
Posted in

Ancient grains, Bread, Direct Farm Marketing, Family Farms, Farm businesses, Farmers markets, Food Entrepreneurs, Good Food Festivals, Good Food marketing, Good Grain, Growing Young Farmers, Local Food, Organic farming, Seeds and seed saving, Small Farmers, Young farmers
| Tagged

Artisan Grain Collaborative, Brian Severson Farms, Family Farms, FamilyFarmed, Good Food Festival, Good Food Festival & Conference, Good Food Financing &Innovation Conference, Good Food Trade Show & Policy Conference, grain, organic farming, organic grain farming, Quality Organics
Seed saving and seed exchanges are playing a crucial and increasing role in ensuring continued biodiversity and a robust variety of food. But these practices have come under political pressure in recent years. This issue will be discussed by a panel of experts at the Food Policy Conference within FamilyFarmed's Good Food Trade Show and Industry Conference this Friday at Chicago's UIC Forum.
Posted in

Biodiversity, Food activism, Food and community, Food policy, Food Policy Conference, Seeds and seed saving
| Tagged

DeKalb Community Gardens, FamilyFarmed, FamilyFarmed Food Policy Conference, Good Food Festival & Conference, Good Food Trade Show & Industry Conference, Illinois state Rep. Will Guzzardi, Illinois state Sen. Sam McCann, Illinois Stewardship Alliance, Seed exchanges, Seed saving, Seed saving legal issues, The Land Connection, UIC Heritage Garden