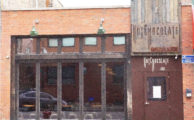 Mindy Segal is a legend among pastry chefs, both in her home city of Chicago and nationally. The winner of the 2012 James Beard Foundation Award for Outstanding Pastry Chef, she has delighted customers at Mindy's HotChocolate — her full-service restaurant in Chicago's Bucktown neighborhood — for 12 years. for many years has made cakes for all of Rick Bayless' family's special occasions. So she was an obvious choice to participate in the Frontera 30th Anniversary Celebration, a joint fundraiser for Chef Rick Bayless' Frontera Farmer Foundation and FamilyFarmed, which will be held at The Art Institute of Chicago on Sunday, April 30.
Posted in

Awards, Baking, Chef advocacy, Direct Farm Marketing, Family Farms, Farm to table dining, Farm to Table: Keeping It Real, Farmers markets, Food and community, Food and health, Food documentaries, Frontera 30th Anniversary Celebration, Frontera Farmer Foundation, Good Food and economic development, Good Food Dining, Good Food restaurant trends, Good Grain, James Beard Foundation Awards, Local Food, Restaurants and Good Food, Sustainable dining
| Tagged

Charlie Trotter, Chef Jason Hammel, Cookie Love cookbook, Cresco Labs, Erwin Dreschler, FamilyFarmed, Frontera 30th Anniversary Celebration, Frontera Farmer Foundation, Frontera Grill, Green City Market, James Beard Foundation Awards, Judy Contino, Kendall College, Lula Cafe, Michael Kornick, Mick Klug Farm, Mindy Segal, Mindy's Edibles, Mindy's HotChocolate, Revival Bakery, Revival Food Hall Chicago, Sustainable food film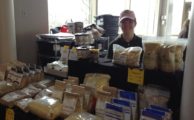 The demand for better grains, flour and bread is fueling a market surge that is benefiting grain growers in the Midwest and across the United States. Some of these producers are more deeply rooted than others — and one of these is Illinois organic grain farmer Brian Severson, whose family has been growing in east-central Illinois for more than 150 years. Brian Severson Farms/Quality Organics will be an exhibitor at FamilyFarmed's Good Food Trade Show on Friday, March 17 and the Good Food Festival on Saturday, March 18.
Posted in

Ancient grains, Bread, Direct Farm Marketing, Family Farms, Farm businesses, Farmers markets, Food Entrepreneurs, Good Food Festivals, Good Food marketing, Good Grain, Growing Young Farmers, Local Food, Organic farming, Seeds and seed saving, Small Farmers, Young farmers
| Tagged

Artisan Grain Collaborative, Brian Severson Farms, Family Farms, FamilyFarmed, Good Food Festival, Good Food Festival & Conference, Good Food Financing &Innovation Conference, Good Food Trade Show & Policy Conference, grain, organic farming, organic grain farming, Quality Organics