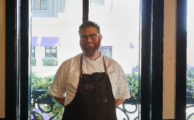 Brenton Balika grew up in the Chicago area in a family in which food and cooking were shared experiences. By his early teens, he developed the passion that led him to a career as a chef; he says the only jobs he has ever held are as a golf caddy when he was in the 8th grade and working his way up through restaurant kitchens. But Brent took a long and winding road to his current high-profile station: developing the soon-to-open Margeaux Brasserie and Petit Margeaux patisserie at Chicago's Waldorf Astoria hotel for Chef Michael Mina's San Francisco-based Mina Group. Brent will participate with other top chefs in the Frontera 30th Anniversary Celebration, a joint fundraiser for FamilyFarmed and the Frontera Farmer Foundation.
Posted in

Baking, Cheese, Farm to table dining, Frontera 30th Anniversary Celebration, Frontera Farmer Foundation, Good Food Dining, Good Food restaurant trends, Restaurants and Good Food, Sustainable dining
| Tagged

Alice Waters, Bourbon Steak D.C., Celebrity Cruises, Chez Panisse, Culinary Institute of America, FamilyFarmed, Frontera 30th Anniversary Celebration, Frontera Farmer Foundation, Frontera Grill, James Beard Foundation Awards, Margeaux Brasserie Chicago, Matthias Merges, Mina Group, Petit Margeaux patisserie Chicago, Tenzing Wine & Spirits, The Dawson Chicago, Waldorf Astoria hotel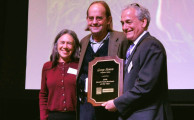 George Siemon co-founded and heads Organic Valley, the Wisconsin-based producer of dairy products, meats and vegetables that is the nation's biggest organic farmer cooperative. The work of the company to advance the Good Food movement was honored with FamilyFarmed's Good Business Business of the Year Award.
Posted in

Awards, Cheese, Dairy, Family Farms, Farm businesses, Farmer cooperatives, Food cooperatives, Food Safety Modernization Act (FSMA), Good Food business development, Good Food Festivals, Good Food marketing, Grass-fed beef, Livestock farming, Sustainable dairy, Sustainable food retailing
| Tagged

consumer food education, FamilyFarmed, Farmer cooperatives, Food safety, George Siemon, Good Food Festival, Good Food Festival & Conference, Good Food Financing &Innovation Conference, National Organic Standards, organic dairy, organic farming, Organic Valley, Theresa Marquez, U.S. Department of Agriculture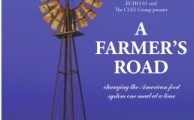 Prairie Fruits Farm & Creamery, LLC, located in Champaign, Illinois, makes artisan, farmstead goat cheeses and goat milk gelato from its herd of 80 milking goats. Owners Leslie Cooperband and Wes Jarrell also host Slow Food, farm-to-table meals and other agri-tourism events. And now they are movie stars, And now they are even movie stars, thanks to A Farmer's Road, a new documentary about Prairie Fruits, which will be shown March 26 at FamilyFarmed's Good Food Festival.
Posted in

Agritourism, Cheese, Dairy, Family Farms, Farm businesses, Farm to table dining, Farmers markets, Food Artisans, Food documentaries, Food Entrepreneurs, Good Food business development, Good Food Festivals, Small Farmers, Sustainable dairy
| Tagged

A Farmer's Road documentary, Alisa DeMarco, Cheese, FamilyFarmed, food documentaries, Food films, Goat's milk cheese, Good Food Festival, Good Food Festival & Conference, Green City Market Chicago, Leslie Cooperband, Paul Virant, Prairie Fruits Farm & Creamery, Rick Bayless, Stephanie Izard, Sustainable cheese making, Wes Jarrell