by Bob Benenson, FamilyFarmed
Brenton Balika grew up in the Chicago area in a family in which food and cooking were shared experiences. By his early teens, he developed the passion that led him to a career as a chef; he says the only jobs he has ever held are as a golf caddy when he was in the 8th grade and working his way up through restaurant kitchens.
His externship as a student at New York's Culinary Institute of America (CIA) took place at Chicago's famed Charlie Trotter's restaurant. While there, he not only learned from the famed chef-owner but also from executive chef Matthias Merges, who now owns the city's thriving Folkart group of restaurants that include Yusho, Billy Sunday, A10 and Old Irving Brewing.
But Brent took a long and winding road to his current high-profile station: developing the soon-to-open Margeaux Brasserie and Petit Margeaux patisserie at Chicago's Waldorf Astoria hotel  for Chef Michael Mina's San Francisco-based Mina Group.
He worked in Las Vegas (for chefs who also earned their chops under Charlie Trotter)  and in the mass-prep kitchens of Celebrity Cruise ships. He began his Mina Group relationship as pastry chef at the group's Bourbon Steak restaurant in Washington, D.C., where he created a critically acclaimed (but short-lived) house-made cheese program. 
But like many people who love this city, Chicago always loomed on Brent's horizon. An accredited sommelier, beer cicerone and sake server, he returned home in 2013 to help create a beverage-food pairing program for the Tenzing Wine & Spirits distributor, then ran the kitchen at The Dawson, a popular restaurant located near Chicago's downtown, until The Mina Group tapped him for its first-ever Chicago project.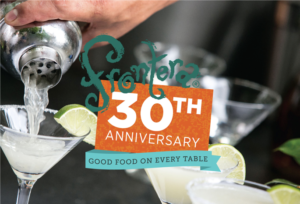 And even as the restaurant prepares for a spring opening, Brent will be representing the restaurant by preparing delicious treats — two words: lobster eclairs — at the Frontera 30th Anniversary Celebration, a joint fundraiser for Chef Rick Bayless' Frontera Farmer Foundation and FamilyFarmed, which will be held at The Art Institute of Chicago on Sunday, April 30.
To learn more about the Celebration (which marks the 30th anniversary of Rick Bayless' landmark Frontera Grill) and to buy tickets, please click here. 
And even if you cannot attend the event, you can participate in our open online silent auction! The amazing prizes include a food tour of Mexico with Rick Bayless and Frontera restaurant staff;  dinner cooked at your home by Rick and his staff for a party of 30; a seat at the kitchen table at Alice Waters' famed Chez Panisse in Berkeley, California; a Chicago Cubs memorabilia and box-seat ticket package any fan of the reigning World Series champion will want to bid for; and much more.
The following is an excerpted q-and-a of FamilyFarmed's interview with Brent Balika.
FamilyFarmed: Did you always have a passion for food?
Brent: I grew up loving food. I grew up in a household where we cooked seven nights a week. I was part of that process whether it was peeling potatoes, fighting over who got to lick the beater after the icing was done. Where my mom and her family is from is rural Missouri… We'd go down there for Thanksgiving and there would be like 30 people… For me, food was a sense of community, a sense of family. That's where the passion of it came from. I grew up always enjoying food…
I wouldn't be where I was if it wasn't for my mom's support and my entire family… I joke that I actually did this to spite my parents. They constantly told me not to play with my food and now I get paid to do it…
I started going to public high school and I started taking home ec culinary classes, I liked to cook, cool, and then I realized I was better than the teachers. Actually, one of my teachers tried failing me because I kept on making recipes that were better than hers, and she would get really angry…
Then it was culinary school time… Stepping foot onto the CIA, I fell in love with it, I just knew I had to go, got accepted… My externship was one of the things I started thinking about…. So I went to my instructor for skills who had done a little stint at Trotter's, he knew Chef pretty well. So I asked him, "Do you think I can make it?" He said, "You'll never know if you don't try."
FamilyFarmed: Talk about starting out at the top. But at the same time, it must be amazing to get accepted into there, but the intensity of the situation must have been daunting.
Brent: Very scary. I've never been at a loss of words with people. I don't get star-struck with chefs. But with Charlie Trotter, it was hard to get a word out, because I didn't know what to say. He ingrained a lot of passion in a lot of people. That was already present, but he was really good at getting the best out of people.
FamilyFarmed: And working with Matt Merges must have been awesome.
Brent: It was awesome. As I got to work with him really closely when I was on amuse. [Note: Amuse bouches are one-bite appetizers served at the beginning of meals, usually in fine-dining restaurants]. The amuse station was its own thing. It was intense. Even though it was a simple amuse station, it was not easy. There was no easy station there… It was an amazing time for that restaurant, and I got a lot out of it. Not only having it on my resume, but I also learned so much. It instilled an understanding of wine, I'd always enjoyed wine, but I was really a novice. It instilled a passion for beverages as part of the event.
FamilyFarmed: We're trying to encourage people to do more home cooking and re-engage with food. Just kind of de-mystifying the process. It doesn't have to be complicated. If you get the best ingredients, you can let them speak for themselves.
Brent: I always have told friends, if you really want to learn how to cook, the first two things you do, you get a Crockpot, and you get a pressure cooker. If you get those two things, you can do a lot in a short period of time… [Note: Crockpot is the trademarked name for the slow cooker produced by the Rival appliance company.]
[After a brief stint at a Chicago restaurant, Brent moved to Las Vegas to work at Bradley Ogden restaurant, which had been created by chef alumni of Charlie Trotter's.]
Brent: It was also a time when Vegas was very hopping, restaurants were opening left and right with celebrity chefs. Tourism there was at an all-time high, up until 2008 when it crashed. I moved in August 2004, and worked there for like four years, on and off…
It was time to take a break, but not from food and not from working hard. It was a break from working with people I knew. I went to work on cruise ships… I went to Celebrity, and from all that time doing super high-end fine dining, small, and my first experience on the ships was as sous chef of the main dining room, serving 1,500 covers in 45 minutes twice a night… It was exciting, daunting, scary…
Then I got an opportunity. Adam Sobel, who is one of our corporate chefs and I also worked with at Bradley's… moved on with the Mina Group at Bourbon Steak in Washington, D.C. He called me up and said, "I have the perfect outlet for the cheese program."… I took the pastry chef position there… But we made the cheese program. It was amazing. It was really an honor and it was really special… It just grew too large to handle. We were making 20 varieties of cheese and we were curating about 2,000 pounds of cheese on-site…
I moved on and worked with the Wolfgang Puck Group at The Source in D.C., I helped developed a tofu program, which kind of goes in the same direction as making cheese, very similar…. Then I started working at Proof in D.C… Unfortunately, I couldn't afford to live in D.C. anymore. I had to move on, and that's when I came back to Chicago. I started working at Tenzing… I built new programs and wine dinners that would focus solely on preparing specifics of ingredients and wines and spirits and sakes…
[After doing restaurant consulting work in the San Francisco Bay area, Brent returned home again — "Chicago is where I really want to be" — and became chef at The Dawson.]
And then last May, The Mina Group was in Chicago for the James Beard Awards, because Chef Michael was up for Chef of the Year… we started talking about all the new projects coming up, and they said they were in talks to do something here in Chicago. I said if you ever need a chef keep me in mind…
FamilyFarmed: Were the Margeaux concepts already determined?
Brent: Yeah, they knew they want to come and do a French concept. We're at a time now when diners want that back, they want a little more simplicity, elegance but familiar… That's what Margeaux is going to be about, it really adheres to the classic flavor profile and execution, but modern, the best ingredients we can, do them simple, and work with local farms, we work with local foods and farms…
FamilyFarmed: Most of the chefs I've talked to will tell you that farm to table now is a cliche. If you want to succeed, it's just what you do.
Brent: I always thought it was a cliche… Chefs like Jeremiah Tower and Bradley Ogden, Wolfgang Puck back in the '60s, '70s, '80s, Alice Waters, they were already doing this. I think we do them a injustice saying this is something new or a new focus, especially with my generation of chefs…
FamilyFarmed: Have you had an acquaintance with Rick Bayless?
Brent: We're incredibly honored to be part of it. It's something pretty special for all of us. Originally Chef Michael was supposed to be out here. There were some scheduling conflicts and he wasn't able to attend… I excited to get rolling on it.
FamilyFarmed: And what are you making that night?
Brent: I'm making lobster eclairs. We're making a lobster pate a choux, lobster stock, it's bright orange, and make a lobster mousse and stuff them. And try to figure out the best way to make a lobster glaze, and we'll dip and glaze them, and they'll be garnished with crispy shallots and chives… We're also going to bring some Patisserie Margeaux pastries, macarons and other goodies, so there will be plenty of sweet treats.