by Bob Benenson, FamilyFarmed
The folks attending the Frontera 30th Anniversary Celebration fundraiser on April 30 at The Art Institute of Chicago will be able to bid on some mind-boggling prizes.
But guess what? You can bid for all of those prizes too. Yes, you.
That's because the auction, already under way, is taking place online, and you can compete wherever you are. All you have to do is click here to visit the auction portal, click the prizes your heart desires, and bid.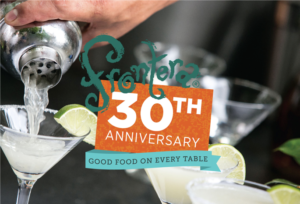 The Celebration marks the 30th anniversary of Rick Bayless' landmark Frontera Grill, and also highlights his restaurants' efforts to help Midwestern small farmers by sourcing their products, lending them money and, since 2003, providing grants to them through the nonprofit Frontera Farmer Foundation.
And the winning bids will go to a great cause — advancing the Good Food movement — that benefits all Americans. All proceeds from the event and the silent auction will benefit the work of the Frontera Farmer Foundation and FamilyFarmed, which are co-producing the Celebration and share the goals of a healthier, more sustainable and more economically dynamic food system in the United States.
Here's more about those headliner prizes:
• Let Rick Bayless Be Your Mexico Food Tour Guide…. Rick and Deann, his wife and business partner, take the Frontera staff to Mexico each winter for cultural immersion, eating, education, carousing, dancing, eating, eating and more eating. The winner of this super-exclusive journey, scheduled for early 2018, will join in the fun!
• … Or Let Rick Be Your Personal Chef (one night only). Gather 30 of your closest friends because you're throwing the house party of the year. That's right, Frontera will bring the food, margaritas and generous Mexican hospitality right to your kitchen for this once-in-a lifetime opportunity. Chef Rick will make an appearance.
• Goat, Goat, Goat: Stephanie Izard Restaurant Hopping. All three of famed Chef Stephanie Izard's restaurants on Chicago's West Loop "Restaurant Row" have her

trademark goat theme — and the winner of this prize (and a guest) will enjoy dining and drinks at all three. Begin your Goat Hop at Duck Duck Goat, where you will enjoy Stephanie's take on traditional Chinese cuisine. The next hop is to Girl & the Goat, her first location, where you will receive another round of drinks at the bar and sample Stephanie's fine-dining creations. The tour ends at the relaxed and informal Little Goat Diner, where you will enjoy a dessert and a nightcap.
• Experience Alice Waters' Art of Simple Food, In Her Kitchen: The best seat at Chez Panisse is at the kitchen's table, and it is nearly impossible to book. You will be immersed in a beautifully choreographed dining experience led by restaurant chef Jérôme Waag. The menu at Chez Panisse changes nightly. It is designed to reflect the season and represent the best of what local farmers are growing. This will be a revelatory meal that you will never forget.
• The Biggest Pig-Out You'll Ever Throw… As a very young farmer in the 1990s, Greg Gunthorp went against the industrial agriculture tide and turned his northeast Indiana farm into a haven for sustainable, pasture-raised livestock production. His gamble paid off well: He has now, for many years, been the main pork and chicken producer for Rick Bayless' restaurants while supplying other food establishments in the Chicago and Indianapolis areas. He also is a master of the grill — and he will conduct a whole pig roast at the winner's home for… wait for it… 100 people!
•  … Or Be The First to (Gunthorp) Ham It Up. Gunthorp Farms also recently built a meat cave to age products such as ham, and he has generously offered the first ham that the facility is producing for our auction. This prize will require a little patience, as the ham will not be fully ready until early next spring. But in the meantime, the winner can visit it! The prize will include a tour of Gunthorp Farms and the meat cave, where ham is being long-aged at cold temperatures in the style of the finest producers in Spain and Italy.
•  Bacon Bragging Rights. The winner of this prize (and three guests) will spend an afternoon with Rob Levitt, head butcher and founder of The Butcher & Larder meat shop at Chicago's Local Foods retail store — learning how to make bacon from a fresh-cut pork belly. This prize includes a tour of the Local Foods facility; a spread of Butcher & Larder charcuterie, cheese from the Local Foods deli, bread and other accompaniments, with beer provided by Moody Tongue, brewer Jared Rouben's amazing culinary-focused craft brewery. This will be followed by a butchering demo that will show where bacon comes from on the pig — then you'll learn about the bacon curing and smoking process, and choose ingredients to make you own signature bacon flavor. After it's done in the smoker, you'll have four 1-pound packages of bacon plus ends to show off to your friends.
• Giving You The Good Food Business. Enough with the pork-centric prizes? Rather spend time learning the dynamics of the Good Food business world from some of its leading practitioners? Do we have two prizes for you.
Bill Weiland, a pioneer investor in the Good Food space, will host the winner of his personally donated prize at his suburban Chicago estate for a half-day strategy session with the Presence Marketing Innovation team, following by creative cocktails from the company's house mixologist and a delicious chef-crafted dinner made with sustainable ingredients.
And Bill will also take part in a business-oriented boat cruise on Lake Michigan that also will include CEOs Brandon Barnholt of KeHe, a leading distributor of organic and natural products, and Tony Olson of SPINS, the leading data analyst for the natural products industry. The cruise — on Tony's 47-foot yacht named… wait for it… Vitamin Sea — will be scheduled for a Wednesday to take advantage of the spectacular weekly fireworks display at Chicago's Navy Pier.
• Cubs Fans, Let Us Hear You! If you thrilled to the Chicago Cubs' historic curse-breaking World Series championship last year, how can you not bid on this auction package: an authentic Anthony Rizzo jersey, autographed by the Cubs' star first baseman, and four amazing box seat tickets near the Cubs' dugout in Section 116! So root, root, root for the home team. You will have to buy your own peanuts and Cracker Jack, but you won't care if you never get back.
• This Blackhawks Package Should Be Your Goal. The Chicago Blackhawks, have won hockey's Stanley Cup three times since 2010… and the winner of this package (and a guest) will get an up close and personal experience during the team's 2017-18 season. The package includes two ice-level seats for a Blackhawks regular season game… a meet and greet photo opp with players in the team's locker room… and a jersey autographed by Jonathan Toews, the team captain and a key to all three of the team's recent championships. So go to the auction site and point your Chelsea Dagger at the Blackhawks package!
We could go on and on, but hopefully we have whet your appetite to visit the auction site and place bids on these and other remarkable prizes… bids that will help FamilyFarmed and Frontera Farmer Foundation improve the way America eats.
Correction: The Anthony Rizzo jersey in the auction is signed by the Cubs star with a certificate of authenticity, but is not game-worn.