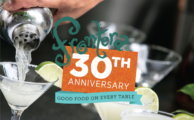 The folks attending the Frontera 30th Anniversary Celebration fundraiser on April 30 at The Art Institute of Chicago will be able to bid on some mind-boggling prizes, including a food field trip to Mexico with Chef Rick Bayless, whose 30 years of achievement is being celebrated at the event. But guess what? You can bid for all of those prizes too. That's because the auction, already under way, is taking place online, and you can compete wherever you are. All you have to do is visit the auction portal, click the prizes your heart desires, and bid.
Posted in

Awards, Butchering, Cookbooks, Farm to table dining, Food Artisans, Food Entrepreneurs, Frontera 30th Anniversary Celebration, Frontera Farmer Foundation, Good Food business development, Good Food Dining, Good Food restaurant trends, Good Meat, Livestock farming, Local Food, Meat, Restaurants and Good Food, Small Farmers, Sustainable dining
| Tagged

Alice Waters, Bill Weiland, Brandon Barnholt, Chef Rick Bayless, Chez Panisse, FamilyFarmed, Frontera 30th Anniversary Celebration, Frontera restaurant group, Greg Gunthorp, Gunthorp Farms, Jared Rouben, KeHe, Local Foods Chicago, Moody Tongue brewery, Presence Marketing, Rob Levitt, SPINS, The Butcher & Larder, Tony Olson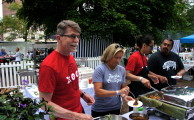 "Neither snow nor rain nor heat nor gloom of night stays these couriers from the swift completion of their appointed rounds," says the longtime motto of the U.S. Postal Service. If Thursday evening's annual Chef BBQ staged by Chicago's Green City Market is an indication, that applies as well to connoisseurs — at least as when it comes to rain.
Posted in

Craft beverages, Direct Farm Marketing, Farm to table dining, Farmers markets, Food Artisans, Food Entrepreneurs, Good Food Dining, Good Food tasting events, Local Food, Sustainable dining
| Tagged

Bill Kim, Chicago Good Food, craft beer, craft spirits, farm to table dining, farmers market, Forbidden Root, Good Food, Good Food movement, Green City Market, Green City Market Chef BBQ, Honey Butter Fried Chicken, Japonais by Morimoto, Jared Rouben, John Hall, Michael Kornick, New Holland Brewery and Distillery, Nomad Food Co., North Shore Distillery, Rick Bayless, Sarah Stegner, Stephanie Izard