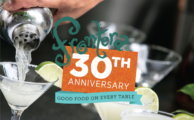 The folks attending the Frontera 30th Anniversary Celebration fundraiser on April 30 at The Art Institute of Chicago will be able to bid on some mind-boggling prizes, including a food field trip to Mexico with Chef Rick Bayless, whose 30 years of achievement is being celebrated at the event. But guess what? You can bid for all of those prizes too. That's because the auction, already under way, is taking place online, and you can compete wherever you are. All you have to do is visit the auction portal, click the prizes your heart desires, and bid.
Posted in

Awards, Butchering, Cookbooks, Farm to table dining, Food Artisans, Food Entrepreneurs, Frontera 30th Anniversary Celebration, Frontera Farmer Foundation, Good Food business development, Good Food Dining, Good Food restaurant trends, Good Meat, Livestock farming, Local Food, Meat, Restaurants and Good Food, Small Farmers, Sustainable dining
| Tagged

Alice Waters, Bill Weiland, Brandon Barnholt, Chef Rick Bayless, Chez Panisse, FamilyFarmed, Frontera 30th Anniversary Celebration, Frontera restaurant group, Greg Gunthorp, Gunthorp Farms, Jared Rouben, KeHe, Local Foods Chicago, Moody Tongue brewery, Presence Marketing, Rob Levitt, SPINS, The Butcher & Larder, Tony Olson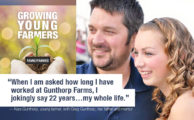 FamilyFarmed's Good Food on Every Table website is launching a new series titled "Growing Young Farmers." This series will provide a platform for members of this new generation to discuss why they have chosen farming, the opportunities that motivate them, and the challenges as well. And we could not be happier to kick off the series than with this following essay written by Kara Gunthorp of Indiana's Gunthorp Farms, a leader in sustainable livestock production.
Posted in

Direct Farm Marketing, Family Farms, Farm Aid, Farm businesses, Farm to table dining, Food activism, Food Entrepreneurs, Frontera Farmer Foundation, Good Food and economic development, Good Food Dining, Good Food Festivals, Good Food Success Stories, Good Meat, Growing Young Farmers, Livestock farming, Local Food, Meat, Organic farming, Poultry, Restaurants and Good Food, Small Farmers, Young farmers
| Tagged

Community Dining, FamilyFarmed, Frontera restaurant group, Greg Gunthorp, Growing Young Farmers, Gunthorp Farms, Purdue University, Rick Bayless, sustainable livestock production, sustainable meat, Young farmers