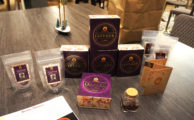 Those of us who are fully engaged in the Good Food movement get to work with a whole lot of bold people. But the co-founders of Rumi Spice, veterans of the Afghan war, are in a league of their own: They pay Afghan farmers a premium to grow flowers that produce saffron rather than the opium poppies that produce deadly heroin and finance terrorist organizations.
Posted in

Food activism, Food and community, Food Artisans, Food Entrepreneurs, Good Food and economic development, Good Food Business Accelerator, Good Food business development
| Tagged

Afghanistan, Chef Aram Reed, Community Dining, FamilyFarmed, military veterans and food business, Rumi Spice, Rumi Spice saffron, saffron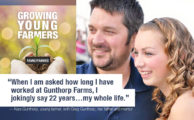 FamilyFarmed's Good Food on Every Table website is launching a new series titled "Growing Young Farmers." This series will provide a platform for members of this new generation to discuss why they have chosen farming, the opportunities that motivate them, and the challenges as well. And we could not be happier to kick off the series than with this following essay written by Kara Gunthorp of Indiana's Gunthorp Farms, a leader in sustainable livestock production.
Posted in

Direct Farm Marketing, Family Farms, Farm Aid, Farm businesses, Farm to table dining, Food activism, Food Entrepreneurs, Frontera Farmer Foundation, Good Food and economic development, Good Food Dining, Good Food Festivals, Good Food Success Stories, Good Meat, Growing Young Farmers, Livestock farming, Local Food, Meat, Organic farming, Poultry, Restaurants and Good Food, Small Farmers, Young farmers
| Tagged

Community Dining, FamilyFarmed, Frontera restaurant group, Greg Gunthorp, Growing Young Farmers, Gunthorp Farms, Purdue University, Rick Bayless, sustainable livestock production, sustainable meat, Young farmers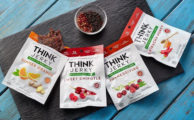 Until recently, dried meat jerky was none something most people associated with Good Food. But one sign of the growing influence of the movement is that many products not normally seen as part of a well-balanced diet are being adapted into healthier and more sustainably produced versions — such as Think Jerky, the subject of this article.
Posted in

Beef, Food and community, Food and health, Food Artisans, Food Entrepreneurs, Good Food business development, Good Food Festivals, Good Meat, Grass-fed beef, Healthy eating, Healthy snack foods, Meat, Poultry
| Tagged

Chicago Good Food businesses, Community Dining, FamilyFarmed, Food Entrepreneurs, Good Food businesses, Good Food Festival, Good Food Festival & Conference, Healthy jerky products, Jerky, Think Jerky