by Bob Benenson, FamilyFarmed
Chef Rick Bayless' Topolobampo — which brought fine-dining regional Mexican cuisine to Chicago in 1989 — won the James Beard Foundation 2017 Outstanding Restaurant Award at the organization's annual ceremony, held Monday night at his hometown's Lyric Opera House.
The award, which Rick received with wife-business partner Deann Bayless sharing the podium, came just one day after the Frontera 30th Anniversary Celebration at The Art Institute of Chicago.
A successful fundraiser for Rick's Frontera Farmer Foundation and co-producer FamilyFarmed, the Celebration marked the Baylesses' culinary achievements since opening Frontera Grill in 1987 and introducing many Americans to authentic Mexican cooking. It also highlighted their dedication to providing support and opportunities for Midwestern small farmers through their product sourcing and the Foundation's grants.
It was the eighth time that the James Beard Foundation bestowed a medallion on Rick Bayless, the third time that Topolobampo was directly involved, and the second time he was awarded for restaurant of the year (the first was for Frontera Grill in 2007). Rick received his first in 1991 — just four years after he launched his career as a chef-restaurateur — as Best Chef: Great Lakes/Midwest for the restaurant popularly known as Topolo. He was named the nation's outstanding chef for both Topolo and Frontera Grill in 1995.
Bayless was gracious in accepting the award as a dozen family and staff members looked on from the stage. He thanked the James Beard Foundation ("I think all of us know is instrumental for raising the bar for great food in this country"), the other outstanding nominees for the award ("Every one of these restaurants that we heard announced just now deserves this award") and his Frontera group employees, many of whom have been with the company for many years ("It's not just one person that creates any part of a restaurant. Everybody creates all those parts of the restaurant").
Both he and Deann had difficulty keeping their emotions in check. Referring to the others on the stage, Rick said, "I am so incredibly proud of these people. I can't even turn around without tearing up."
He added, "These people bring it in such a soulful way, every single day, whether they are front of the house, back of the house, and they care for the people who work with us, and they care about creating an unforgettable experience for everyone that comes into our restaurant, whether they come in the back door or they come in the front door."
After he completed his remarks, Deann stepped up to deliver this heartfelt statement: "I would just like to say, as blessed as we are, I think life's a circle. We have given a lot, and we give it right back out, and it comes back to us. I hope all of you experience that, because I think that's the richness of our industry."
The James Beard Award ceremony capped an extraordinary half year of local and national recognition for Rick Bayless' career. In October, Rick received the Julia Child Foundation Award for lifetime achievement at a ceremony held at the Smithsonian Institute's Museum of American History in Washington, D.C. (Click here and here to read about this event.) His lifetime achievements also were honored in January at the Jean Banchet Awards for the Chicago culinary community. (Click here for Good Food on Every Table's coverage of the Jean Banchet Awards.)
Celebrating Good Food
While the James Beard moment focused primarily on Rick Bayless' culinary achievements, the Frontera 30th Anniversary Celebration turned the spotlight on his role as a Good Food movement pioneer.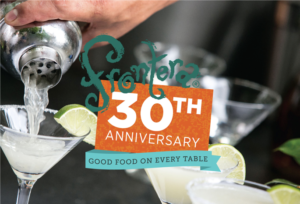 Rick and Deann had spent years in Mexico learning about the nation's regional cooking styles, and they came to the conclusion that the best-tasting food was made with fresh ingredients native to the local area. But when they moved to Chicago to open Frontera Grill three decades ago, they realized that the march of conventional and commodity agriculture in the Chicago foodshed had virtually eliminated the availability of fresh, local and sustainably produced vegetables, fruits and meats for area restaurants.
Rick embarked on what became a crucial role in helping develop a market for regional farmers in Chicago. He sourced whatever local product he could obtain. He helped establish a farmers market culture in Chicago and ultimately worked with the late Abby Mandel in creating the Green City Market, on whose board Rick has served for many years.
And after making a practice of lending farmers money to expand (in part so they could sell more product to the Frontera restaurants), Rick and Deann in 2003 established the Frontera Farmer Foundation, which since has issued more than $2 million in outright grants to farmers for capital improvements or operational needs.
FamilyFarmed also is dedicated to accelerating the Good Food movement by helping farm and food entrepreneurs start up and scale up, and our organization developed a collaborative relationship with Rick Bayless. He has been a regular participant in our Good Food Festival & Conference as a speaker, panelist and chef.
Discussions to develop a more formal philanthropic partnership between the Frontera Farmer Foundation and FamilyFarmed began in late 2015, and produced the Frontera 30th Anniversary Celebration.
Hundreds of attendees packed the Art Institute's Rubloff Auditorium for the Good Food Forum, which featured a keynote address by Rick Bayless and a powerful and engaging panel discussion on the future of food moderated by Peter Sagal of NPR's popular show "Wait, Wait, Don't Tell Me."
He was joined by Paul Kahan, another giant of the Chicago's socially and environmentally conscious chef community; Nora Pouillon, whose Restaurant Nora in Washington, D.C. was the first certified organic restaurant in the U.S. (and who, the following night, would received the James Beard Foundation's Lifetime Achievement Award); Fedele Bauccio, whose sustainability-driven Bon Appetit Management Company has changed the way people think about institutional food (and also managed the food and drink portion of the Celebration); Eduardo Rivera, who produces sustainably produced food aimed at the Latino community in Minnesota's Twin Cities with the assistance of a Frontera Farmer Foundation grant; and Jim Slama, founder, president and CEO of FamilyFarmed.
The Forum was followed by a dazzling Celebration in the Art Institute's Modern Wing, in which more than a dozen of world-class chefs — personally invited by Rick Bayless — prepared delicious samples of their culinary art. (Good Food on Every Table ran a series of q-and-a profiles of participating chefs prior to the event, which can be found by visiting our home page).
No one can speak better to Rick's commitment to Good Food and small farmers than Rick, so we present the transcript of his keynote speech at the Good Food Forum. An transcript of the panel discussion will be published this week.
Transcript of Rick Bayless' Keynote Speech
Thank you for being part of our 30th Anniversary Celebration. Since the moment I woke up this morning, the only word that was going through my mind is that I am so incredibly grateful. I'm grateful for all of you who are in this audience sharing this momentous occasion with us. But I'm also just simply grateful for Chicago that has welcomed us for these three decades and supported the work that I have done.
I'm incredibly grateful to my wife, who has been the backbone of our operation, and I would like to ask her to stand along with our daughter Lanie and my new son-in-law Kevin (applause). I may be the face of so much of what we do, but these are the people who really keep it all going and tie up all of those ends, and sometimes look at me when I have another one of my hare-brained ideas, and say, "Oh, come on." So I'm incredibly grateful for that.
I'm incredibly grateful for the staffs we have had over the last 30 years, some of which are here this evening and have been with us for almost this entire time. All of you who have been guests in our restaurant, I'm incredibly grateful for you. I'm grateful for our farmers who have supplied us with this rich abundance. And I couldn't be where I am today without the cooks of Mexico, who taught me so much about flavor and the dynamics of a world-class cuisine.
So let me take you back to 1987. It was a really different time in 1987. I started in the restaurant business in Chicago with my wife as my partner and we had no experience running our own restaurants. We had worked in restaurants and I grew up in a restaurant but I'd never had the experience of opening a restaurant and running my own.
We opened in a very seedy neighborhood. The now-very trendy River North was very seedy back there. We had a bar right next to it called The Rendezvous for a reason. (laughter) And above it was one of the notorious Clark Street flophouses that rented rooms by the hour.
There was very little guest understanding of Mexican food, the kind of real Mexican food that we were bringing. Our first customers came in, sat down, opened the menus, closed the menus and got up and said, "This is not Mexican food, you will be out of business within weeks." We had no local food in Chicago at that time, and there were only three chef-owned restaurants in the city of Chicago.
It was as we would determine as bleak by today's standards. But what we did have is passion. Both Deann and I have passion for the people, culture and cuisine of Mexico. We had an incredibly abiding belief that good food can change people in many ways, help us to understand our next-door neighbor, and we had a belief that the best food comes from places that have the best local agriculture.
Now that last one was super-hard. If that was our belief and we had no local agriculture that we could pull from, then we were in a very difficult spot. We realized that the reality of what we were going to be opening was much different than the vision that we had for the future.
So I'm going to draw a picture for you about an incident that happened the night before we were going to open our restaurant. We were opening without any reputation in Chicago, so we had bottom of the barrel staff. We didn't have any money to speak of, we had a few dollars in the bank to tide us over the next few weeks, but we knew if we didn't get people in the door right away, we were going to be out of business.
I was training staff that just had no experience at all either in cooking or in the cuisine that we were doing. I was realizing that I was going to have to carry the load almost by myself, and I was so incredibly frustrated. I was down in the basement of Frontera, and I'm not normally a person that just loses my temper, but I just exploded and I kicked a can of paint and the top of it came off and the paint just went all over the floor.
I let the paint dry, I didn't even try to clean it up, I just let the paint dry. The next day I came in and I realized I was going to have to use that as a reminder daily of where we were starting and remember that I just had to take baby steps in achieving the vision that I had.
It was kind of hard, because we had drunks in the doorway every night, and we had to move them out of there. I tell you, it was a really seedy neighborhood.
I went to the wholesale market and I said to some of the purveyors down there, "Who gets the local strawberries when they're coming into season?" because I knew they were coming in about three or four weeks. They said, "Oh, God, we'd never have those, they are too small, nobody wants them, they go bad really fast." I said, "But they taste great." And they said, "Nobody cares about taste."
So I said, "This is going to be a harder thing than what I thought." Then customers would say to me, "Why are you cooking? You're supposed to hire people to cook. If you're in the restaurant business, you're supposed to be a restaurateur, because it's really unsavory to be in the kitchen." That's what people thought of chefs back then, unless you were some sort of fancy French chef.
This all changed, and like a lot of things, now it's a really trendy and cool thing. But we had to take these steps one at a time. If you look at all of those things we were facing in 1987, you can really say that today, not one of those points is part of our reality. And that makes me incredibly happy.
So some milestones along the way. In, I think, 1991, in fact, Jim Slama, who's involved with us tonight, was involved in this recreation of Earth Day, and during that recreation in Lincoln Park, we got to meet some people who wanted to start growing things. That was my first glimmer of hope that we were going to be able to start developing some local agriculture.
Then we started a farmers market, the first farmers market in Chicago was in the Lincoln Park High School parking lot on Saturday mornings. We met the Klug family, and it took a long time to convince them that we really wanted to buy their stuff, but they finally starting selling their product to us by the case. We were like, "Oh, my God, I think there's a second glimmer of hope that we were going to be able to develop some local agriculture."
Then we met a family that had retired and they were going to take their family farm and they were going to start selling some food to us and they would grow things specially for us. They taught us all kinds of lessons along the way of the integrity of being farmers and what it was like to work in an organic method and how much effort they have put into growing good things for us. They taught me the greatest life lessons that I think a chef could really learn.
Then a fellow from Wisconsin brought us some spinach in the middle of January and said, "Taste this spinach," and it was the most delicious spinach I'd ever tasted. I said, "You don't have a greenhouse, how do you do it?" and it was an unheated hoop house. I said, "I want to buy all the spinach you have, don't tell another chef in this town that you have it. And I want more next year." And he said, "I don't have the wherewithal to put up another hoop house." So we lent him the money to put in another hoop house so he could grow spinach for us.
Then we started working with Greg Gunthorp, who is here tonight. He was a pork farmer, but we had a pork farmer, and I said what we really need is chickens. And so for the next two years, we worked with him in developing an amazing pasture-raised chicken, and now he's the second-largest pastured-poultry farmer in the country.
Then Abby Mandel, who I'm sure a lot of you remember, a great mover and shaker in the world of Chicago food, said we have to get together and do a farmers market that is different from the city's farmers market, one that will really educate people and start to really focus on sustainably raised crops, and she got a bunch of us chefs together to help her and support her launching that, and the great Green City Market was born.
We met some people from Spence Farm that decided they wanted to create more than just a farm that would supply the local restaurants, but they would get the farm families around them to go back to growing food, and not just corn and soybeans for other things, and started educating the youth in that area to grow food. We were buying whole crops of things from 12 year old boys who were on summer vacation and growing some of the most delicious watermelons that you could ever imagine.
Then the Frontera Farmer Foundation was born out of our no-interest loan program that we'd been doing for a number of years, but we wanted to turn it into a not-for-profit organization that would allow these farmers to just apply for grants and never have to repay the loans that we were giving them at that point.
The whole idea of the Frontera Farmer Foundation was to make these farms more profitable and productive so they could grow into mid-sized farms. We have now started to see that happening so strongly in the city of Chicago, especially with people like Nichols [Farm and Orchard] that we buy from a lot and they've grown now to a really sizable farm that can provide all of us with such delicious things.
I think that's the underscore of it, delicious. Delicious is the thing that cuts right to our hearts. Delicious is the thing that animates us.
Delicious is the thing that makes us want to go that extra mile. One of the things we can say, right now, this evening, is that over the last 30 years, Chicago has become a much more delicious place to be.
Thank you all.