by Bob Benenson, FamilyFarmed
Though known as a "celebrity chef," Chicago's Rick Bayless much prefers to talk about food than to talk about himself. So it was no surprise when he turned an acceptance speech into a loving tribute to the late Julia Child — the TV chef and author who Bayless credits with shaping his culinary career — when he received the second-ever Julia Child Foundation Award at a dinner at the Smithsonian Institution's Museum of American History in Washington, D.C. on Oct. 27.
Bayless — in a speech marked by gratitude and humility — focused almost all of the attention on Child, whose landmark cookbooks on French cuisine, and her personable TV shows filmed in her home kitchen, ignited the interest of millions of people in elevating their cooking skills.
Rick Bayless became one of Child's biggest fans when he was still a child growing up in a barbecue restaurant family in Oklahoma City. She became the inspiration for his life in the culinary arts and his career as one of the nation's most celebrated chefs, and Bayless paid homage to the influence she had on him and on the nation's food culture.
FamilyFarmed for many years has had the pleasure of associating with Bayless in our shared home base of Chicago, so we will do a little of that boasting for him.
Bayless is a master of the regional cuisine of Mexico, which he studied during many years living in and visiting that nation with his wife Deann (who also is his business partner and cookbook co-author). Their Frontera Grill opened in 1987 — it will celebrate its 30th anniversary next year — and Topolobampo, its fine dining twin, opened next door three years later. Bayless' Frontera restaurant group has opened several major restaurants since and continues to grow.
He is a media star who helped popularize Mexican cuisine with the long-running PBS show Mexico One Plate at a Time; his victory in the Top Chef Masters program on the Bravo network in 2009; eight cookbooks, beginning with his seminal Authentic Mexican published in 1987; and a podcast — The Feed — for which he and Chicago food journalist Steve Dolinsky in 2015 won a James Beard Foundation Award.
That award added to Bayless' already extensive collection of James Beard medallions: He was named Best Chef: Midwest in 1991, National Chef of the Year in 1995, and Humanitarian of the Year in 1998.
Family Farmed knows Bayless best for his humanitarian side. To those of us in the Good Food movement, Rick Bayless is a hero, a pioneer, and a colleague.
There was almost no locally grown food available for chefs in Chicago when Bayless was developing Frontera Grill, because nearly all of Illinois' ample farmland had turned over to producing commodity crops such as field corn and soybeans. So he helped many small, sustainable farms in the region scale up by sourcing fresh products from them, and by doing so, he played a major role in developing its now-vibrant local food market. He then began providing direct financial assistance through his Frontera Farmer Foundation, which by next April will top the $2 million mark in grants to producers for capital and operating needs.
At the same time, he has provided income and fair treatment for peasant farmers in Mexico, the nation to which he owes so much, buying products such as the heirloom corn from Oaxaca that he uses for his tortillas.
Bayless is a longtime friend to FamilyFarmed and has given generously of his time to speak and conduct chef demonstrations at our annual Good Food Festival & Conference in Chicago.
Accepting Praise With Grace and Reverence for Julia Child
We are telling you this because we did not hear it from him at the Julia Child Award dinner. That acceptance speech — infused with the generosity and kindness recognized by those of us who have had the pleasure to get to know him — focused almost entirely on Julia Child and how her famous cooking show and cookbooks inspired him from childhood to his highly honored culinary career.
"I will tell you that without Julia, I would not be here today," Bayless said.
Child was winding down a long sojourn in France, where she ran a cooking school, in 1961 when her historic cookbook Mastering the Art of French Cooking was published. The French Chef, the first of Child's four shows on public television, began airing in 1963, and a very young Rick Bayless was immediately smitten.
"When I was 10, Julia came on the TV, and she opened doors for me that I never would have had opened if it hadn't been for her shows," Bayless said. "I did sit in front of a little black and white TV, I still have the notebook of all of the recipes that I wrote down from those early shows."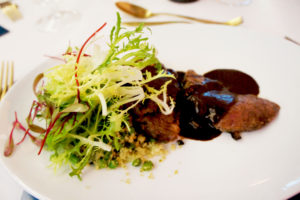 As a tween, he talked his parents into buying him a copy of Mastering the Art of French Cooking, and said he made every recipe in it. He drew laughter from the audience talking about how watching Child cook on TV prompted him to hit his family's cash stash to buy lamb chops ("That did not go over well in my house") and to bring in a burner to cook a live lobster in a 7th grade class ("You could go to jail for that today").
Jacques Pépin, the longtime associate of Julia Child who received the first award given in her name, was himself a French chef. Bayless instead ultimately followed his passion for Mexico's variety of regional cuisines. But he absorbed the cooking lessons he learned watching and reading Julia Child, as well her zeal for educating about food.
"Julia didn't teach me to be a French cook. She taught me to cook," Bayless said. "My love was for Mexico and I could take what she taught me to Mexico and do the work that was right for me to do."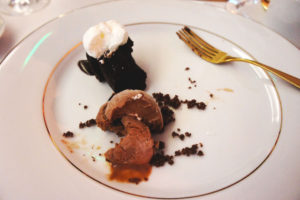 Bayless said he adores the career for which he received this high honor, not only for the culinary achievements, but because of the community and communion with diners that restaurants such as his provide:
"I say a lot that I have chosen the most wonderful profession in the world. I am a restaurant chef, first and foremost. I grew up in a restaurant and I have always loved the restaurant world. I often hear people talk about the ugly side of the restaurant world, but there is this glorious side.
"Every single day we have this incredible opportunity to create magic for people. Sometimes we don't even know what's going on in our restaurants. There could be a proposal at a table, and we don't know about it. Or a reunion of people who have been estranged and have come back together at our restaurant. Or a celebration. We get to host that every single day. And we get to offer food that can be the catalyst for this amazing experience to happen. Who doesn't want that as a profession?"
And once again, he brought it back to the namesake of the award he was given. "And Julia was the one who welcomed everybody to the table," Bayless said.
Bayless donated several artifacts from his career to the Museum of American History, including an early 1988 menu from Frontera Grill. They now are in a showcase directly next to the famed kitchen, moved from Julia Child's home in Cambridge, Massachusetts, from which her cooking show was televised.
Bayless described the "out of body experience" he had in 1992, cooking with his role model in that kitchen on her show In Julia's Kitchen with Master Chefs, late in her television career. The video of the show can be viewed by clicking here.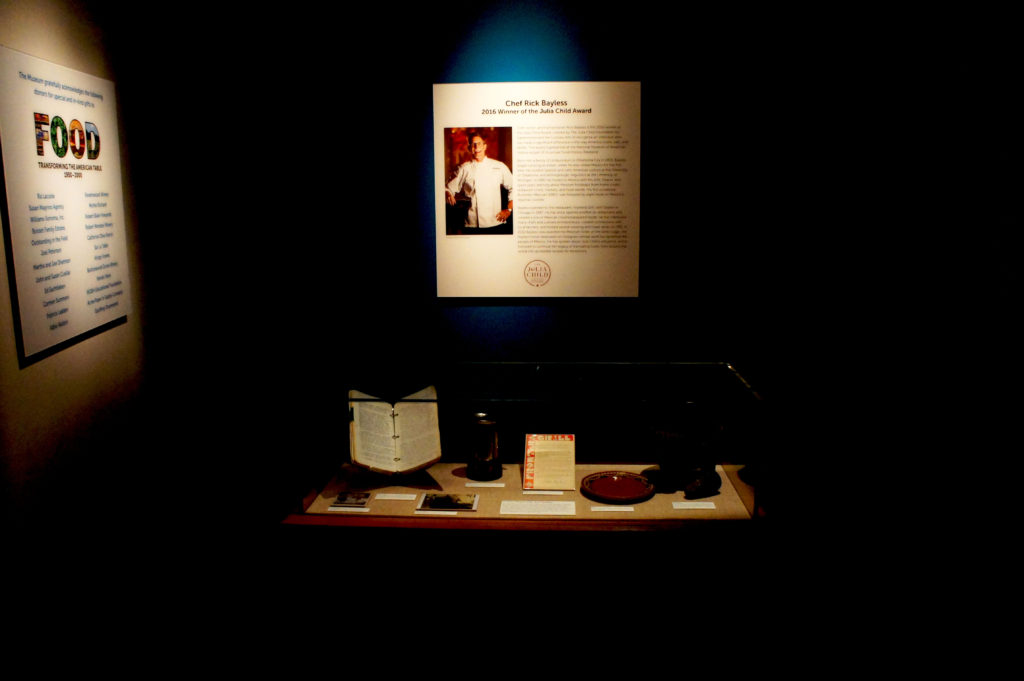 Child established the Julia Child Foundation for Gastronomy and the Culinary Arts in 1995 to carry on her legacy. According to the Foundation's website, "Through its support of other nonprofit organizations whose work advances matters that Julia valued, the Foundation honors her lifelong love of learning, her far-reaching impact as a teacher and mentor, and her passion for gastronomy and the culinary arts."
The site's extensive history of Child's life, including her books, television shows, honors and awards, can be found by clicking here.
Bayless' award ceremony drew an all-star cast of introducers that included Spanish-born chef José Andrés of Washington, D.C.; Scott Simon of National Public Radio, a Chicago native whose family has a long and close relationship with the Baylesses; and Kim Severson, the national food correspondent for the New York Times, who served as master of ceremonies.
A transcript of Bayless' acceptance speech can be found by clicking here.
Photographs by Bob Benenson/FamilyFarmed.