by Bob Benenson, FamilyFarmed
Chefs Erling Wu-Bower of Chicago's Nico Osteria and Cosmo Goss of The Publican are two of the biggest young stars on the city's and nation's restaurant scene. So when they went to their boss at the hugely successful One Off Hospitality Group — James Beard Award winning chef Paul Kahan — a few months ago to tell him that they planned to open their own restaurant, Paul says, "Man, my brain exploded."
A chef with a radically different personality than Paul's might have excoriated these chefs he had trained or told them to leave now.
But Paul himself had benefited from the nurturing and encouragement of the chefs from whom he learned, such as Rick Bayless and Erwin Dreschler, and he has played the same mentoring role for his staff since he launched his independent career by opening Blackbird in Chicago's West Loop neighborhood 20 years ago.
So he and his One Off business team — Donnie Madia, Terry Alexander and Josh Tilden — developed a plan to partner with Erling, Cosmo and Josh (who is transitioning over) in the first restaurant in their new Underscore Hospitality group. The yet-unnamed restaurant is described as featuring California hearth cuisine, and has the same commitment to food produced sustainably and as locally as possible as One Off pursues at its extensive restaurant group. 
This is, in turn, enabling Erling and Cosmo to learn from these leading experts in restaurant design and development — and avoid some of the daunting challenges and rookie mistakes young chefs often face when going out on their own.
For young chef-restaurateurs, this amounts to a master class. Paul won James Beard Foundation awards for the nation's Outstanding Chef in 2013 and for Best Chef Great Lakes/Midwest in 2004, both for his work at Blackbird, and was named to the organization's Who's Who of Food & Beverage in 2014. Donnie Madia won the 2015 James Beard Award for Outstanding Restaurateur.
Paul also received FamilyFarmed's Good Food Chef of the Year Award in 2016. Good Food on Every Table published two stories at the time detailing Paul's culinary career and his commitment to social values embodied in Pilot Light, the chef-driven program he co-founded that helps Chicago Public Schools integrate food education into students' curriculum.
Erling himself has been nominated this year (for the third consecutive time) for James Beard Best Chef Great Lakes, with the winner to be announced next Monday (May 1) at the foundation's annual awards ceremony in Chicago. Cosmo has been named to the prestigious 20 in Their 20s List by Crain's Chicago Business and to Forbes magazine's 30 Under 30.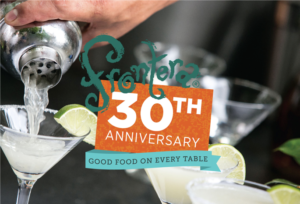 And Paul, Erling and Cosmo will all participate this Sunday (April 30) in the Frontera 30th Anniversary Celebration, a benefit for Rick Bayless' Frontera Farmer Foundation and FamilyFarmed. Erling has actually known Rick since childhood: Olivia Wu, his mother, is a friend of the chef and co-authored one of his earliest cookbooks with him.
To learn more about the Frontera 30 event and to buy tickets, click here. To learn about the awesome online silent auction, in which everyone can participate, click here.
The following is an excerpted conversation held April 25 with the three One Off chefs.
FamilyFarmed: What I'd like to focus on is the whole issue of mentorship and developing the new generation, because all of you have been through that. So Paul, tell us a little about your history of working for Erwin, working with Rick and how that's influenced how you've mentored and trained this next generation of chefs.
Paul: Every kitchen I ever worked in, I was hungry for knowledge, to learn and to do everything… "I've never seen that. Can I come in early and do that? Can you teach me that? Can you show me that? I've got a great idea. I read this, I want to try this." Nonstop. I ended up in a position with Erwin [Dreschler], where he taught me a lot about product and the market, and he taught me a lot about cooking and business. The same is true about Rick and Deann [Bayless]… Both of those guys were like, "This is the idea, why don't you run with it and see what you can come up with."…
I want the customer, the guest, to come in and really love everything that they eat. Consequentially, that is really what our company is built on. It's built on teamwork and exchanging of ideas, working together and being a pillar in the community from the standpoint of giving something back and doing things at a sustainable way. All those lessons were the only things I was ever exposed to.
FamilyFarmed: So you could have all the technique and the culinary training in the world, but the work ethic sounds like it's the most important thing.
Paul: I think it's the work ethic and I think more so it's the passion… I interviewed someone for a really important position in our company. I got a lot of jargon from people of "where I've worked" and what they've done and the techniques that they learned. Out of most of them I didn't hear one iota of "I love food," "I love product," "I love gardening, things that taste great."… It's devoid of soul and devoid of the personal touch and humanity…
FamilyFarmed: It's interesting that all three of you come in with some sort of food background, Paul with his father in the fish business, Erling, your mom being a cookbook writer, and Cosmo, your folks running a restaurant.
Cosmo: I wasn't afraid to work. You work nights, weekends, long hours. I started washing dishes when I was 15, and never looked back…
Erling: The story is very simple. My mom taught me how to cook, my dad taught me how to cook, Rick taught me how to cook. I called Blackbird for a job and Paul answered the phone. And that's it. It's all there is really…
FamilyFarmed: Each of you younger chefs has pursued a different track. Nico is different from The Publican. Was it difficult to make those transitions at all?
Erling: One of the things that happened early on at The Publican is that Paul had the greatest sound bite of all time, which was "Oysters, Pork and Beer." Brian Huston, the first chef at The Publican, and I took that and said we really want to do a huge seafood section of the menu. We'd started shipping in seafood from a company called Monterey Fish in San Francisco. And that's really where we started developing a love for seafood that's delivered from the source… Seafood ordered from the source or closer to the source just has more of a story and more meaning to the people who cook with it, more meaning to the people who eat it. And that bred Nico.
Paul: That's become an important defining principle, whether it be fishermen or meat producers or farmers. That's a super-important defining characteristic of The Publican.
FamilyFarmed: For a long time the Good Food movement was almost treated as synonymous with local food. But sometimes you have to reach outside your area because of seasonality, and also there are just products that people want…
Cosmo: I'm from California… I love avocados. And Paul was like, "Avocados at The Publican? What are you talking about? There's no Midwestern avocados." But I said, just try this, it's the best organic avocado I've ever had… If we're going to serve plums and they're grown really well but they might be grown a few states over, why not serve the best plum or the best avocado or the best Dover sole, whatever it happens to be.
FamilyFarmed: Let's talk a little about this new development for Erling and Cosmo… The fact that you're doing this as a partnership just kind of shows the generosity and development that has also been a trademark of One Off.
Paul: I think we're a very generous company and we really want everyone we're involved with to be successful. It also, from the other end, I've seen Cosmo and Erling, sort of start as young, intelligent, super hard-working and talented young men, and really develop into young, super hard-working, talented men… They are a giant part of One Off's culture, and I think myself and my partners Donnie and Terry felt that to lose them would be a giant blow to the culture of our company…
Truth be told, these guys met with me and they dropped the bomb. We want everybody in the company to want to be as successful as we've been… But man, my brain exploded… After about a month, we all got together and we sort of got beyond any minor differences that we may have had and said, 'How can we make this work."…
Erling: No matter how early you bring a chef in, there are already things that have occurred in a restaurant build-out. Licensing, design… I see it with my friends, that's where people stumble… Paul is talking about the capital that we're not going to have to spend, the money, but there's also this capital that we're not going to have to exhaust in making these mistakes in licensing and making these mistakes in design. We're able to take all of this library of knowledge, and we're really grateful for that…
Cosmo: We sit in construction meetings and such and Donnie uses acronyms that I still don't know, but I sit back and pretend like I do. (Laughs)… When the six of us got together, it was how can we do this together, how can we work together, how can we support each other?…
FamilyFarmed: Paul knows I'm a huge fan of Pilot Light. And I think that instilling this respect for food, a better way of eating in our youngest eaters is crucial to the future of the Good Food movement and making this a healthier and more sustainable country.
Erling: You should take all these kids fishing, and then they should cut that fish and they should throw it on the grill and they should eat it. That act alone would go a long way toward, first, making sure kids realize that fishing is amazing and good for the soul, and two, you catch your own fish and you cook it and eat it, and it's freaking delicious. It can be fun…
Paul: For me, we've gotta vote. That's where it's at. Look at what's going on right now, with ultimately decisions being… put through will have an impact on our world and on generations to come… Just vote. The key for me is, vote.
Cosmo: You come to The Publican and a side of snap peas is going to cost more than it might cost at a different restaurant. But why? Because we getting really high quality snap peas, they're coming from an organic farm or they're coming from Northern California, we're not buying commodity South American stuff. Then I look at myself and I say, What am I doing? I need to eat like that. So I started shopping organically, I started buying the right stuff. I can't ask people to come to the restaurant that I'm in charge of and not dine that way myself…
Paul: When you're far below the poverty line and really have no access to any good food, any good nutrition at all, or any good education at all, the problem is huge… Pilot Light certainly addresses the issue of education in our city as a whole, and how we can make food and an understanding of food a giant part of that moving forward… We can institute a lot of change, but we'll never change those food deserts and those areas that have no access to what we're talking about unless we really work on that and push hard on that.