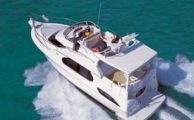 Spending time with leading Good Food business executives — at a gorgeous suburban Chicago home or a yacht cruise on Lake Michigan — sounds like reason enough to bid on two of the headline prizes in the Frontera 30th Anniversary Celebration's online silent auction. But if you have Good Food business interests and want to learn more about this fast-growing sector that is building a better food system for America, how can you pass up the opportunity to learn from (while partying with) three giants of the Good Food industry: Bill Weiland of Presence Marketing, Brandon Barnholt of KeHe Distributors, and Tony Olson of SPINS, the leading data analyst for the natural and organic products industry.
Posted in

Family Farms, Farm businesses, Financing, Food Entrepreneurs, Frontera 30th Anniversary Celebration, Frontera Farmer Foundation, Good Food and economic development, Good Food Business Accelerator, Good Food business development, Good Food trends, Local Food, Sustainable food business investment
| Tagged

Alice Waters, B Corporations, Bill Weiland, Brandon Barnholt, Chef Rick Bayless, Chez Panisse, Chicago Cubs, FamilyFarmed, FamilyFarmed Farmer Training, Frontera 30th Anniversary Celebration, Frontera Farmer Foundation, Good Food Financing &Innovation Conference, Good Food Trade Show, Gunthorp Farms, James Beard Foundation Awards, Josh Katt, KeHe, Kitchfix, Presence Marketing, SPINS, Tony Olson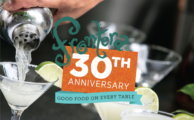 The folks attending the Frontera 30th Anniversary Celebration fundraiser on April 30 at The Art Institute of Chicago will be able to bid on some mind-boggling prizes, including a food field trip to Mexico with Chef Rick Bayless, whose 30 years of achievement is being celebrated at the event. But guess what? You can bid for all of those prizes too. That's because the auction, already under way, is taking place online, and you can compete wherever you are. All you have to do is visit the auction portal, click the prizes your heart desires, and bid.
Posted in

Awards, Butchering, Cookbooks, Farm to table dining, Food Artisans, Food Entrepreneurs, Frontera 30th Anniversary Celebration, Frontera Farmer Foundation, Good Food business development, Good Food Dining, Good Food restaurant trends, Good Meat, Livestock farming, Local Food, Meat, Restaurants and Good Food, Small Farmers, Sustainable dining
| Tagged

Alice Waters, Bill Weiland, Brandon Barnholt, Chef Rick Bayless, Chez Panisse, FamilyFarmed, Frontera 30th Anniversary Celebration, Frontera restaurant group, Greg Gunthorp, Gunthorp Farms, Jared Rouben, KeHe, Local Foods Chicago, Moody Tongue brewery, Presence Marketing, Rob Levitt, SPINS, The Butcher & Larder, Tony Olson