by Bob Benenson and Jim Slama, FamilyFarmed
Spending time with leading Good Food business executives — at a gorgeous suburban Chicago home or a yacht cruise on Lake Michigan — sounds like reason enough to bid on two of the headline prizes in the Frontera 30th Anniversary Celebration's online silent auction.
But if you have Good Food business interests, and want to learn more about this fast-growing sector that is building a better food system for America, how can you pass up the opportunity to learn from (while partying with) three giants of the industry:
Tony Olson of

SPINS

, the leading data and digital services provider for the health and wellness industry.
Bill Weiland of Presence Marketing, who since the early 1990s has been a pioneering marketer and investor in the Good Food sector.
Brandon Barnholt of 

KeHE

, a leading distributor of natural & organic, specialty and fresh products.
Tony will be hosting the auction winner on his boat for a cruise through Chicago's waterways with Bill and Brandon. The winner will have the opportunity to steer the business conversation (though not the boat) wherever he or she wants it to go.
And Bill will be leading a second event: He and a Presence Marketing team will host the winner at his Barrington Hills, Illinois home for an intensive business strategy session. (More details about each event are listed below.)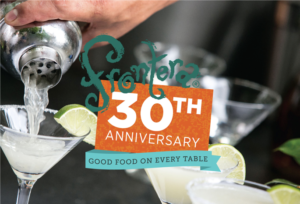 These prizes are just part of the amazing collection of donated items, restaurant meals and experiences in the Frontera 30 silent auction — open to everyone and already live online. Proceeds from the event and auction will benefit both Rick Bayless' Frontera Farmer Foundation and FamilyFarmed.
The Celebration, which takes place on Sunday, April 30 at The Art Institute of Chicago, will highlight both Rick's landmark culinary career and the efforts by FamilyFarmed and Frontera Farmer Foundation to help small farmers succeed and food entrepreneurs grow their businesses.
Other headline auction items include a food tour of Mexico with Chef Rick Bayless and his Frontera restaurant team, a pop-up Frontera dinner cooked by Rick for 30 at your home, a seat at the kitchen table at Alice Waters' Chez Panisse, a Gunthorp Farms pig roast for 100 and much, much more. See all the great auction items here.
Presence Marketing Good Food Innovation Intensive
Want to learn business strategy from a pioneer of natural and organic food marketing and his team… at one of the Chicago area's most beautiful homes? Presence Marketing — the leading natural and organic food broker in America — has donated a prize that will enable the winner to benefit from a half-day Good Food Innovations Intensive with CEO Bill Weiland and the Presence Marketing Innovation team.

Work will then be followed by play, as the Presence staff mixologist takes over to prepare unique crafted cocktails before and after dinner. Also included is a chef-prepared farm-to-table dinner, with the story of all ingredients explained and linked to trends in the natural and organic food industry.   
Weiland has been called a "kingmaker" in the food industry by Forbes Magazine because of his success at picking and elevating emerging natural food brands. He will lead the Innovation Intensive and host the day.
It will include a presentation of the Presence Marketing Bankable Trends Report, cutting-edge research documenting future opportunities in the Good Food industry. The Innovation Team will also design the rest of the session using input from the winner on the needs of his or her business.
The Good Food Innovation Intensive will take place at Bill's home in Barrington Hills, Illinois, a place that is legendary in the industry for events and parties that bring together some of the most successful and important leaders in natural and organic food.
Boat Cruise with SPINS, KeHE, Presence Marketing & FamilyFarmed CEOs
Tony Olson of SPINS, the premier Health and Wellness industry data analysis analytics and insights firm, is the evening's host for a trip down the Chicago River and out onto Lake Michigan! The winner and three guests will enjoy sailing on Vitamin Sea, a spectacular 47-foot boat.
Bill Weiland is also ship-shape, along with Brandon Barnholt, CEO of the KeHE natural and organic food distribution company, and Jim Slama, founder and CEO of FamilyFarmed.
The winner and guests will spend three hours networking and strategizing with these three Good Food industry leaders, with the city's stunning skyline views as a backdrop. If you elect to schedule on Wednesday, you can also enjoy a spectacular view of the weekly fireworks display off Navy Pier!!
Tony, Brandon and Bill will each share their perspectives on the future of the natural and specialty food industry. Tony has been at the helm of SPINS for more 20 years and advises the leading manufacturers and retailers in the natural and organic food industry, including Kroger, Sprouts, Fresh Thyme, Target, and more. Brandon has led major growth at KeHE including its acquisition of Tree of Life Distributors, Nature's Best and Monterrey Provisions companies, which makes it a leading national force that serves more than 30,000 stores.
KeHE is employee-owned and also the largest B Corporation in America, putting forth a strong set of values aligned with its leading role in Good Food industry.
 Gourmet local and organic food will be served by Josh Katt, CEO of Kitchfix, which creates delicious prepared meals for delivery and catering from sustainable ingredients, and is making its mark in the consumer packaged goods area with some of the best grain-free granola around.
Josh also provides healthy and nutritious meals for the defending World Series champion Chicago Cubs! (The silent auction also includes an awesome package of Cubs box-seat tickets and a jersey autographed by Anthony Rizzo.)
The cruise begins with a pick-up at the docks in front of City Winery on Chicago's recently completed Riverwalk. Winners will be consulted in advance to design an experience that matches their needs as either natural food companies, retailers or investors.
Where the conversation goes is up to you. It's like a board meeting… except it's a on-board meeting!
The Cause
The Silent Auction will take place both online and in person at the Frontera 30th Anniversary Celebration, April 30 at the Art Institute of Chicago. The event takes place the night before the James Beard Foundation Awards in Chicago and features an all-star lineup of some of the best chefs in North America — cooking, speaking or both!
All proceeds from this event will be shared by the Frontera Farmer Foundation and FamilyFarmed. The funds will be used to advance the nonprofits' shared goal of a healthier, more sustainable and more economically beneficial food system, based on food produced as locally as possible using sustainable, humane and fair practices.
Rick Bayless and his Frontera team have been leaders in building markets for regional family farmers. To further build the Good Food supply chain, they created the Frontera Farmer Foundation in 2003 to give grants to farmers for equipment and other capital investments. The Foundation's board has approved over $2 million in grants to Midwest farmers.
FamilyFarmed's Good Food Trade Show and its Financing & Innovation Conference are leading economic engines advancing Good Food in the Midwest. Participants in its trade show have sold hundreds of millions of dollars in new products to wholesale buyers such as Whole Foods, McCormick Place, Chicago Public Schools, UNFI, KeHE and more.
The organization's Good Food Business Accelerator at 1871 is the leading training program for food entrepreneurs in America, and nearly half of its Fellows have been minority-owned or woman-owned businesses. Graduates of the Accelerator and participants in the Financing Conference have raised more than $30 million in debt or equity capital in recent years.
FamilyFarmed also operates a leading farmer-training program that has trained more than 12,500 farmers in 42 states in food safety, postharvest handling, and building relationships with buyers.