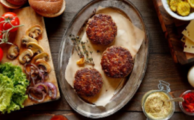 The Blend is a movement emerging nationwide, and it features the craft of blending finely chopped mushrooms with ground meat (beef, turkey, chicken, lamb) for meals that are more delicious, nutritious and sustainable. Visit the Mushrooom Council at table 44-45 — on Friday during FamilyFarmed's Good Food Trade Show and on Saturday during the Good Food Festival — to sample Paul Caravelli of Chicago's Knife & Tine's take on a blended meatball.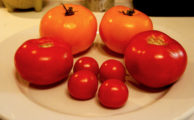 "Good Food movement" and "Local Food movement" are virtually synonymous to a lot of people. Yet the rising tide of consumer demand for Good Food is prompting more and more retailers, wholesalers and chefs to think globally while they act locally. This issue will be examined by the "Does Good Food Need to Be Local" panel at FamilyFarmed's Good Food Financing & Innovation Conference on March 16.
Posted in

Community Supported Fisheries, CSAs, Direct Farm Marketing, Family Farms, Farm businesses, Farmers markets, Food and technology, Food Artisans, Food Entrepreneurs, Frontera Farmer Foundation, Good Food and economic development, Good Food business development, Good Food Festivals, Good Food Financing Fair, Good Food marketing, Good Food trends, Indoor growing, James Beard Foundation Awards, Local Food, Small Farmers
| Tagged

Chicago Tonight, Crain's Chicago Business, FamilyFarmed, Frontera 30th Anniversary Celebration, Frontera Farmer Foundation, Frontera restaurant group, Good Food Festival & Conference, Good Food Financing &Innovation Conference, Good Food Trade Show & Policy Conference, Green Acres Farm Indiana, Green City Market, James Beard Foundation, Local Foods Chicago, Masienda, MightyVine, PRE Brands, S2G Ventures, US Foods, Whole Foods Market, WTTW
The best Good Food news we've read this week:    FamilyFarmed A Start-Up Turns to Saffron to Help Afghanistan Regrow, New York Times Midwest Good Food Goodbye, Orange Julius, hello, Furious Spoon (about the recent popularity of food halls), Crain's They Might be Giant: Rob Levitt talks to Jason Vincent and Ben Lustbader, Fooditor This […]
The best Good Food news we've read this week:    FamilyFarmed Nine Questions with Jim Slama, Founder and President of FamilyFarmed, Food Tank Midwest Good Food How Chicago Became a Leader in Urban Agriculture, ChicagoInno A Tale of Resale: How Big Chains' Produce Ends Up in Local Grocery Stores, WBEZ Chefs unearth inspiration in […]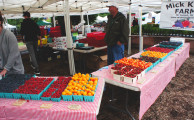 Foods and beverages carrying a "local" label appear poised to become the leading symbol of trust and transparency to consumers as the authenticity halo of such terms as 'organic' and 'natural' lose momentum, claims market analyst The Hartman Group — as reported by the FoodNavigator-USA.com website.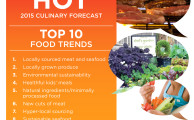 The National Restaurant Association's annual predictions of top culinary trends are out — and it looks like 2015 will be another great year for the fast-growing Good Food movement.
Posted in

Craft beverages, Culinary Trends, Farm to table dining, Food Artisans, Good Food Dining, Good Food movement, Good Food restaurant trends, Good Food trends, Heirloom foods, Local Food
| Tagged

2015 culinary trends, 2015 food trends, craft beer, craft spirits, FamilyFarmed, farm to table dining, food artisans, Good Food movement, Good Food restaurant trends, local food, National Restaurant Association, sustainable dining, sustainable food