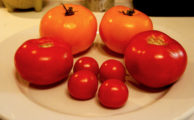 "Good Food movement" and "Local Food movement" are virtually synonymous to a lot of people. Yet the rising tide of consumer demand for Good Food is prompting more and more retailers, wholesalers and chefs to think globally while they act locally. This issue will be examined by the "Does Good Food Need to Be Local" panel at FamilyFarmed's Good Food Financing & Innovation Conference on March 16.
Posted in

Community Supported Fisheries, CSAs, Direct Farm Marketing, Family Farms, Farm businesses, Farmers markets, Food and technology, Food Artisans, Food Entrepreneurs, Frontera Farmer Foundation, Good Food and economic development, Good Food business development, Good Food Festivals, Good Food Financing Fair, Good Food marketing, Good Food trends, Indoor growing, James Beard Foundation Awards, Local Food, Small Farmers
| Tagged

Chicago Tonight, Crain's Chicago Business, FamilyFarmed, Frontera 30th Anniversary Celebration, Frontera Farmer Foundation, Frontera restaurant group, Good Food Festival & Conference, Good Food Financing &Innovation Conference, Good Food Trade Show & Policy Conference, Green Acres Farm Indiana, Green City Market, James Beard Foundation, Local Foods Chicago, Masienda, MightyVine, PRE Brands, S2G Ventures, US Foods, Whole Foods Market, WTTW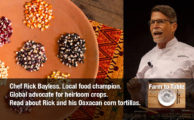 It might sound somewhat surprising that Rick Bayless, a pioneering advocate for the Chicago region's local farmers and a master of regional Mexican cuisine, recently converted to using imported corn for his tortillas.
But this isn't just any corn. It is dried heirloom corn from the Mexican state of Oaxaca, where some historians believe the cultivation of maize began. And it underscores the fact that in a diverse and increasingly interconnected food culture, authentic farm to table restaurants may take their search for the best ingredients way beyond their local areas…. and sometimes to a different part of the world.
Posted in

Ancient grains, Chef advocacy, Farm to table dining, Farm to Table: Keeping It Real, Food activism, Food Artisans, Food Entrepreneurs, Frontera Farmer Foundation, GMOs, Good Food and economic development, Good Food Dining, Good Food restaurant trends, Heirloom foods, James Beard Foundation Awards, Restaurants and Good Food, Small Farmers, Sustainable dining
| Tagged

Blue Hil at Stone Barns, Chef Rick Bayless, Cruz Blanca, Dan Barber, Farm to Table, Farm to Table: Keeping It Real, Frontera Foods, Frontera Grill, Frontera restaurant group, Heirloom corn, James Beard Foundation, Jorge Gaviria, Masienda, Mexican corn, Oaxaca, Regional Mexican cuisine, Rick Bayless, Stone Barns Center for Food and Agriculture, Whole Foods Market