Community Supported Fisheries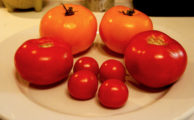 "Good Food movement" and "Local Food movement" are virtually synonymous to a lot of people. Yet the rising tide of consumer demand for Good Food is prompting more and more retailers, wholesalers and chefs to think globally while they act locally. This issue will be examined by the "Does Good Food Need to Be Local" panel at FamilyFarmed's Good Food Financing & Innovation Conference on March 16.
Posted in

Community Supported Fisheries, CSAs, Direct Farm Marketing, Family Farms, Farm businesses, Farmers markets, Food and technology, Food Artisans, Food Entrepreneurs, Frontera Farmer Foundation, Good Food and economic development, Good Food business development, Good Food Festivals, Good Food Financing Fair, Good Food marketing, Good Food trends, Indoor growing, James Beard Foundation Awards, Local Food, Small Farmers
| Tagged

Chicago Tonight, Crain's Chicago Business, FamilyFarmed, Frontera 30th Anniversary Celebration, Frontera Farmer Foundation, Frontera restaurant group, Good Food Festival & Conference, Good Food Financing &Innovation Conference, Good Food Trade Show & Policy Conference, Green Acres Farm Indiana, Green City Market, James Beard Foundation, Local Foods Chicago, Masienda, MightyVine, PRE Brands, S2G Ventures, US Foods, Whole Foods Market, WTTW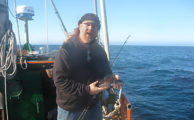 Farms running community supported agriculture businesses, or CSAs, have multiplied across the United States in recent years. Under this practice, farms are able to raise revenues for their plantings by selling subscriptions to consumers, who receive boxes of products from the farm over the course of the season. Now the concept has spread to another food sector: sustainable seafood. And, as this article about southwest Oregon shows, businesses and other economic development boosters are working together to build a growing seafood market.
Posted in

Community Supported Fisheries, Fish, Good Food and economic development, Regional food systems, Seafood, Sustainable seafood, Value Chain Coordination
| Tagged

community supported fisheries, FamilyFarmed, Oregon seafood, Port Orford Sustainable Seafood, Seafood, Southwestern Oregon Food Systems Collaborative, Sustainable seafood, Wallace Center, Wallace Center/Winrock International