by Bob Benenson, FamilyFarmed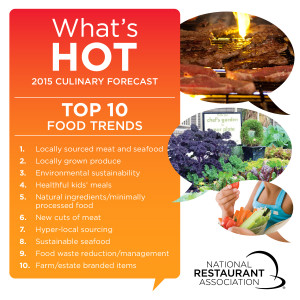 The National Restaurant Association's annual predictions of top culinary trends are out — and it looks like 2015 will be another great year for the fast-growing Good Food movement.
Nearly all of the top 10 food trends — which emerged from the association's survey of 1,300 chefs this fall — are clearly identified with Good Food, which FamilyFarmed defines as food that is "local, sustainable, humane, and fair."
The rankings show three categories in the top 10 (including the top two) that refer to locally produced ingredients, and two that directly refer to sustainability:
1) Locally sourced meats and seafood
2) Locally grown produce
3) Environmental sustainability
4) Healthful kids' meals
5) Natural ingredients/minimally processed food
6) New cuts of meat
7) Hyper-local sourcing
8) Sustainable seafood
9) Food waste reduction/management
10) Farm/estate branded items
"As consumers today increasingly incorporate restaurants into their daily lives, they want to be able to follow their personal preferences and philosophies no matter where or how they choose to dine," said Hudson Riehle, senior vice president of research for the National Restaurant Association, in a release accompanying the survey. "So, it's only natural that culinary themes like local sourcing, sustainability and nutrition top our list of menu trends for 2015. Those concepts are wider lifestyle choices for many Americans in other aspects of their lives that also translate into the food space." 
The Good Food movement incorporates food artisanship and entrepreneurship along with consumers' rising concerns about the impact of food on health, nutrition, and the environment. And the survey's flavorful sub-categories also underscore the degree to which Good Food is woven into the nation's culinary interests.
Along with natural ingredients/minimally processed foods at #5 and food waste reduction/management at #9, the association's top new trends for 2015 include artisan butchery (#23) and house-made condiments (#40). The top "Main Dishes/Center of the Plate" trends are a virtual clean sweep for Good Food: Locally sourced meats and seafood leads, followed by new cuts of meat, sustainable seafood, non-traditional fish, and grass-fed beef.
The leading Produce trends for 2015 are locally grown produce, heirloom apples, unusual/uncommon herbs, and organic produce. The top Preparation Methods are old-school techniques that are favored by many Good Food practitioners: pickling and fermenting. The Other Food Items/Ingredients category is headed by farm/estate branded items, artisan cheeses, non-wheat flour, house-made/artisan pickles, and artisan/specialty bacon.
Even sweet treats are part of the wave. The #1 Dessert trend, according to the survey, is house-made/artisan ice cream.
"Artisan" is also the word in the adult beverage world. The top Alcoholic Beverages trends are micro-distilled/artisan spirits; locally produced beer/wine/spirits; "new make" (i.e. unaged) whiskey, which is mainly being marketed by smaller artisan producers; food-beer pairings; and house-brewed beer. The top Cocktails/Cocktail Ingredients trends are onsite barrel-aged cocktails and regional signature cocktails.
The Good Food movement is even making inroads in the category of Non-Alcoholic Beverages that has long been dominated by mass-produced soft drinks. The leading predicted trends for 2015 is… gourmet lemonade. The top 5 in this category is rounded out by specialty iced tea, house-made soft drinks/soda/pop, organic coffee, and coconut water.
The 1, 300 chefs surveyed for the 2015 Trends report are members of the American Culinary Federation.