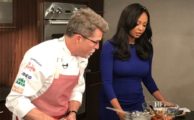 The three pillars of the Good Food movement are a healthier, a more environmentally sustainable, and more economically dynamic food system that puts Good Food on Every Table. This year's Festival will put a special accent on that first pillar — Good Food's massive contribution to building a society with healthier, happier people and lower health care costs — with panels on Good Food is Good Medicine and Food and Mood.
Posted in

Awards, Chef activism, Chef advocacy, Child nutrition and health, Family Farms, Farm businesses, Farm to table dining, Food access, Food activism, Food and community, Food and health, Food education, Food Entrepreneurs, Frontera Farmer Foundation, Good Food business development, Good Food Festivals, Healthy eating, Local Food, Sustainable conferences
| Tagged

50 Million Pound Challenge, Artisan Grain Collaborative, Baker Miller, Chicago Global Health Alliance, Dr. Ian Smith, FamilyFarmed, Four Elements Organic Herbals, Frontera 30th Anniversary Celebration, Frontera Farmer Foundation, Frontera Grill, Frontera restaurant group, Good Food Festival, Good Food Festival & Conference, Good Food Financing &Innovation Conference, Good Food Trade Show & Policy Conference, Green City Market, Green River restaurant Chicago, Honey Butter Fried Chicken, Hoosier Mama Pie Company, integrative medicine, Jack Johnson Ohana Foundation, Local Foods Chicago, Lonesome Stone Milling, Makeover Mile, Melinda Ring, musician Jack Johnson, Northwestern Medicine, Northwestern Memorial Hospital, Organic Valley Good Food Commons, Osher Center for Integrative Medicine, Publican Quality Bread, Purple Asparagus, Rick Bayless, Rob Levitt, SHRED Diet, SHRED POP, The Butcher & Larder, The Winchester restaurant Chicago, Tiffany McDowell, Topolobampo, University of Chicago Pritzker School of Medicine, Wind Ridge Herb Farm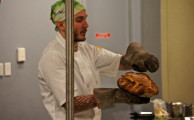 Greg Wade, the head baker for Chicago's Publican Quality Bread and the One Off Hospitality Group, conducted a Master Class in bread baking at FamilyFarmed's Good Food Festival Saturday morning at UIC Forum.
Posted in

Bread, Food Artisans, Food education, Food Entrepreneurs, Good Food Festivals, Good Food movement, Sustainable dining, Sustainable food retailing
| Tagged

artisan baking, bread, bread baking, FamilyFarmed, Good Food Festival, Good Food movement, Greg Wade, One Off Hospitality, Publican Quality Bread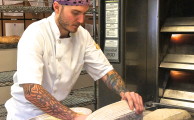 We have been writing so much about FamilyFarmed's 11th annual Good Food Festival & Conference March 19-21 that we want to make sure that the main events designed for the general public do not get lost in the shuffle. So here is our list of the top 10 reasons you should attend the Localicious food and drink tasting event and the Good Food Festival.
Posted in

Beer, Bread, Butchering, Community Supported Agriculture, CSAs, Farm businesses, Farmers markets, Food Artisans, Food cooperatives, Food education, Food Entrepreneurs, Good Food business development, Good Food Dining, Good Food Festivals, Good Food movement, Good Food tasting events, Local Food, Regional food systems, Sustainable food cooking, Sustainable food education, Sustainable food retailing
| Tagged

Baker Miller, Band of Farmers, Big Jones restaurant, Chicagoland Food Co-op Coalition, Community Supported Agriculture, CSAs, FamilyFarmed, Farmhouse Chicago, Good Food Festival, Good Food Festival & Conference, Local Foods Chicago, Localicious, Monica Eng, Nicole Pederson, One Off Hospitality, Pilot Light Chefs program, Publican Quality Bread, Rob Levitt, Sugar Beet Co-op, The Butcher & Larder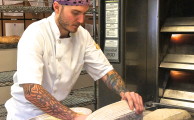 by Bob Benenson, FamilyFarmed Bread, especially bread made with wheat flour, has come under scrutiny in recent years. Some nutritional experts and consumers have turned against it, viewing it as the root of a variety of health issues, from gluten sensitivity to weight gain. These sentiments spawned a rapid rise in interest in gluten-free bread […]
Posted in

Ancient grains, Bread, Commodity agriculture, Eating Disorders, Fermentation, Food and health, Food Artisans, Food Entrepreneurs, Good Food business development, Good Food Dining, Good Food Festivals, Good Food restaurant trends, Heirloom foods, Sustainable food cooking, Sustainable food retailing
| Tagged

Baker Miller, Good Food Festival, Good Food Festival & Conference, Greg Wade, One Off Hospitality, Paul Kahan, Publican Quality Bread, Publican Quality Meats, Spence Farm, Stephanie Izard, Treasure Island