Four Elements Organic Herbals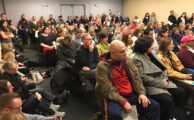 The record attendance at FamilyFarmed's 2017 Good Food Festival & Conference in Chicago underscored important points about the Good Food movement's growing momentum. More than 7,500 people attended the 13th Good Food Festival & Conference, held March 16-18 at the UIC Forum on the University of Illinois at Chicago campus.
Posted in

Awards, Chef advocacy, Farm to table dining, Food activism, Food and community, Food and health, Food education, Food Entrepreneurs, Frontera Farmer Foundation, Good Food and economic development, Good Food Business Accelerator, Good Food business development, Good Food Festivals, Good Food movement, Good Food Policymaking, Healthy eating, James Beard Foundation Awards, Local Food, Sustainable conferences, Sustainable food business investment, Sustainable food education
| Tagged

'Laine's Bake Shop, 2X Consumer Products Growth Partners, A.T. Kearney, Adam Murphy, Chef Rick Bayless, Chicago Global Health Alliance, Dr. Ian Smith, Dr. Judy Fulop, Dr. Nataka Moore, FamilyFarmed, FamilyFarmed's Good Food Business of the Year Award, FamilyFarmed's Good Food Chef of the Year Award, Four Elements Organic Herbals, Frontera restaurant group, Fruitbelt, Full Belly Foods, Geeta Maker-Clark, Good Food Business Accelerator, Good Food Festival, Good Food Festival & Conference, Good Food Financing &Innovation Conference, Gotham Greens, Honey Butter Fried Chicken, James Beard Foundation, Justice of the Pies, Local Foods Chicago, Made Here Products, Melinda Ring, Northwestern University Medical Center, Osher Center for Integrative Medicine, Phoenix Bean tofu, Pleasant House Pub Chicago, Presence Marketing, S2G Ventures, Simply Native Foods, Skinny Souping, Tea Squares, The Cider Farm, The Eating Well, Tiffany McDowell, University of Chicago Pritzker School of Medicine, Wind Ridge Herb Farm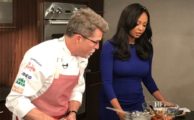 The three pillars of the Good Food movement are a healthier, a more environmentally sustainable, and more economically dynamic food system that puts Good Food on Every Table. This year's Festival will put a special accent on that first pillar — Good Food's massive contribution to building a society with healthier, happier people and lower health care costs — with panels on Good Food is Good Medicine and Food and Mood.
Posted in

Awards, Chef activism, Chef advocacy, Child nutrition and health, Family Farms, Farm businesses, Farm to table dining, Food access, Food activism, Food and community, Food and health, Food education, Food Entrepreneurs, Frontera Farmer Foundation, Good Food business development, Good Food Festivals, Healthy eating, Local Food, Sustainable conferences
| Tagged

50 Million Pound Challenge, Artisan Grain Collaborative, Baker Miller, Chicago Global Health Alliance, Dr. Ian Smith, FamilyFarmed, Four Elements Organic Herbals, Frontera 30th Anniversary Celebration, Frontera Farmer Foundation, Frontera Grill, Frontera restaurant group, Good Food Festival, Good Food Festival & Conference, Good Food Financing &Innovation Conference, Good Food Trade Show & Policy Conference, Green City Market, Green River restaurant Chicago, Honey Butter Fried Chicken, Hoosier Mama Pie Company, integrative medicine, Jack Johnson Ohana Foundation, Local Foods Chicago, Lonesome Stone Milling, Makeover Mile, Melinda Ring, musician Jack Johnson, Northwestern Medicine, Northwestern Memorial Hospital, Organic Valley Good Food Commons, Osher Center for Integrative Medicine, Publican Quality Bread, Purple Asparagus, Rick Bayless, Rob Levitt, SHRED Diet, SHRED POP, The Butcher & Larder, The Winchester restaurant Chicago, Tiffany McDowell, Topolobampo, University of Chicago Pritzker School of Medicine, Wind Ridge Herb Farm