by Bob Benenson, FamilyFarmed
FamilyFarmed, a leading nonprofit advocate for a better food system, is happy to introduce you to the program for its 8th annual Good Food Financing & Innovation Conference. The Midwest's premier business gathering focused on locally and sustainably produced food will be held Tuesday, June 19 at the Morgan Manufacturing event space in Chicago's West Loop — and it has its strongest-ever lineup of industry experts discussing cutting-edge issues.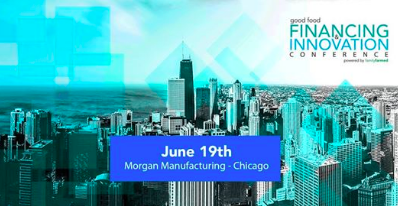 The Conference also will present a Pitch Slam and Financing Fair that will shine a spotlight on some of the region's most promising Good Food entrepreneurs. FamilyFarmed's four-year-old Good Food Accelerator, an intensive entrepreneur development program, plays a central role in the Good Food Financing & Innovation Conference. Combined, the Conference and Accelerator have generated more than $50 million in Good Food financing deals.
Early bird discount tickets for the Good Food Financing & Innovation Conference are on sale through Thursday, May 31 at goodfoodfinancing.org. Deadline alert! Entrepreneurs seeking to be part of the Pitch Slam must apply by TOMORROW (Wednesday, May 23). Financing Fair applications are open until Tuesday, May 29: Applications for entrepreneurs and for lenders/funders/service providers (https://www.f6s.com/2018goodfoodfinancingfairfunders/apply) also can be accessed at the Conference website.
The event will kick off at 9 a.m. on June 19 with an introduction featuring Betsy Ziegler, the recently named CEO of Chicago's 1871 business incubator, and Linda Darragh, executive director of the Levy Institute for Entrepreneurial Practice at Northwestern University's Kellogg School of Management, with FamilyFarmed CEO Jim Slama and Board Chairman Charlotte Flinn.
This will be followed by two segments featuring John Foraker, a pioneer of organic packaged food products, who formerly was founder and CEO of Annie's Homegrown — sold to General Mills in 2014 for $820 million — and now is CEO of Once Upon a Farm, an organic, fresh baby food company, in which actress Jennifer Garner is chief brand officer.
Foraker will deliver the Conference's keynote address. He then will engage in a "Fireside Chat" with Carlotta Mast, senior vice president for content and insights at New Hope Network, whose annual events — the Natural Products Expos (West and East) and the Esca Bona thought leadership conference — are huge national gatherings for the natural and organic products industry.
A series of panels follows, featuring amazing lineups of food industry stars. [The full lineup of Conference participants can be found on the Good Food Financing & Innovation Conference site.]
• Breakthrough Entrepreneurs Talk Innovation. The innovative panelists are Katlin Smith of Simple Mills; Megan Klein of Here.co (a 2017 Good Food Accelerator graduate); Luke Saunders of Farmer's Fridge; Jim Parsell of the OwlTing USA blockchain services provider; and Jean-Pierre Comte, Americas president of the Italian pasta maker Barilla. The moderator is Dave Donnan, senior partner and head of the global food and beverage team at the A.T. Kearney consulting firm. [An article on blockchain technology and OwlTing USA can be found on Good Food On Every Table.]
• Big Food + Good Food: Building Strategic Partnerships. The increased interest of major food corporations in purchasing rising Good Food companies is a recognition of the fast-growing demand and market share for the new wave of healthy products produced sustainably, humanely and fairly. Panelists include Glenn Pappalardo of RXBAR (recently bought by Kellogg Company); Joel Warady of Enjoy Life Foods (now part of Mondelez International); Reese Schroeder of Tyson New Ventures; and Sergio Eleuterio of Springboard Brands (the new business incubator created by Kraft Heinz). The panel is moderated by Andy Whitman, CEO of 2x Consumer Products Growth Partners.
• Good Food Is A Good Deal – Investor Insights. The rapid growth of the consumer market for Good Food has also sparked a sharp upswing in the number of investors interested in the sector's promising entrepreneurs. Panelists include Chuck Templeton of Seed 2 Growth (S2G) Ventures and Impact Engine (he was a founder of Open Table and chairman of GrubHub); Lauren Rosenthal of the Sustainable Local Food Investment Group (SLoFIG); Peter Wilkins of Hyde Park Angels; Mark Thomann of Spiral Sun Ventures; and Andrew Bluestein of Bluestein & Associates. This panel is moderated by Marianne Markowitz of CIBC Bank USA (a former Regional Director of the U.S. Small Business Administration and CFO of Obama for America 2008). [An article about SLoFIG's role in the growth of Chicago's Good Food sector can be found on Good Food On Every Table.]
• Chicago + Boulder: Advancing the Impact of Good Food. Chicago is a well-established hub for Good Food movement activity, but those of us who are involved are always striving for our hometown to have even more national impact. This has led to planning for the establishment of a Naturally Chicago organization that will be modeled after Naturally Boulder and its successes in the Western United States.  Panelists include Tony Olson of SPINS, Brandon Barnholt of KeHE Distributors, Bill Weiland of Presence Marketing, and Jim Slama of FamilyFarmed.  Moderator Carlotta Mast of New Hope Network (participating earlier in the Fireside Chat with John Foraker) also is board president of Naturally Boulder.
Participants in the Conference's exciting Pitch Slam and Financing Fair will be announced in late May.