by Bob Benenson, FamilyFarmed
It probably takes a graduate degree in computer science to fully comprehend how blockchain technology functions. But let's let a 62-year-old guy with a Communications degree give it a shot.
Information about individual business transactions — the kind of data that for time immemorial has been entered into spreadsheet ledgers — can now be recorded in a chain of linked and encrypted data blocks, where the data stored can be viewed but not erased. Furthermore, this chain of encrypted data blocks can be shared , or "distributed," to a network of computers, meaning no one entity in the network can manipulate the data without being detected or examined.
Because of these characteristics of blockchain — encrypted, immutable and distributed — its advocates believe this technology can greatly enhance product transparency and, in the context of food, traceability in the event of a food safety issue.
In case your head is spinning from that explanation, here's how it boils down in layman's terms, from a true expert: Jim Parsell, director of business development for OwlTing USA, the recently opened, Chicago-based branch of a food-focused blockchain pioneer from Taiwan.
"I think it's best to view blockchain as a powerful new tool to help keep track and protect the integrity of the production process data," Parsell said. "Blockchain itself can't address food safety issues. But for food producers who take the time to document how their products are made, blockchain can help increase the efficiency and effectiveness of their efforts."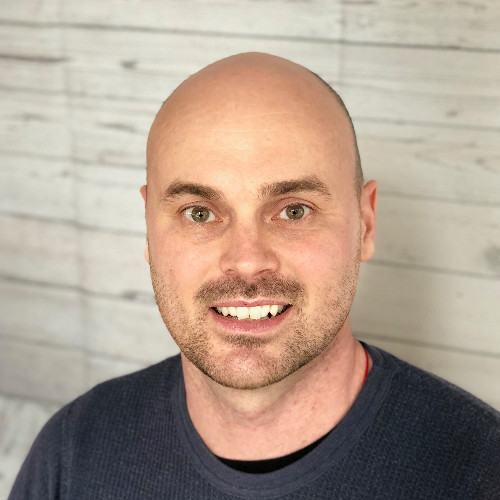 Jim Parsell of OwlTing USA (photo above)will discuss the potentially huge impact of blockchain at FamilyFarmed's annual Good Food Financing & Innovation Conference on Tuesday, June 19, on a panel titled "Breakthrough Entrepreneurs Talk Innovation." Tickets for the Conference, which takes place at the Morgan Manufacturing Events space in Chicago's West Loop, can be purchased at goodfoodfinancing.org, where you will also find a full schedule.
OwlTing is in the first wave of firms that bring applicable blockchain solutions into the market. "We have developed a blockchain platform with an integrated marketing tool to help our clients immerse consumers in an authentic experience about their brands and products. Who are you, what are you about, what is the pride you've taken in your product that you want to share with the marketplace," Parsell said.
While blockchain surely will present marketing benefits to large-scale, commercial food companies, services provided by companies such as OwlTing can deliver important advantages to smaller and younger businesses in the Good Food space.
The transparency that blockchain provides, combined with the marketing tools like OwlTing's, enables producers to prove their product claims by making production information accessible, via any smartphone, to Good Food consumers — already numbering in the tens of millions and growing fast — who prioritize healthy and sustainably produced food and care deeply about where their food comes from.
"It's an immediate differentiator at the point of sale…," Parsell said. "From this craft brew to this one, well, this one has a story, this is organic and here's exactly what it is, this is why. You can learn about the families, the process, the history behind it. Whereas before, people may just look at a bottle and kind of see, this is blue and this is red."
Nick Ost, OwlTing USA's marketing director, added: "Initially for these smaller producers who are just trying to make a name for themselves in the market, we're giving them a platform to start that traceability and be honest. But ultimately, what it does is it's a marketing tool. It increases consumer engagement and allows people to connect with why is this a quality product, what story are they trying to tell."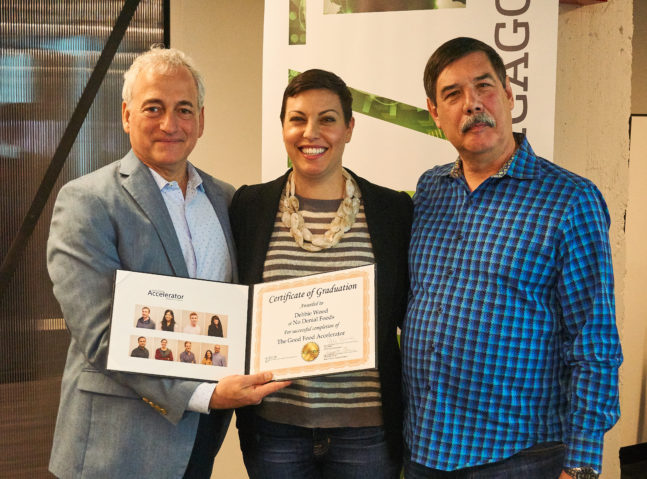 Debbie Wood of No Denial Foods produces indulgent but health-conscious nut-based treats, and she is one of OwlTing USA's earliest clients. "What attracted me to OwlTing was the common sense behind the company," said Wood, who graduated in April from FamilyFarmed's Good Food Accelerator and its intensive six-month entrepreneur development program. "My company is part of the Good Food movement and a big part of that is transparency. We want our customers to know what they are putting in their bodies. OwlTing provides the tools to make that transparency visible to the consumer."
While the marketing aspect of blockchain works to establish transparency from farm to fork, it also has the potential to revolutionize food safety by instantly searching backward down the supply chain to either pinpoint — or dismiss — whether a product is the source of a food-borne health risk. In fact, many people first became acquainted with the term blockchain when Walmart and IBM entered into a case study of how the technology could be used to quickly identify the source of a food safety issue, often in minutes rather than hours or even days.
That Walmart experiment is a subject of a Vice News video that also features OwlTing and Darren Wang, its founder/CEO, who attended the May 2 Chicago launch of OwlTing USA. In fact, food safety issues in Taiwan, especially in the milk supply, motivated Wang to start his company and develop its blockchain applications.
The food safety aspect has two major benefits for businesses. If a company's product turns out to be the source of a problem, it can be identified much quicker than had previously been possible, recalled and taken off store shelves, greatly lessening the possibility that a consumer will purchase it and get sick. On the other hand, blockchain, by providing immutable documented records, can quickly exonerate businesses that are not responsible for the food safety issue, which should provide protection from sweeping product recall orders (a costly proposition seen recently when the U.S. Food and Drug Administration was unable to quickly pinpoint the source of a food-safety outbreak and ordered the recall of all romaine lettuce grown in Arizona).
It is important not to exaggerate blockchain's immediate impact on the food system. Many participants in the supply chain are not yet participating in blockchain, which means the system, at least in the short run, will be heavily reliant on the accuracy of data provided by the producers and retailers at the consumer end of the supply chain.
The good news, though, is that even at this early stage, the system is set up to deter any fakery.
"You obviously have the issue, just like with any other database, of garbage in and garbage out," Ost said. "The great thing about blockchain is you will get caught in a lie… It provides the trust, because people are held responsible. So you will get caught lying, whereas before you could just go into the database and make the change."