by Brian Severson, Brian Severson Farms/Quality Organics, guest contributor
The demand for better grains, flour and bread is fueling a market surge that is benefiting grain growers in the Midwest and across the United States. Some of these producers are more deeply rooted than others — and one of these is organic grain farmer Brian Severson, whose family has been growing in east-central Illinois for more than 150 years.
Brian Severson Farms/Quality Organics — located in Dwight, Illinois, about 80 miles southwest of Chicago — will be an exhibitor at FamilyFarmed's Good Food Trade Show on Friday, March 17 and the Good Food Festival on Saturday, March 18.  The Good Food Festival also will include a related program on the Chefs at Play Stage, where the Artisan Grain Collaborative will demonstrate the growing, milling and baking of locally produced wheat!
FamilyFarmed's 13th annual Good Food Festival & Conference will be held at Chicago's UIC Forum and begins on Thursday, March 16 with the Good Food Financing & Innovation Conference. To learn more, buy tickets for the Thursday and Friday programs, or pre-register for the FREE Good Food Festival, please visit the event website by clicking here.
Enjoy Brian Severson's article about his family farming history and his organic grain farm's promising future. 
My great-great grandpa Lars Severson immigrated from Norway in 1866 and eventually settled in Garfield Township, Illinois, where he farmed and is now buried. After I earned an Agronomy degree from University of Illinois, I immigrated a few miles west to Goodfarm Township.
I am the 5th generation of my family to have a small family farm in Grundy County, Illinois (80 miles south-west of Chicago), where my wife and I raise organic and non-GMO grains.
Unhappy with the introduction of GMOs and the direction agriculture was taking in the 1990s, we started experimenting with organic methods. We raised our first certified organic sweet corn in 2007.  We also began growing organic oats, various food corns, wheat, popcorn, peas, soybeans and buckwheat.
We try to select varieties based on taste, which often leads to using heirloom varieties.  We also save our own seeds whenever possible.
With the gradual addition of more grain cleaning equipment — a stone grist mill,
roller mill, etc. — we not only grow but also clean the grains so they are suitable for consumer use.  We can process them into various flours, rolled oats and meals, all done right on our farm.
Everything we raise is non-GMO, and most of the food grains are certified organic.  The best crop of all raised on the farm are our four kids — Luke, Seth, Joel, and Sarah — who work on the farm when not busy with high school and college studies.
That Horse Is About Tradition
Sometimes people ask, "Why do you have a horse as your emblem if you don't even raise horses?"
The answer is simple: tradition.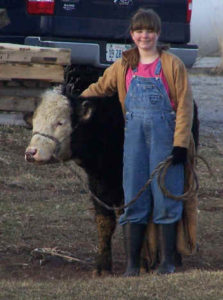 When I first started farming on my own, my grandfather came out to my farm with iron tracings of horses that had hung on his barn. "You've got to hang these up on your barn" he told me.  When I asked why, he said, "Because my father had them hanging on his barn."
Tradition. Doing things the way our grandfathers and their fathers did them.  Trying to grow the crops and varieties they grew and ate because they tasted good — without chemicals or GMOs — because that's what they fed their families. Using farming methods that have been used for hundreds of years.
In fact, my farming methods often resemble my grandfather's generation more than my own. We control weeds using a front-mount cultivator. It is time-consuming but provides the safest and surest weed control for our organic crops.
Raising a variety of crops in our organic rotation helps to promote and maintain healthy soil. When adding fertilizer, we use natural sources such as manure from another farm or unprocessed minerals.
Since we grow and handle a variety of crops, our kids can identify a wheat berry from an oat groat, or a soybean from a dry pea. They've also discovered while cleaning oats that oat dust is the itchiest substance known to man!
We are honored to have a small part in helping to "feed the world," and also continuing a family farming tradition.