Mexico One Plate at a Time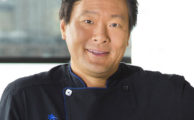 or many years, Ming's parents — both immigrants from China — owned, and his mother ran, a restaurant in Dayton, Ohio, called Mandarin Kitchen. Ming worked there during his teen years and showed his obvious talent and passion for cooking. But… this is an ethnic food story with a twist: The reason Ming's family settled in Dayton was because his father was an aerospace engineer who worked at the nearby Wright-Patterson Air Force Base, and Ming initially embarked to follow in his footsteps, earning a degree in mechanical engineering at Yale University. But cooking was never far from his mind, and he embarked on a career that led to his two successful Asian cuisine restaurants in the Boston area and a long career as a TV chef.
Posted in

Food Artisans, Food Entrepreneurs, Frontera 30th Anniversary Celebration, Frontera Farmer Foundation, Good Food business development, Good Food Dining, Good Food restaurant trends, Good Food Success Stories, Restaurants and Good Food, Sustainable dining
| Tagged

Blue Dragon restaurant, Blue Ginger restaurant, Chef Rick Bayless, Emeril Lagasse, FamilyFarmed, Food Network, Frontera 30th Anniversary Celebration, Frontera Farmer Foundation, Frontera Grill, Mexico One Plate at a Time, Ming Tsai, Naha, National Restaurant Association, Richard Sandoval Restaurants, Simply Ming TV show, television chefs, Vermilion restaurant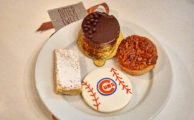 Mindy Gohr knew from childhood that she wanted to be a pastry chef. She left her family's dairy farm in Wisconsin to attend the Cordon Bleu culinary school in Chicago, and it did not take long for her to get the big break that has been her career-maker: an internship working at Bittersweet Pastry Shop & Café for founder-owner Judy Contino, one of Chicago's leading pastry chefs. And in 2015, when Contino decided to move into semi-retirement, Mindy became co-owner. She also will be participating in the Frontera 30th Anniversary Celebration, a joint fundraiser for Chef Rick Bayless' Frontera Farmer Foundation and FamilyFarmed, which will be held at The Art Institute of Chicago on Sunday, April 30.
Posted in

Baking, Food Artisans, Food Entrepreneurs, Frontera 30th Anniversary Celebration, Frontera Farmer Foundation, Good Food business development, Good Food restaurant trends, Good Food Success Stories, Restaurants and Good Food
| Tagged

Bittersweet Pastry Shop & Cafe Chicago, Chef Rick Bayless, Chicago Gourmet, Cordon Bleu Chicago, FamilyFarmed, Frontera 30th Anniversary Celebration, Frontera Farmer Foundation, Frontera Grill, Judy Contino, Mexico One Plate at a Time, Mindy Gohr, Mindy Segal, Mindy's Hot Chocolate