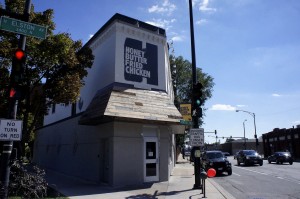 When you write about the launch of a start-up business, it is often worthwhile checking back in to see how things are working out. It is especially rewarding to do when the enterprise has flourished — which is the case for Chicago's Honey Butter Fried Chicken, which on Sunday (Sept. 14) rounded out a smashing first year in business.
Upon request, the restaurant reported that it had served more than 206,129 pieces of fried chicken during its inaugural year (along with a lot of parts sold using other preparations). That's nearly 26,000 chickens.
That's a lot of chickens.
When asked if the first year matched their best-case scenario, executive chef/managing partner Christine Cikowski said, "I think it went a little beyond. I thought we would be successful… I don't think we knew it was going to be as successful in the way that it was."
When Good Food on Every Table visited Cikowski and fellow executive chef/co-owner Josh Kulp shortly before their opening, they were cautiously confident. Friends since their student days learning culinary arts at the city's Kendall College, they had built strong reputations and an avid customer base with their Sunday Dinner Club (SDC), a long-running "underground" restaurant concept.
Their take on fried chicken — well-seasoned with ingredients that include smoked paprika, but not spicy hot — was a time-tested feature at Sunday Dinner Club, before it spun off into their first stand-alone restaurant that they developed with business partners Jen Mayer and Chris Jennings.
In fact, the idea of smearing the fried chicken with honey butter, from which the place gets its name, was the result of a happy accident during an SDC dinner. A staff member randomly dipped a piece of chicken in honey butter that was meant for a side dish, and the result was deemed awesome.
Yet even with a fair amount of anticipation for their opening in the media and local food community, there were trepidations — including whether the location in the largely working-class neighborhood of Avondale, off the beaten path about six miles northwest of the downtown Loop, would draw the kind of volume needed at what is essentially an upscale and higher-quality version of a fast-food restaurant.
Those worries were dispelled immediately when the front door opened to a line down the block. Buoyed by an overwhelmingly positive reaction from the Chicago food press that in turn generated some national attention, Honey Butter Fried Chicken has been very, very busy ever since. And the owners' biggest issue has been handling the crunch, which has prompted them to boost their workforce to 37 from the original 16 employees.
"We have great problems. We have amazing problems," Cikowski said. "We have a really enthusiastic customer base that likes to come here a lot. We've had to hire a lot more people than we thought we would. We've had a lot more positive media attention than we ever thought we could handle."
Honey Butter even avoided the sharp customer drop-off that many Chicago restaurants suffered during the miserably cold and snowy "polar vortex" winter of 2013-14. Kulp said, "Until we hit summer, January was the busiest month we'd had." Cikowski added, "It turns out fried chicken makes people very happy when they're cold."
And when you're on a roll, it seems like good things come from the most unexpected places. Honey Butter Fried Chicken is down a long block on Roscoe Street from a Chicago institution, Hot Doug's, a haute sausage restaurant whose owner has decided to close up shop next month to pursue other interests. This has spurred very long lines of customers seeking a first or final visit — and Honey Butter has benefited from some spillover traffic.
"I've been by at 8:30 in the morning and the line is already hundreds of people long. We get people who take one look and say, 'You know what, I'm not doing this, and I just passed this place Honey Butter, let's go there," said Kulp.
One thing that has prompted return traffic to Honey Butter is that the chefs have been constantly innovating instead of just riding the popularity of their original short menu. The restaurant, which had one sandwich when it opened, now has seven. Side dishes with cuisine-inspired touches include pimento macaroni and cheese, roasted garlic grits, creamed corn with Thai green curry, and smashed potatoes laced with schmaltz (rendered chicken fat).
Kulp said their cooks are encouraged to use their imaginations. "The best of that creativity appears on our menu," he said. "They all come with different backgrounds and histories, and one thing Christine and I have always tried to encourage is our cooks to explore those histories and traditions, and maybe that turns into Korean fried chicken sandwiches."
The owners also have remained committed to buying locally and sustainably produced ingredients to the greatest extent possible.  "The limitations that we put on this staff are use great ingredients, ideally from the farmers market. [For several years, Kulp and Cikowski ran a Sunday Dinner Club Burger stand at Chicago's Green City Market.] We had incredible cocktails all summer with watermelon and peaches and raspberries and cherries and whatever else is happening," Kulp said.
While they have their hands plenty full running Honey Butter Fried Chicken and Sunday Dinner Club (now in a permanent location in the same building as HBFC), Cikowski and Kulp say their successful start will ultimately spur them to consider other new restaurant concepts.
"We have a lot of ideas," Cikowski said. "We're talking about expansion. We have other restaurant concepts that we've kind of created out of Sunday Dinner Club. The fried chicken here was a dinner we made for many years. We have a lot of menus upstairs that people really love that could potentially be restaurants some day. We'll do more."
But don't expect a chain of Honey Butter Fried Chicken outlets. "It won't be exactly this. But I think that's cool," Kulp said. "We like the idea of creating unique spaces.
Photos by Bob Benenson
Editor's note: The numbers for amount of chicken served originally provided and published were re-calculated and corrected.