by Grant Kessler, FamilyFarmed.org
Lee Greene of Chicago is among the food artisans across the nation who are using and drawing attention to heirloom ingredients that — to the detriment of diners — had largely faded from public consciousness. The event that Scrumptious Pantry, her food products company, is staging this Saturday (Sept. 20) at the city's Green City Market celebrates one such heirloom vegetable: the Beaver Dam pepper.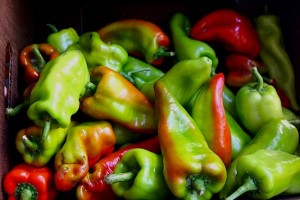 The event also highlights strong collaboration among producers that is helping advance the Good Food movement. Eight different vendors will incorporate Beaver Dam peppers into the foods they sell that day.
The rising interest in heirloom varieties is rooted in the belief that a sustainable local food shed is a rich combination of foods, farms, healthy soil, and people. Farmers and local food producers are key in the shift toward healthier local food options that offer consumers wide variety, improve soil health over time, and, ideally, revive our nearly lost heirloom varietals.
Greene is committed to saving heirlooms. For instance, Scrumptious Pantry's paw paw curd has renewed interest in the Midwest's native paw paw fruit. Why? Because they taste delicious! In fact, Scrumptious Pantry pledges to use heirloom products exclusively in its product lines by 2018.
As the company puts it in its promotional literature, "Scrumptious Pantry is a food business with a mission: bringing the exciting flavors of rare heirloom fruits and vegetables back to the kitchens and tables of eaters nationwide. We start from the ground up, working with sustainable family farms to grow rare heirloom varieties. Then, we transform them with care and attention, preserving their true flavors in our products. The line currently includes pickles, relishes, catsups, fruit curds, preserves and herbal salts. Scrumptious Pantry strongly believes in a world rich in biodiversity, and is enrolled in the Non-GMO Project. Do you heirloom?"
And her company's role and profile are expanding. Her products now are sold not only in her small storefront in Chicago's Logan Square neighborhood and at local farmers markets, but also in a number of Whole Foods supermarkets in and beyond her home city.
The Beaver Dam pepper that is the focus of Green City Market's third annual celebration is a rare heirloom pepper brought to the town of Beaver Dam, Wisconsin in October 1912 by a Hungarian immigrant. Although it is very flavorful, its commercial cultivation had been abandoned with the advancement of optimized hybrid seeds — until Greene discovered it and made it her first heirloom ingredient.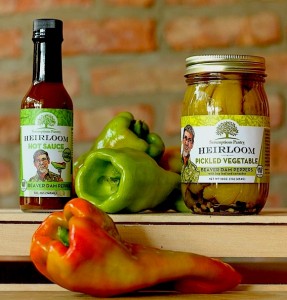 Thanks to the company's purchasing and processing, the Beaver Dam pepper is staging a comeback. Local farms started to grow this tasty pepper again, including Radical Root, an organic grower that sells at Green City, other farmers markets and its own farm stand in north suburban Libertyville. The Beaver Dam is also featured in two products from Scrumptious Pantry: pickled peppers and a recently released hot sauce.
Saturday's celebration will include menu specials by prepared food vendors and a series of fun educational activities at Green City Market .
Participants who will be offering dishes prepared with the Beaver Dam Pepper, and donating a portion of the proceeds to the market's Heritage & Heirloom Garden in nearby Lincoln Park, include Abby's Crepes; Cookies & Carnitas; Crumb Chicago bakery; Gayle's Best Ever Grilled Cheese; Hoosier Mama Pie Company; The Nomad Food Company LLC (which bakes pizza in a mobile oven); mushroom producer River Valley Farmer's Table; and Zullo's Inc., which makes and sells Italian-themed prepared foods.
The market's Activity Tent also will be handing out an heirloom foods "scavenger hunt" sheet for the kids.
Photos courtesy of Scrumptious Pantry.