by Lynn Peemoeller and Bob Benenson, FamilyFarmed
FamilyFarmed's 12th annual Good Food Festival and Conference is coming up March 24-26 in Chicago. The Midwest's oldest and biggest yearly event focused on locally and sustainably produced food covers the full range of issues affecting the farmers, entrepreneurs, investors and consumers who are driving the rapid growth in the Good Food movement.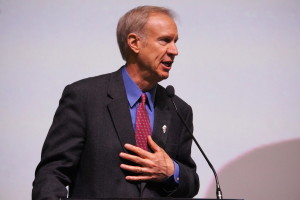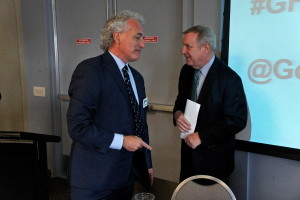 A day-long Food Policy Conference, to be held on Friday March 25, is one of the major elements of the Good Food Festival & Conference. The program includes nine sessions (described below), aimed at bringing together public and private stakeholders to discuss food policy issues that affect the production, distribution and access of local and healthy foods.
The increasing numbers of leading policymakers who have attended the Good Food Festival & Conference speaks both to the influence of the Good Food Festival & Conference and the increasing awareness among public officials of the rising public demand for better and healthier food. Speakers at the 2015 event included Illinois Gov. Bruce Rauner, Illinois U.S. Sen. Dick Durbin, Cook County Commission President Toni Preckwinkle and others. Chicago Mayor Rahm Emanuel was on stage at the 2014 event when FamilyFarmed announced it was launching its Good Food Business Accelerator.
Tickets for the Food Policy Conference and all segments of the Good Food Festival & Conference may be purchased at a discount online in advance of the event. Details on the rest of the programming can be found by clicking here.
The Food Policy Conference lineup:
Fair Wages: Building Equitable Food Systems through Policy Change
Hosted by: Harry Rhodes, Growing Home & Felipe Tenedez Matesanz, Restaurant Opportunity Centers United
Workers — who plant, harvest, process, pack, transport, prepare, serve and sell food — and their wages and working conditions often are missing from the conversations in the sustainable food and urban agriculture movements. This workshop will share insights from the fair food movement on how we are building power to craft equitable food policy. Panelists share a new approach towards labor on urban farms and throughout the food chain.
Food as Medicine
Hosted by: Windy City Harvest, Chicago Botanic Garden
Windy City Harvest, a nonprofit program of the Chicago Botanic Garden, works to train new farmers in urban agriculture, including many who are learning skills while dealing with personal difficulties. It also partners with three diverse health care organizations to practice "Food As Medicine." This panel details work between Mercy Hospital, Lawndale Christian Health Center, PCC Wellness and the Chicago Botanic Garden.
Fighting Hunger with Local Food Options
Hosted by: Greater Chicago Food Depository
Food insecurity costs the United States $167.5 billion annually. Meanwhile, there are many underutilized ways that local food can be more accessible. Let's discuss how to make local food more available to food-insecure people.
Veteran Farmers in Illinois
Hosted by: Veronica Porter
The panel will raise awareness about military veterans who are farmers — many of them new to this line of work — and the programs available to them as they develop. The panel also will highlight the Homegrown by Heroes label: "From the grocery shelf or farmers market to online retail, the Homegrown by Heroes identity will help encourage buyers to support and purchase products grown local by a veteran. 
Our Seeds are in Need
Hosted by: Rebecca Osland, Illinois Stewardship Alliance & Billy Burdett, Advocates for Urban Agriculture
Protect the tradition of seed sharing! Come learn about seed libraries and other ways that people save and share seed, and find out what you can do to stand up for our rights to continue this vital tradition.
How to Squeeze Blood from a Turnip: Providing a Path to Greater Physical/Fiscal Health for Illinois by Funding Statewide SNAP
Hosted By: Connie Spreen, Experimental Station
How can Illinois, a state in fiscal crisis, justify a new expenditure? By investing in a nutrition incentive program geared to improve the health of our population who rely on benefits from the Supplemental Nutrition Assistance Program, better known as SNAP. Learn about Illinois' proposed Healthy Local Food Incentives Fund legislation.
Food Carts in Chicago: Out of the Shadows
Recent legislation by the Chicago City Council is working to legitimize street vendors selling food. How does this affect small businesses, entrepreneurs and the food culture of the city?
Let's Talk Trash. Food Waste: Problem or Opportunity?
Hosted by: Raj Karmani, Zero Percent
The amount of food wasted in the United States is estimated at between 30 percent and 40 percent. What local initiatives to address food waste are taking place, from the household to restaurant and industry? This session will present speakers who think and care deeply about food waste, and work in specific stages along the food supply chain.
Mapping Out Progressive Urban Agriculture Policy in Chicago
Hosted by: Billy Burdett, Advocates for Urban Agriculture
A panel of leaders from Chicago's urban agriculture movement will discuss current initiatives to improve local policy that affects the growing of food in the city, from residential gardens to urban farms.
The Chicago Food Policy Action Council will have a full day of meeting sessions focused on Procurement Policy Updates, Urban Land Access, Composting and Permits for Urban Farms. The Council is seeking to persuade the city of Chicago to implement a Good Food Procurement Policy that would emphasize food produced locally, sustainably, fairly and humanely.