by Bob Benenson, FamilyFarmed
Chicago chef Paul Kahan has long been known for the culinary excellence of the successful and high-profile restaurants in the One Off Hospitality Group, currently at eight locations and growing. He was honored with the James Beard Foundation (JBF) Outstanding Chef [in America] Award in 2013, and was inducted into JBF's Who's Who of Food and Beverage in America the next year.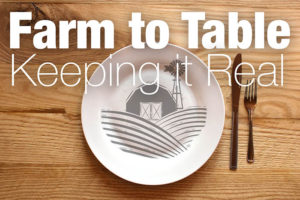 Kahan is also identified by his longtime dedication to sourcing sustainably produced ingredients, as locally as possible, for his restaurants' kitchens. This made Kahan a natural ally of FamilyFarmed in its efforts to advance the Good Food movement. He made the keynote speech at the organization's first trade show in 2004, which evolved into the annual three-day Good Food Festival & Conference in Chicago — and was back this March to receive our organization's Good Food Chef of the Year Award.
Kahan shared his time with Good Food on Every Table on March 5 for a lengthy interview. The following — an excerpted version of that conversation about his cuisine and his dedication to sustainability — is presented as the kickoff article for the new "Farm to Table: Keeping It Real" series that FamilyFarmed and Good Food on Every Table have launched. (A longer version of the interview was published earlier and can be found by clicking here.)
The new series is aimed at providing a platform to chefs, restaurateurs, and farmers who work with them who are doing farm to table right, sourcing as locally and sustainably as possible and being transparent about when and why they make exceptions.
To learn more about the series, please click here. And if you are a chef/restaurateur anywhere across the U.S. who wants your farm to table story told, or if you know a culinary professional or restaurant that you think should be featured, please use the comments on either story to let us know.
On Publican Quality Bread, one of One Off Hospitality's newer ventures, which uses high-quality, higher-priced flour, most of it sustainably produced by the Travis family at Spence Farm in Fairbury, Illinois:
It's not an easy business. We're restaurateurs, not bakery people. Thankfully [One Off Hospitality business partner Donnie Madia] reached out to a couple of bakery people he knows, they came, they made some suggestions. We had a consultant from France come in, and [head baker Greg Wade] just responded incredibly well to what we needed to do. We tried to do too much. Bakeries are really about a small set of products that are done really well…. If you want to make great bread and you want to use local ingredients, you have to pay for it.
About the book he is writing about his work, the first of his long career, which focuses on The Publican restaurant — one of the flagship locations of One Off Hospitality — and its emphasis on locally and sustainably produced ingredients.
We're following the idea of The Publican from its inception, which was just a soundbite, "oysters, pork and beer," to opening the butcher shop, opening the bakery, opening the Publican Tavern at O'Hare Airport. The Publican is all about our producers. We buy fish from sources that not one single restaurant in the entire city buys from. We buy oily fish, West Coast sardines….
We buy according to the Monterey Bay Aquarium [Seafood Watch] list. We serve "garbage fish," sand dabs, I guarantee there's not another restaurant in the entire city that serves those, and that's one of the most delicious fish… What comes in the back door dictates what goes on that menu every day and it does change every day… We make a clean sausage across the street, we have a USDA co-packer. That business is really going to grow…
The idea of The Publican as this purely sustainable standpoint has really grown. So it's going to be the recipes and the growth of the brand and a lot of attention to the people and the producers that enable us to do what we do… We opened the butcher shop so that we could do whole animal butchery and use everything… We don't advertise that, it's not our game….We don't know any other way to operate.
About the seasonal challenges of obtaining local sustainably produced ingredients for a big restaurant group in a region with a relatively short growing season.
It's obviously seasonal. In the summer, 60 percent. In the winter, I'd say it's 35 percent, 40 percent. The Publican in the summer is probably 80 percent and above…. Is our bakery 95 percent local and sustainable? Yeah. When Marty [Travis at Spence Farm] doesn't have flour and there's no other local flour, we get a Red Rose flour, a transitional organic flour from California. It's a great product, we get a great price on it. We make the decision equally from a business and a sustainability point of view.
About the emergence of the Good Food movement out of an era in which convenience foods and fast food predominated.
I really think that in the 30 years that I've been doing this, American cuisine has kind of emerged. We were not a food culture 30 years ago. Things went wrong after the wars, people ate out of cans and fast food. The tables are turning…. We've seen a lot of change in the last 10 years. It feels really good, it feels like we're moving in the right direction.
Kahan related about how he encouraged LouisJohn Slagel of Fairbury, Illinois, now a leading producer of local and sustainably produced meat for the Chicago market, when he was seeking to build his business.
I remember the first day he came to Chicago… He showed up at Blackbird with some meat samples. I said, "Here's the deal, dude. You're going to have to bite the bullet for a while, but you're going to get there. You're going to be making deliveries and you're going to be losing money on gas and product, but just believe in what you do and that your products are really good."… [Today] we get hundreds of chickens from him a week. We get at least a cow and three or four pigs, and we buy goats and lambs from him and all of his neighbors. That kind of stuff makes me feel really good, I'm really proud of being part of the group that supported him and allow him to be successful.