by Bob Benenson, FamilyFarmed
"Team Leverage," a collaboration of three major Good Food entities in the Chicago region, faced serious competition from four other strong finalists in the Food to Market Challenge. The team won the $500,000 award because of a strong social purpose — bringing healthy, nutritious, affordable food to more school children and their families — plus a distribution model with strong potential to be expanded in Chicago and replicated elsewhere.
The winner was announced at a pitch event held Oct. 26 at Chicago's Museum of Contemporary Art. The Food to Market Challenge, which sought the best solutions to local food supply chain issues affecting metropolitan Chicago, is a project of Food:Land:Opportunity, a collaboration between Kinship Foundation and The Chicago Community Trust that is funded through the Searle Funds at The Chicago Community Trust.
Team Leverage was headed by:
• Linda Mallers of FarmLogix, whose technology platform helps enable farm-to-school programs by connecting Chicago Public Schools (CPS) and other districts to local and regional farms;
• Sheila Berner Kennedy of Top Box Foods — co-founded by husband Chris Kennedy, a son of the late Sen. Robert F. Kennedy — which addresses food access by purchasing high-quality produce and meats from local producers and packaging them in affordable boxes, and;
• Jessica Smith of This Old Farm, a food hub in Colfax, Indiana, from which schools, institutions, retailers and restaurants source locally and sustainably produced meats, produce and other items. This Old Farm also facilitates better utilization of food resources and reduces waste through whole animal usage.
Team Leverage coordinated its proposal with Leslie Fowler, who heads Nutrition Support Services for Chicago Public Schools.
The team persuaded a panel of five judges that its concept would make the $500,000 award go a long way. Through its institutional partners such as CPS and through direct sales to families, Top Box projects potential growth from 8,000 current customers to 250,000 households. Team Leverage envisions creating 700 or more new dropoff sites for convenient pickup in communities in and around Chicago.
Top Box packages three different varieties of boxes: one that is produce only, another that contains both produce and frozen protein sources; and another that contains microwavable meals. Each box contains enough food for 14 meals, and this high-quality food is made available at the low cost of $1.29 per meal.
Mallers provided Good Food on Every Table with this explanation of how Team Leverage came about:
"Sheila [Berner Kennedy] and I were introduced in the spring by a mutual friend, right after the Challenge was announced. We thought we'd be a good fit with each other for the Challenge, being that their constituency and the students we service at CPS might actually be the same families, and certainly live in the same neighborhoods.
Leslie [Fowler] has engaged FarmLogix since 2013, so we talked to her about offering support to market the program, which would also leverage our distributor relationships. She and her team at the Office of Health and Wellness were very supportive. Leslie is fiercely driven by nutrition as necessary to educational success, so she was very supportive of getting healthy food into the students' homes and helping any way she could.
Jessica Smith and I work together on a program we do for Loyola University, so we also had the supply chain of product coming in regularly. And Jessica's execution is flawless.
For the most part, the more logistics options a program has, the more chance it has to scale. So our proposal engages logistical optionality. Delivering to a large number of schools takes a village of distributors, so we knew that piece was essential. It's that last mile that makes the difference.  And Top Box Foods already has their stellar inroads into the community with their own community partnerships and supply chain.
So we really leaned on each other's strengths to create something bigger than what we could build alone.  Having an app that allows for ordering on the go will help generate volume, as will workforce development to staff the pickup locations for extra income."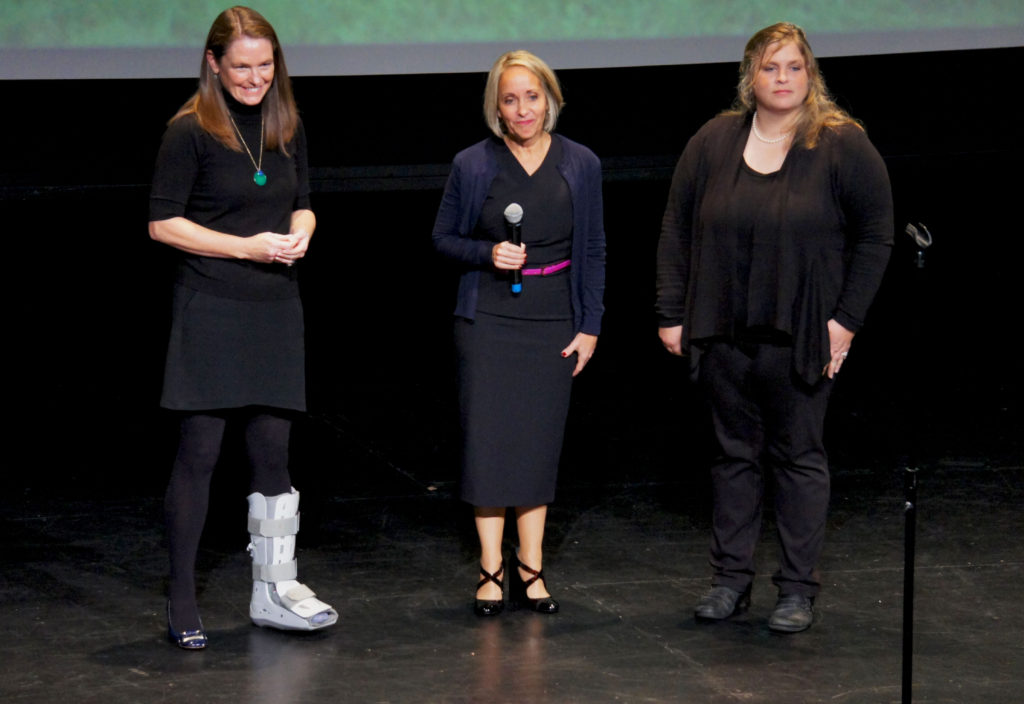 Fowler sounded a similar note from the CPS perspective:
"This collaboration is the best of all that CPS stands for. We seldom have an opportunity to marry the best of our operations with our love for our community.  The ability to allow families to have access to foods that we introduce to children during the academic day, along with nutrition education and recipes, means that those families can develop healthier habits and lives.
Our students don't often have the opportunity to take what they do at school home.  This allows for them to influence healthy eating habits at home! This program is intended to change food deserts into fantastic areas to have access to high-quality affordable foods.
We have over 600 schools where this can be made available and over 350,000 students and families who can be reached.  Scaling to support employment of families is also the icing on the cake (pun intended)!"
Team Leverage was among the five finalists selected from an initial field of 24 applicants. All have the common goal of increased supply of — and access to — locally and sustainably produced food in the Chicago metropolitan area, to help create a food system that is healthier, more environmentally sustainable and more economically dynamic.
The following (in alphabetical order) are the descriptions of the finalists' proposals provided by the Food to Market Challenge. Click here to learn more about them, the competition, and the other entries in the contest, including a team organized by FamilyFarmed that proposed to create a regional grain hub.
Artisan Grain Collaborative: Proposes to create a regenerative food system by building a market for nutrient-rich grains and beans in Chicago. Team members are:
Delta Institute
Fresh Taste
Plough
University of Illinois Extension
Goldmine Farms
Lonesome Stone Milling
Baker Miller
Floriole
Laine's Bake Shop
Publican Quality Breads
Gourmet Gorilla
Earth's New Ways
Spence Farm Foundation
Kendall College
The Kitchen Community
IDEO
F.O.O.D. — Farm On Ogden Development: Proposes to establish an urban food hub and broad partnership network to develop and support new farmers and distribute 280,000 pounds of produce. Team members are:
Chicago Botanic Garden's Windy City Harvest Program
Return to Life
Sweet Pea and Friends
Cresciendo Farms
Garfield Produce
Midwest Foods
Community Economic Development Association
South Loop Farmers Market
Lawndale Christian Health Center
Brinshore Michaels (developer)
SAVOR (caterer)
Fresh Picks Farmer Alliance: Proposes to create a network of on-farm aggregation hubs connecting transportation, information technology, farmer alliances and a distribution partner. Team members are:
Irv & Shelly's Fresh Picks
Angelic Organics Learning Center
All Grass Farms
LotFotL Community Farm
PrairiErth Farm
Central Illinois Produce
Triple S Farm
Prairie Fruits Farm
Wholesome Harvest
Kane County: Proposes to catalyze a food infrastructure and launch a trading network linking farms and food hubs to customers in the Chicago region through technology and transportation. Team members are:
New Venture Advisors
Kane County
Heritage Prairie Farm
Alsum Farms and Produce
Wiltse's Farm
The Food to Market challenge is among the major projects supported by Food:Land:Opportunity to create a resilient local food economy that protects and conserves land and other natural resources while promoting market innovation and building wealth and assets in the Chicago region's communities. These include FamilyFarmed's Good Food Business Accelerator.
Photographs by Bob Benenson/FamilyFarmed