by Bob Benenson, FamilyFarmed
Making the food system healthier has always been a pillar of the Good Food movement and FamilyFarmed. Our organization is, in fact, developing a program called Good Food Is Good Medicine, which will be bringing ready-to-use information about healthier lives through better diets to community settings — with a heavy emphasis on underserved communities with high rates of diet-related illness.
One of the first big test runs of the concept was a Good Food Is Good Medicine panel on March 18 at FamilyFarmed's Good Food Festival, which drew a standing room only crowd. As Charlotte Flinn, FamilyFarmed's Board chairman, noted, "It was mid-March, the sun is shining, 3-4 o'clock on a Saturday afternoon. Will they come and will we keep them? So it's 4 o'clock, the end of the panel, and the panelists and the audience would not stop talking."
Charlotte made the remark in her intro to the latest Good Food Is Good Medicine program: Cancer Connections, a program of the Robert H. Lurie Comprehensive Cancer Center of Northwestern University, designed for people undergoing cancer treatment and their loved ones. She was joined by Dr. Adam Murphy, also a FamilyFarmed Board member, who is an assistant professor of urology at Northwestern University's Feinberg School of Medicine.
Just as with the Good Food Festival panel in which Charlotte and Adam participated, Good Food Is Good Medicine was at the end of the day's programming. And again, the audience in the packed room stayed overtime to learn more.
Charlotte led off by soliciting audience definitions of what Good Food is: The answers included "vegetables," "balance," "calories," "natural," "how is it produced," "preparation," "ethical," "should taste good," "sustainable." She then detailed FamilyFarmed's Good Food On Every Table vision to ensure that all parts of our society have access to healthy, nutritious, disease-fighting food:
Good Food is delicious, it has to taste good. It is nutritious, it has dense nutritional value so you don't have to eat four pounds of it a day to get the vital nutrients. It is accessible, you can walk over or drive over in your neighborhood and buy it. Affordable, you can afford it. And it's grown close to home by farmers and producers using sustainable, humane and fair practices, which means everybody who's involved in the food chain is treated well, the animals, the producers, the buyers, the sellers and ultimately the consumers.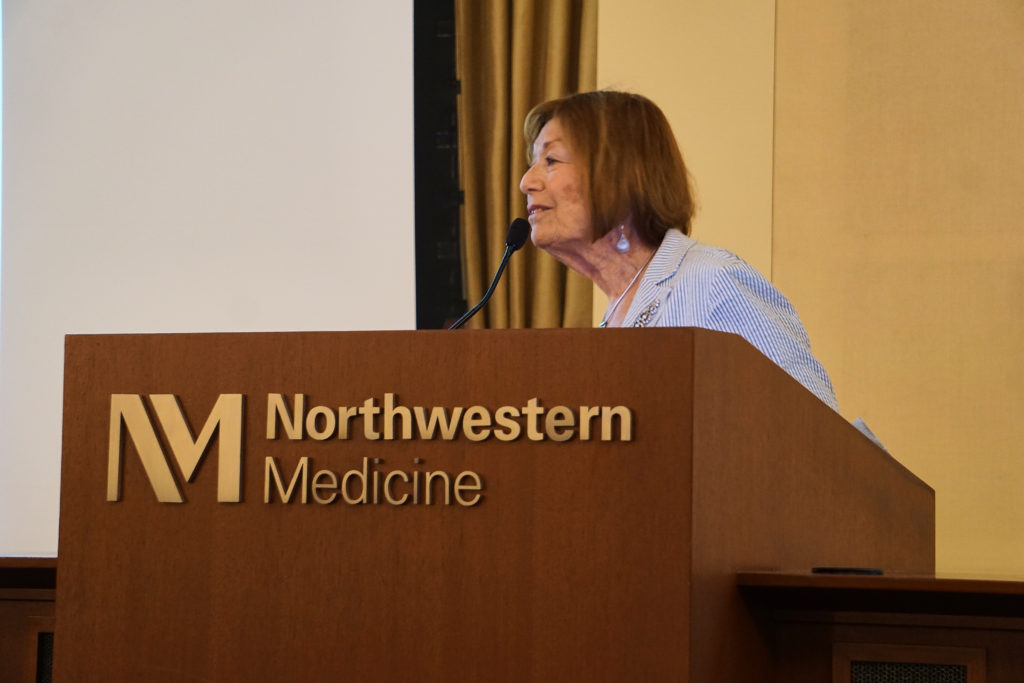 Adam — whose research focuses on health disparities faced by minorities in prostate cancer — then provided science-based tips with statistical analysis of the health and disease impacts of different categories of food, leavened with humor.
For instance, Adam presented statistics that show how low to moderate red meat intake can be part of a healthful diet — "You don't have to be a vegan or vegetarian" — but high red meat consumption is associated with higher mortality rates through cancer and heart disease. The high end, he said, was made up of people who essentially eat red meat at every meal.
"It's like sausage for breakfast, cold cuts for lunch, meatloaf for dinner," Adam said, "Those people exist. They're called my father," a punch line that drew loud laughter from the audience.
Processed meats also produce health risks, he said. "I love bacon, but it's not good," Adam stated. "Red processed meats are dangerous for cancer risk, for heart disease." White meat is the inverse, Adam said: "If you eat poultry or fish, it actually increases your immune intake."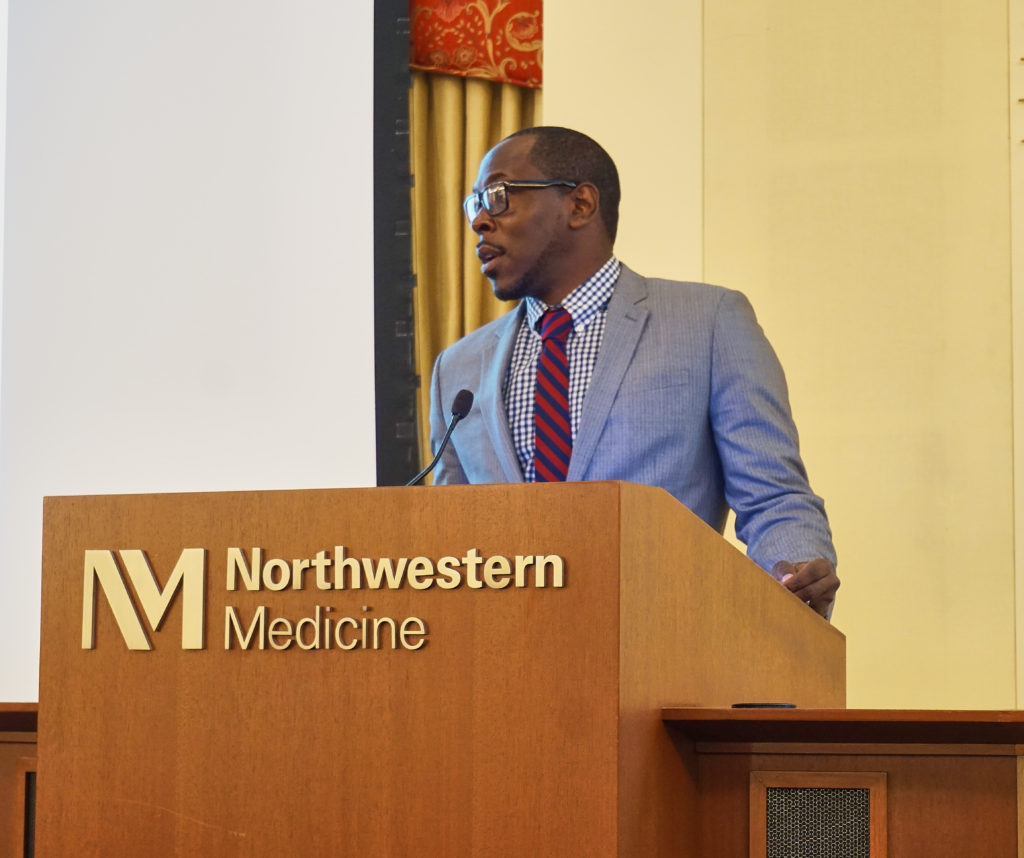 Other highlights of Adam's talk:
• "Fruit and vegetable intake does protect us… you eat those five servings a day to get the maximum benefit… You don't have to go higher than that. So if you have a fruit or a vegetable at each meal, it's helpful, and it doesn't even matter the type of fruit or vegetable. If you're the type of person who only eats grapes and bananas, it doesn't seem to be a bad thing… If you hate broccoli, you don't have to eat it. If you hate brussels sprouts, you don't have to eat them. But you have to eat something."
• "You can't reverse the impact of meat with more vegetables… You increase your vulnerability to cancer with red meat at each level."
• "Nuts are helpful, but only around a handful a day. So don't eat buckets full of Planters. Tree nuts and peanuts both work to reduce cancer and heart disease risk."
• "Whole grains" —  such as whole wheat, whole oats, brown rice, whole rye, whole barley, quinoa, couscous, corn, bulgar and buckwheat —"reduce overall mortality. The more you get seems good, up to 120 grams a day. More than that, no extra benefit."
• "One or two eggs per day is all you can do before you start to reach the danger zone."
• "The things you think are good for you are good for you. It's about moderation."
Adam said, "If you did all those things right, it would result in a 56 percent decrease in mortality… There are very few medications in the world that can produce that kind of reduction of mortality."
He concluded,  "That's why I think Good Food really is Good Medicine. It proves the point. But if you eat bad, like I used to, it can increase your risk of death by two-fold."