by Bob Benenson, FamilyFarmed
Attention, Good Food entrepreneurs! FamilyFarmed's annual Good Food Financing & Innovation Conference is coming up on Tuesday, June 19 in Chicago — and you can apply to compete for cash prizes and in-kind services in our 2018 Good Food Pitch Slam.
The Good Food Pitch Slam showcases up-and-coming local stars, while giving industry stakeholders a first look at the latest drivers in the Midwest's Good Food business landscape. FamilyFarmed's Good Food Accelerator is looking for Good Food innovators to compete, and those selected will be invited to pitch at the June 19 Conference, at the Morgan Manufacturing events space in Chicago's West Loop.
Applications also are being accepted for the Good Food Financing Fair. The heart of the Financing & Innovation Conference since its beginning in 2009, the Financing Fair is a demo event that offers you and fellow entrepreneurs the opportunity to gain visibility and interact one-on-one with prospective investors, funders, fellow entrepreneurs, service providers and other stakeholders who can help you grow your businesses.
Entrepreneurs seeking to apply to participate in the Financing Fair should click here. Funders, lenders and service providers seeking to apply to participate in the Fair should click here.
Businesses accepted for the Pitch Slam and Financing Fair also will benefit greatly from attending the other great programming at the Financing & Innovation Conference, which will feature the work of FamilyFarmed's Good Food Accelerator and other entrepreneur development programs. Tickets are on sale now, with early bird pricing in effect through May 18.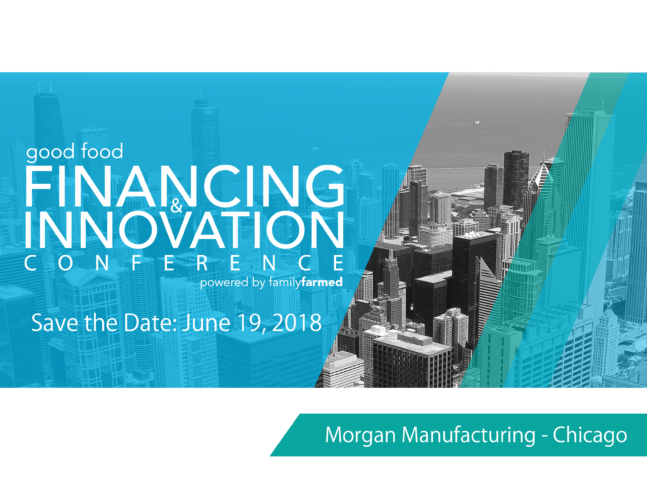 John Foraker, one of the most successful marketers of organic processed foods, will headline the conference with a keynote speech. Foraker is  co-founder and CEO of Once Upon A Farm, which produces fresh, organic, cold-pressed baby food that is high in nutritional value and flavor and low in sugar; actress Jennifer Garner is the company's Chief Brand Officer. 
Foraker also is the former longtime CEO of Annie's Homegrown, for which he served as CEO from 2004 to 2017, a period during which its healthier takes on products such as breakfast cereals and ready-to-make boxed macaroni and cheese became wildly popular. How big did Annie's get during Foraker's tenure? General Mills bought the company in 2014 for $820 million.
After his keynote speech, Foraker will participate in a "Fireside Chat" q-and-a also featuring another major Good Food movement figure: Carlotta Mast, Senior Vice President of Content and Insights for the New Hope Network, producer of the annual Natural Products Expo events. (Audience participation will be encouraged.)
The event also provides a great opportunity to learn more about the Good Food Accelerator, which evolved from the Financing & Innovation Conference in 2014. The Accelerator has now provided four cohorts of competitively selected Fellows with the tools they need to grow or scale their businesses, through an intensive six-month curriculum, mentorship from leading Good Food industry leaders, opportunities to network with established Good Food businesses and investors, and ongoing relationships with FamilyFarmed.
The Accelerator and Good Food Financing & Innovation Conference combined have generated more than $50 million in financing for businesses in our network.
Other programming for this high-impact industry event includes:
Expert Panel Discussions: Foraker's speech and chat with Mast kicks off a day of powerful and informative panels featuring leading experts and practitioners. The lineup includes:
• What Is Innovation? Breakthrough business leaders present dynamic viewpoints on this common themE
• RX Bar and Kellogg's: Building a Strategic Relationship
• Innovating With Integrity: Big Food Embraces Good Food
• Hindsight is 20/20: Successful Midwest brands talk about their journey and lessons learned
• Good Food Is A Good Deal: Leaders in Chicago's investment community discuss why investing in good food is better for people, the planet, and the bottom line.
The Pitch Fest: Past Financing & Innovation Conferences have featured entrepreneur business pitch session… but this year, it's a competition!
The Financing Fair: The heart of the Good Food Financing & Innovation Conference since its start, the Financing Fair features a curated roster of promising Good Food businesses who will present their offerings and sample their products with a select audiences of investors, wholesalers, retailers and others with a business interest in local and sustainable food.
FamilyFarmed is a leader for more than two decades in promoting locally and sustainably produced food. Our Good Food EXPO in 2004 was the first such event focused specifically on local and sustainable food, and it remains the Midwest's premier annual celebration of the fast-growing Good Food movement.
Please visit the Good Food Financing & Innovation Conference website for more information about this event. Check back often for programming and speaker updates!
Morgan Manufacturing, the setting for the Conference, is located at 401 North Morgan Street in Chicago, IL 60642. Tickets are available at: http://www.goodfoodfinancing.org/.